When it comes to paid social, most of us know that a winning strategy involves quality content, proper budgeting and lots of testing.
But what does this really look like when put into action?
We reached out to a few experts to pick their brains about how they've found success with paid social and the steps it took for them to get there. Here's what they had to share.
How do you use paid social at Compass?
JS: When I first started at Compass, we didn't have a ton of consumer facing advertising opportunities. Social media, especially paid social, was a great way for us to spread the word about Compass and as a tool for recruiting agents.
For paid social, we've honed in on the key pieces of content that we want to promote. We have a robust internal design team, so we're able to quickly create a lot of content to explain what Compass is all about and also for our agents to share.
How have you seen paid social change over the years?
JS: Over the past two years, we've really seen a shift on social, especially on Facebook, to a pay to play environment. Facebook's algorithm puts business pages at a disadvantage in terms of visibility. You can spend money to get 100,000 Facebook Fans but less than 10% of your audience will see any given post.
Social media has become a noisy space with lots of brands promoting content. People's attentions spans are so short these days. When you're creating content, it's important to think about how you can capture someone's attention in that first second. We've seen with our videos that it really is that first second or two that draws a person in. Keep your content short, sweet, and to the point.
What is some paid social advice you'd give to marketers?
JS: Speak to the platform that you're on. Don't forget about specs like character count, video length, and image size. You always want to be mindful of your specific audience.
What's one example of a time where paid social was really successful for you?
JS: Several months ago, we put out a video that we targeted to real estate agents across the country on Facebook and YouTube. It was really effective in generating views and while our ads were running, we saw 125% more job applications than average. We're always looking to test new ways of advertising, that's what sets Compass' social media apart from your classic real estate brokerage. We're not afraid to try new platforms and take a more experimental approach as long as we stay true to our aesthetic and design sensibilities.
How do you use paid social at The Voice Of Your Customer?
We use paid social media strategies extensively to engage with our audiences and to build awareness. We've used paid social media strategies on a variety of platforms, but we've had the most success with Facebook Sponsored Posts. We regularly sponsor our website, page and posts on Facebook. In fact, we've seen Sponsored Posts lead to a huge spike in traffic in our page views, likes and website clicks.
What is some paid social advice you'd give to marketers?
The most effective social media posts are those that are relevant to your target audience. It's more about them and less about you. The best posts are easy to read and engaging with clear, properly sized images. Also remember to increase your exposure by tagging those related to the content. Before pushing your sponsored posts live, it's important to think about responsiveness across screens and to give some thought to when your target audience is most active.
Can you walk us through your paid social strategy?
The Voice Of Your Customer uses a well-defined content creation strategy that includes sharing work that we are currently doing with our clients and/or trending topics we find on social.  
To start, we use content creation tools to refine our scope. We then identify keywords with the WordPress SEO Tool to draft our content. From there, we dig into our social media analytics to take a look at how our audience is engaging with our pages, who they are and how they're accessing the pages. These demographics help us really personalize the type of content we write. Last but not least, we also often repurpose content that's previously resonated with our target audience.
From there, we confirm the amount that we want to spend to promote each post, usually $10- $20, and the length of time each post will be sponsored, which is usually one to two days. We always select to promote the post to our followers and friends of our followers and schedule the post to be released in the afternoon, which is when our followers are most engaged.
We then use Facebook analytics and several other third-party tools to help gauge our success and optimize as we go.
What is some paid social advice you'd give to marketers?
MM: There's simply so many nuanced components to a successful paid social media strategy. What about geography? Market penetration? Brand awareness? Relevancy to the user? Cost of your product? These factors, added to the hundreds that are already being considered, usually determine what type of post will get the most traction. Figure out the who, what, where, why and when before making any decisions.
The key to paid social posting is really about the tone you take. If you come to the table with a standardized "buy our product or service because of X reason," you simply aren't going to engage your audience. What are the most interesting and viral social posts today? They're those that are associated with a sharp brand that plays into the intelligence of a mass market. Accordingly, I would recommend following these guidelines:
1) Humor kills. If you open your post with an industry-related joke that gets a few chuckles, people are more likely to continue reading your post.
2) Gifs are a good way to attract attention. Whether its a GIF that shows Will Ferrell & John C. Reilly figuring out they are best friends (from Step Brothers), or one of Iron Man, if you can tie it to your brand, it does a good job of retaining customers.
3) Being succinct will net you winners. What do you have to say? Say it quick, BUT give your customers the opportunity to read more if they want to learn more. That's the reason why Vine is so successful, because a visual message can be imparted in six seconds.
4) Interactivity is trending. Have you ever received an email from Uber? They have scroll-over effects, expandables and moving components within the email to keep users engaged. Interactive social media posts that allow an audience to play with certain elements is the new trend.
What is some paid social advice you'd give to marketers?
The most important thing to think about when it comes to paid social media exposure is that the more engagement you get out of your initial post, the more money you save. What I mean by this is that if you reach a large audience with your paid post and pique their interest, they're likely to organically share it with their friends.
One great strategy is to spark conversation by ending your post with a question – especially a polarizing question. The more stronger people feel about a subject or statement, the more engagement you'll get.
It's also important to implement retargeting so you can target the same group who engaged and serve them follow up content later. When you're spending advertising dollars on retargeting, each dollar goes further because you know these people have shown interest before, instead of testing out demographic and interest-related data suggested by the social network.
Once you've developed a retargeting list, not only will you be able to run ads for pennies on the dollar, but you will be targeting people who are more likely to buy from you.
How do you use paid social effectively on Snapchat?
Reaching users organically through Snapchat is a time consuming process, and it's hard to prove ROI. Fortunately, Snapchat's new On-Demand Geofilters allow businesses of all sizes to try Snapchat advertising for as little as five dollars (and the cost of designing a geofilter). Now anyone can use geofilters to target local colleges, the food court at the mall, or even a competitor's store.
To be effective, a geofilter should encourage engagement. The more interactive the better. For instance, a clothing store's geofilter might allow Snapchat users to "try on" a new dress. A restaurant might include a big plate of food that users can pretend to eat.
Snapchat can be a great way to engage with your target demographic and generate buzz around your brand. That said, it's not for everyone — yet. If your business is targeting Generation Z or Millennials (13-24 year-olds), Snapchat is a great place to connect with them. On the other hand, if your target demographic skews older, you might want to wait for the app to get a little older. Snapchat is slowly aging up, but it's not quite there yet. Currently, Snapchat usage with 25 – 34 year olds has grown 103% and it's up 84% with users over the age of 35.
Snapchat has made clear efforts to grow in that area. It hired Peter Hamby away from CNN to head its news division. ESPN, People, Wall Street Journal, CNN, and Cosmopolitan each have their own Discover channel to attract older users as well.
But even with this user growth, until Snapchat improves analytics around organic use of the app, organic use by marketers will remain a challenge. In the meantime, brands should focus on developing paid strategies on the app while it's affordable.
How do you use paid social at FM Outsource?
We perform marketing for ourselves (FM Outsource) and several other clients. One of our major clients is Saracen's Rugby, who we handle a lot of social media for. We started with them a few years back and worked hard to get their Facebook and Twitter profiles working well organically before we went near any paid advertising. Once we had the backbone in place, we started to test the water with a few small campaigns.
Three years in and we have two world records in the bag for match attendance and our team won the ECC Finals and are in the final for the Aviva Premiership as well.
What's worked well for you so far?
Practice and targeting. You have to test things and see what works. Every industry is different, we work for Rugby clubs and fine art dealers, and the methods we use for these clients are entirely different.
The type of content you produce is vital in delivering the right message to your target audience. Selling something youthful? Don't be afraid to use hashtags and take risks. If you're targeting executive businesses, be polite but direct – they like the point arriving quickly.
I'd say when you're starting out, your priority should be first finding your target market, then working on getting your content right (imagery, CTA, phrases etc) and then explore new avenues.
What is some paid social advice you'd give to marketers?
Channels vs. Strategies: First, it's important to remember that social media sites are channels, not strategies. The campaign should always precede the ad. If there's no organic reason to create a new push or campaign, then paid ads probably aren't the best next step.
Define the "why:" If there's a clear reason for a campaign (new product launch, new data/insights or company announcement), then launching ads is a strategic choice. But brands should always define the "why" of their ads first. Growing community may not be enough of a "why." Perhaps the real "why" is improving web traffic to grow sales.
Clear CTAs FTW: Ads should always include a clear CTA and a dedicated landing page. In my experience, ads that seek to add fans or followers are the most successful, because the CTA is easy: "if you like this ad, like or follow us." If driving website traffic or conversions is the bigger goal, create a dedicated landing page that allows users to quickly take a second action: download thought leadership, submit their email address, etc.
How do you use paid social at Regpack?
For the past year, we've been using only one paid social media option: post boosting on Facebook. I've tested out ads on both Twitter and Facebook, but haven't seen a huge return. I've found that finding the right balance, similar to AdWords, to be time consuming and it's not always worth the investment.
Boosting a post on Facebook is great though, because I have already invested the time into creating a great content piece that I know is interesting to my following, boosting it just makes sure it gets in front of them. And it works.
We generally boost our latest blog posts and make sure to include exciting copy use Facebook's title and text preview to our advantage by customizing the copy and including a professionally designed image. Because it looks more polished and branded, it drives more clicks!
We generally see a huge spike in quality leads immediately after boosting one of our posts.
Wrapping It Up
The strongest paid social initiatives are ones with context. Keeping your brand and customer relationships at the center of your strategy helps to build consistency, trust, and value. So while paid social is impactful, it's even more important to take the time to first get your social channels running organically first. It's free to test out, risks are low and you'll have established an audience and niche to further target.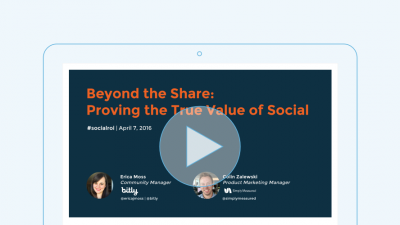 WEBINAR
Learn the right tools you need to track social media ROI across different channels and platforms.
Watch