The average customer journey for consumer brands is anything but simple.
Someone could see a tweet from a business and, two weeks later, buy something in the store. Maybe she'll see something in the store, look it up her phone, then order it from Amazon.
There are countless ways for consumers to discover, research, and purchase new products, both online and off. This fragmented customer journey leads to a fragmented view of the customer experience. The email team, social team, direct marketing team, and mobile team probably aren't sharing data, which means no one has full visibility into the marketing engine as a whole.
So where do you spend your budget? Which channels are the most effective? What does your audience really want?  
If you use a link in each and every customer touchpoint, you can answer these questions. You can create cross-channel branding, measure channels against each from one central dashboard, and manage the metrics of multiple brands all under one account.   

Here are seven ways brands are using Bitly today to build a complete view of the customer – and provide a better customer experience:
1. Branding
Companies like Red Bull use branded links to drive better brand awareness and engagement in cross-channel marketing campaigns. Since a branded link can be used in everything from a magazine ad to Instagram and email campaigns, every channel is a branding opportunity.
You can also customize the back-half of your link to reflect promotions, products, or initiatives.
2. Print Ads & Subway Ads
Theater supply and fabric store Rose Brand uses Bitly links to unite online and offline channels, figuring out how many people click to the website after seeing an ad in a magazine.
"Since our demographic is still very involved in traditional media, we include Bitly links in any print ads we run," says Marketing Coordinator Anna Klimczuk. "By tracking clicks, we've been able to see a clear connection before the campaigns we run offline and the actions customers take online. In addition to linking it with print ad campaigns, we also use Bitly links throughout our printed product catalogs. We're able to easily redirect customers to online resources, which will help them make better purchasing decisions. Using tracked clicks along with Google Analytics data, we've been able to better understand the customer journey as it moves from offline to online, and the steps customers are taking that result in sales."
BarkBox created a similar marketing campaign for a print ad. By using a Bitly link to drill into more detail around an ongoing promotion, the company could track exactly how many interested people engaged with that touchpoint to learn more. If specific links were created for each and every print ad, wherever they appeared, the business could see which placements were most effective.
3. Cross-Channel, Cross-Ad Analytics
A lot of CPG brands build cross-channel marketing campaigns. You could be working with influencers, social channels, paid display ads, and search ads all at once. Usually, this ends up being a nightmare of micromanagement when it comes to getting the right data and comparing the numbers holistically.
If you use a Bitly link in each channel, you can actually see everything in one place, in real-time. You can also create campaigns across multiple Google Ad groups or Facebook Ads, too.
4. SMS Promotions
Targeted SMS campaigns can help keep loyal customers engaged. A Bitly link can make it very easy to track how many people take the next step after receiving a text, especially if you make use of the Bitly API to generate and track individual Bitly links for each phone number.
During one of Chipotle's Halloween campaigns, for example, the brand used trackable links to measure how many customers clicked to learn more about a costume contest. This data can help analyze spend and segment audiences accordingly, all the while showing insights as to the time of day and mobile device used by your customers.
5. App Install & Engagement Campaigns
Want to encourage customers to download your app? Or just start using it again? Bitly's Mobile Optimizer allows brands to create mobile deep links that send customers directly into a personalized location within the app.
Mobile deep links are the key to getting mobile customers to where they need to go. If you're promoting a sale on Facebook and a customer clicks it from a mobile phone, the Bitly link can be enabled so that it takes them to the sales page right within the app or prompts them to download the app first.
Here's a great mock-up of how deep links work from Sarlitt.me:
6. Manage Multiple Brands from One Place
If you're an enterprise-level company, you probably have multiple brands or franchises that all have different teams, marketing strategies, and goals. Traditionally, there's few ways to guarantee visibility into all of those operations.
If each team has a user seat in a Bitly Enterprise account and uses Bitly links at every touchpoint, you can have a real-time view of every channel owned by each brand. This offers unprecedented insights into the local brand level and corporate level. Individual users can have their own user seats, too, so that you can measure marketing campaigns from a macro and micro level, no matter how macro or micro you want to get.
Want to see how the team in Atlanta is doing compared to the team in New York? Or how the email marketer in Atlanta is doing compared to the email marketer in New York? User seats make this visibility possible, no matter which way you want to slice it.
Here's how Cox Media Group uses Bitly Enterprise to manage 70+ brands:
7. Auto-Branding & Organic Shares
Organic Shares help you see how your content is being shared among 4 billion influencers and users actively using Bitly links by clicking, creating, and engaging with them. With Bitly Enterprise, you can see anyone who clicks or creates a Bitly link from your website, even if the link didn't originally start from a campaign you created.
Essentially, this means that you can have the consumer perspective on all the content you're creating. You can see the product and brand content that are getting the most engagement and shares that you may not be actively promoting.
Here's an anonymous example from a well-known apparel brand. The brand's Organic Shares data shows that the product page for "Bamboo Watches" is getting a lot of engagement. By digging deeper into the link in question, we can see that the data around this link – shared by one influential user –  shows that Facebook and Instagram are the driving channels to the page. The majority (95%) of the traffic is coming from Malaysia. This can inform the future campaign, investments, and even product development.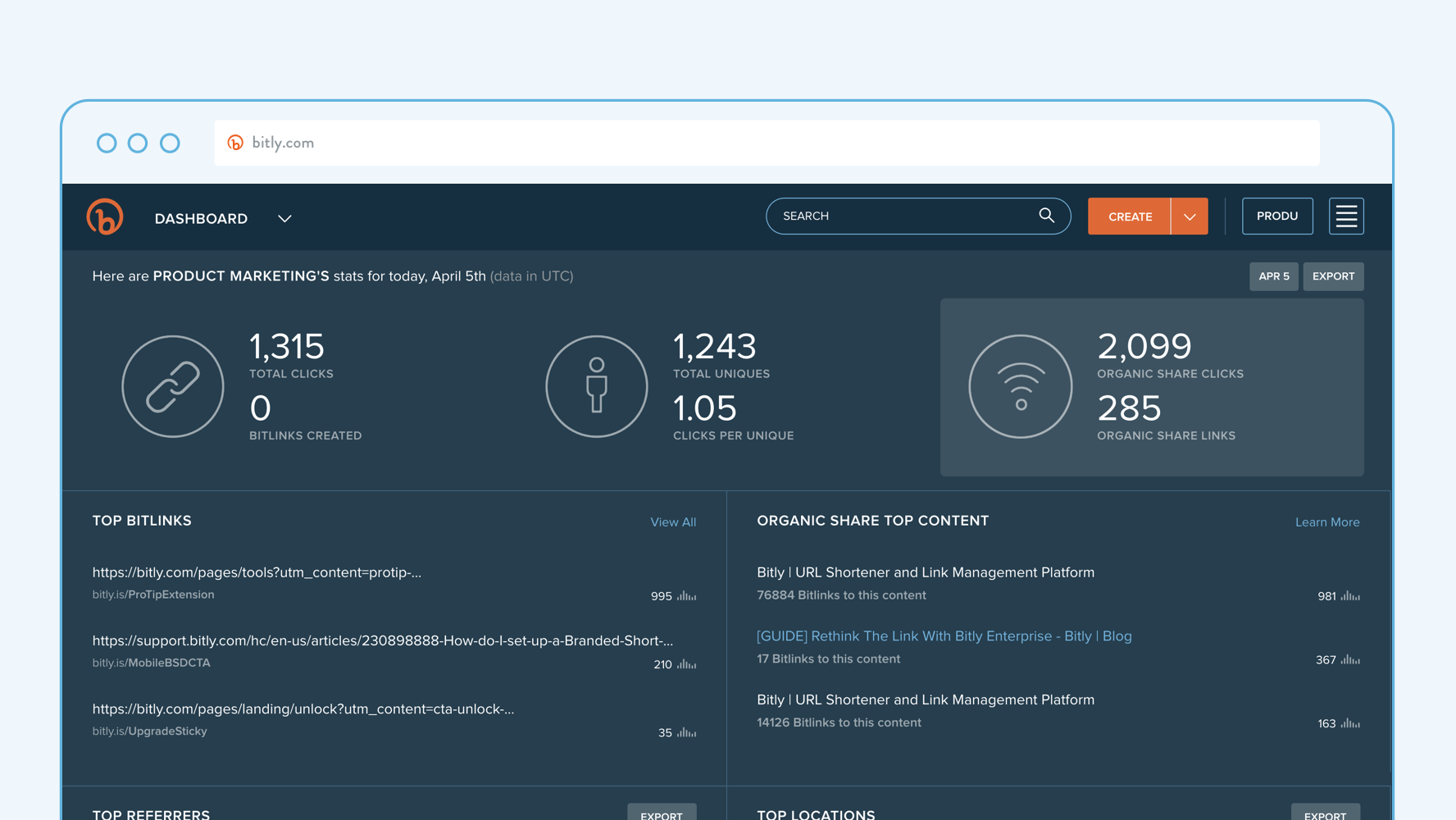 8. Influencer Marketing
Research shows that the average ROI for influencer marketing is $6.85 for every dollar spent. But if you've run an influencer campaign before, you know how hard it can be be to measure the individual efforts of each influencer. When you don't own all of the channels in the process, it can be hard to tell if an influencer marketing campaign is working.
Brands can fix that by giving unique Bitly links to each influencer. You can build an influencer campaign based on these links and monitor exactly how each influencer's promotions are performing.
Unlocking the Metrics Behind Closed Doors
Consumer brands have huge, complicated marketing machines that can span different territories, distribution centers, stores, digital outlets, and affiliates. Marketing campaigns are built by dozens of teams that are all siloed by departments or brands. Sometimes, the only thing they may have in common is… the link.
Every marketing promotion online contains a link. And brands can use links in offline collateral, too. When you combine all of that intelligence and roll it up into Bitly Enterprise, you can build an unprecedented view across the entire marketing engine.
That data will show you not just where to dedicate your budget, it'll show you the marketing and the product content that customers like the most – along with where, how, and when they find it and interact with it.
Editor's Note: This post has been updated with new information and republished from a previous version.