Ever wondered what else you can do with the humble little link? Well, wonder no more!
On September 27 @ 1pm EST, we're running a comprehensive demo about the features of Bitly Enterprise, including use cases from top brands that use Bitly Enterprise every day.
Whether you're using Bitly to brand your domain, measure your marketing campaigns, or track the performance of content, Bitlinks can be found across every touchpoint in the customer journey.
The features of Bitly Enterprise empower brands to create powerful, personalized links that build a great customer experience across every channel. With Bitly Enterprise, you can take your Bitlinks to the next level with:
– Auto-Branding for All Links
– Robust Analytics Tools
– Multichannel Campaign Platform 
– Mobile Deep Linking Functionality
Register below to save your seat!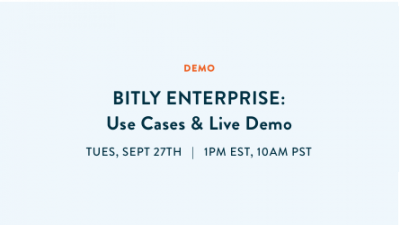 DEMO
Check out how top brands use Bitly Enterprise for branding, analytics, multichannel campaign tracking, and more.
Register!