Let's get a little meta. Maybe double meta, if that's a thing.
We're going to talk about how the Bitly marketing team (that's us!) uses Bitly every day. We've had a lot of questions recently – both from clients and our sales team – about how we make use of the undeniably handy, cool, and unique marketing tool that is Bitly.
A lot of companies "dogfood" their own products by trying them out themselves, but many only do it to test out how it works for prospects and clients. We use Bitly and Bitly Enterprise every day to do our jobs better. We use it to figure out what content is working to drive engagement. We use it to analyze which social networks are (or aren't) a good use of time and money. We use Bitly for co-marketing initiatives, partners, influencers, A/B testing, and branding and personal branding and all sorts of other stuff.
Here's how:
1. Personal Branding & Promotions
Branded links are important for both engagement and brand awareness. For example, meet Andrew Dumont. Andrew is the VP of Marketing here at Bitly. He uses Twitter to spread his general marketing wisdom to his followers and connect with industry peers. Every time he shares a link, he gets his name out there, just a little more, because his domain is personally branded to dmnt.im.
Here's Andrew dispensing said wisdom about Pokemon Go: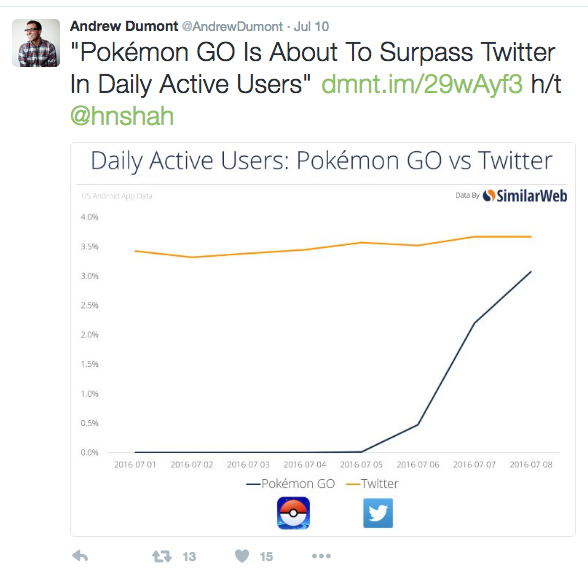 By using Bitly links (which we call Bitlinks), Andrew can tell how many followers respond to this kind of tweet. Using Bitly, he can tag content to see which performs the best and then he'll know what kind of content his audience wants in the future.
You don't just have to use Bitlinks on Twitter, by the way. Most brands use them across all social channels at the very least. You can use Bitlinks to track activity within apps, display ads, social ads, text messages, emails, specific spots on a website or product, and more.
I'm the senior content strategist at Bitly and I use personal Bitlinks all the time to track clicks from dark social channels. Recently, my band played a show in New York City at prime time: 10pm on Sunday. I created a Bitlink to the Facebook event and shared it to my friends through texts, social media networks, emails, and Slack channels. That way, I could see how many friends clicked it across all the different channels.
The answer? Not many.
If I had really wanted to make it personal, I could have created individual Bitlinks to track individual clicks in text messages, Facebook messages, messaging apps, or anything else. I could have even used Snapchat to send a Bitlink that was easy to type into the browser. Actually, that's a pretty good idea. I've heard all the kids are using Snapchat these days.
Maybe next time.
2. Blogging & Content Marketing
Where else do we use Bitly? Well, you might see that every blog post we write has a Bitlink. That's the link following you as you read through this post. It makes it really easy for readers to share the post and it makes it really for us to see what posts get shared the most.
We use Bitly Campaigns to break out each month of blog posts and then divide that into five categories: Product, Social Media, Content, Data, and Mobile. If those sound familiar, that's because those are the five categories our content is divided into on our blog.
Look how cool this is: we enter the landing page URL. We click "create Bitlinks for multiple channels." We select the channels. Then we click "Done."
BAM! UTM parameters are created automatically. With the source and channel. Our marketing ops team loves this, because they want to track everything humanly possible on Google Analytics. The content team loves it, because we don't have to use a spreadsheet to create and store a bunch of UTM codes.
And, through Bitly Campaigns, we can actually track content engagement from a macro and micro level – by post and by category – from different social channels. This gives us an idea of how many people are clicking the links being shared on social networks.
When we plan out our social calendar, we can use this data to map out the posts that are the most relevant to our fans and followers. Likewise, we use Bitlinks in our email campaigns so we can compare across every channel.  
This gives us an omnichannel view of all the engagement happening on all our content in one place: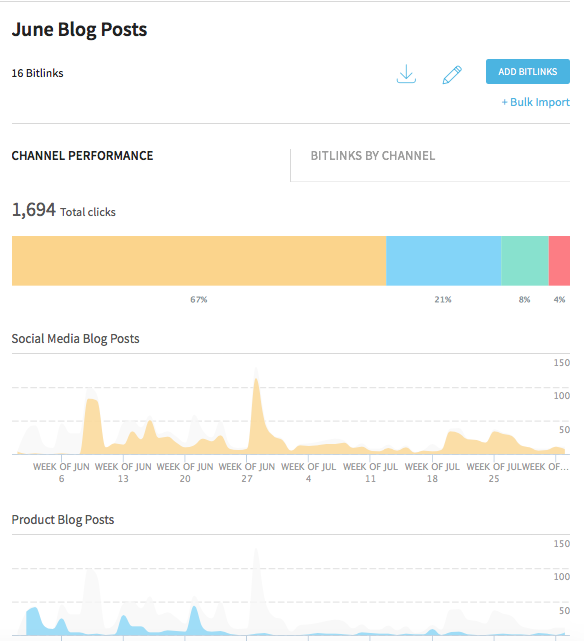 Below, we can see that one of our influencer blog posts – where we feature a country singer and
how she uses Bitly for her promotions and touring
– actually generated a significant chunk of traffic ("chunk" in this case being 29%) to the blog from social channels. Digging deeper into the Stats Page, you can see that Facebook and Twitter were the primary social channels that drove those people to the blog: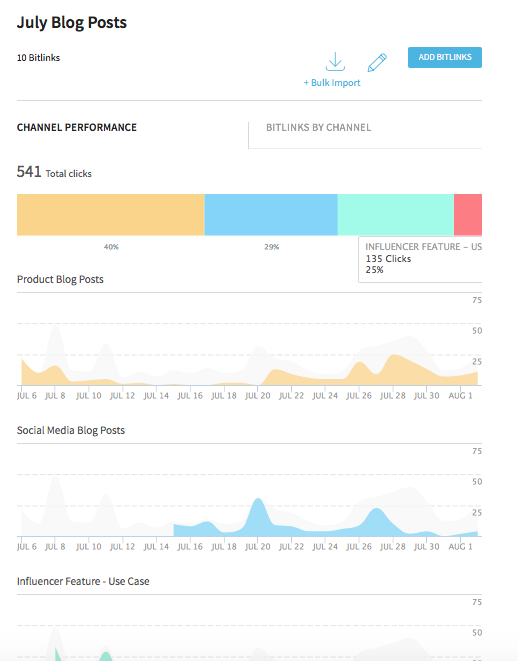 So we know that influencer posts work. People like to read them and share them. That's why we're building more content featuring free users and other influencers.
3. Multichannel Marketing Campaigns
I know this is going to blow your mind, but the Bitly marketing team primarily uses Bitly to… do marketing.
Every time we create a lead generation campaign, we build it out into Bitly Campaigns. Since we use Salesforce driver IDs and Marketo to track conversion rates, we first build out all of these links in a big spreadsheet. If you use marketing automation yourself – or UTM parameters – this may look familiar.
The difference for us is that, since we have Bitly Campaigns, we don't have to create UTM parameters for each and everyone of these anymore. We just click "Bulk Importer" and drop the links into a new campaign:
BAM! More UTM codes.
The really fun stuff is when we can measure channels against each other in real-time.
When we ran a campaign for our eBook, 37 Ways Brands Use Bitly, we set up links for the website, paid social channels, our blog, email campaigns to users, leads, and customers, and organic social channels.
This way, we get a macro view of which channels work best and we can drill further down into which specific links in each channel are seeing the most engagement. Here, we can immediately see that our Facebook Ads worked a lot better than Promoted Tweets: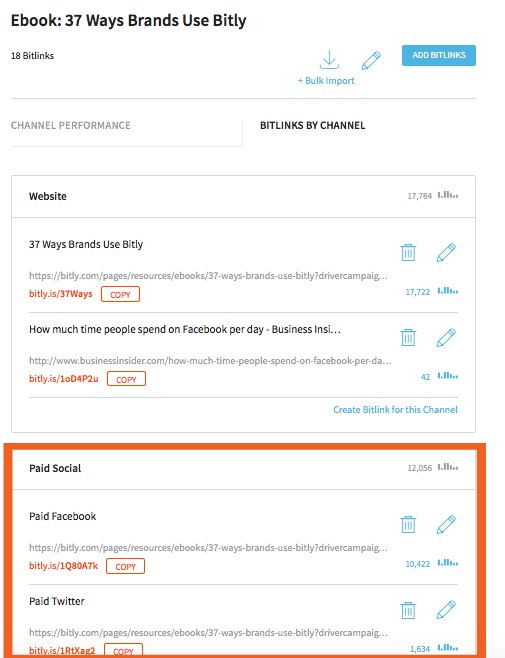 4. Partner Promotions
At Bitly, we do a lot of co-marketing initiatives with content.
Right now, we're promoting "How to Use Social Media at Every Stage of the Funnel," a guide that we created with Hubspot. Since the guide is hosted on Hubspot's landing page, we have no way to know what kind of engagement is actually happening on their end.
So we used Bitlinks to measure each channel. Specifically:
– Homepage promo
– Email campaign
– Blog
– Social Media
You can see that last Thursday, the day we sent out our first email promotion, email was a huge share of overall engagement, getting almost 1,100 clicks to the guide:
The website promotion doesn't get the same initial engagement as the email campaign, but we can see that it's slow and steady. This helps us estimate how many leads we'll get a day if we don't change anything. We'll also be able to tell when engagement on the webpage promo starts dropping.    
We host a lot of webinars with partners. When we host the landing page, we break out every link for each channel. We use those Bitlinks to track the engagement from when partners share content, too.
When we hosted "How to Build an Effective User-Generated Content Strategy," we created six links for Sprinklr that covered social channels, internal sharing, and email. That way, we could report back to the Sprinklr team about their effective channels and coordinate further promotions accordingly: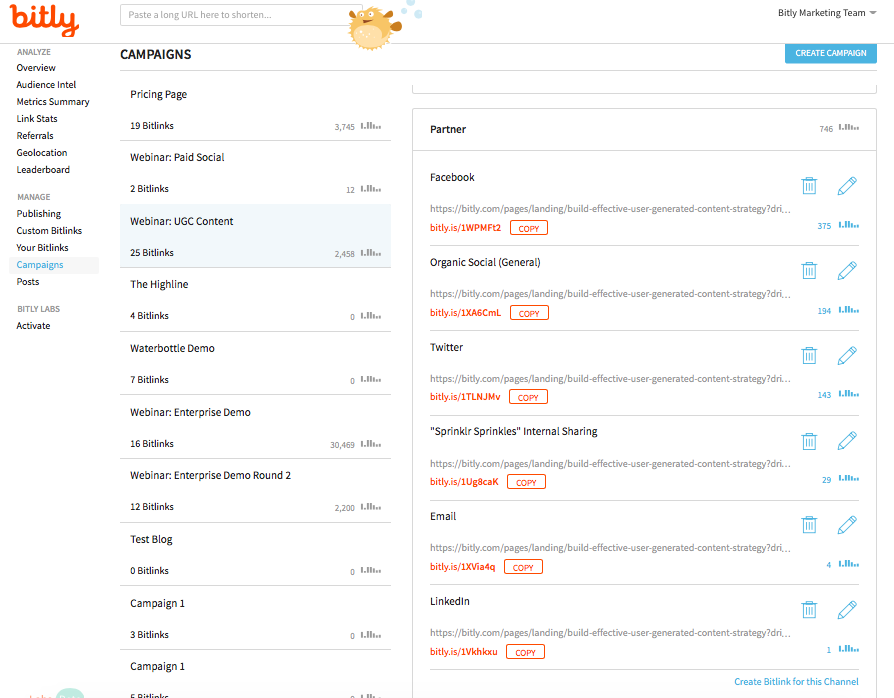 One Metric to Measure Them All
With Bitly, everyone on our team can take a look at Bitly Campaigns and know how different channels are performing. Rather than digging through different spreadsheets and platforms, we can instantly know which kind of content is most effective on which channel.  
That helps a lot when we're planning out new marketing strategies. By creating Bitlinks every time we do a new marketing campaign, we can just go to Bitly to answer any question we have – whether we want to know if our leads click emails more often than our customers or whether a blog post is getting shared on social media.
We're always looking at new ways to improve how we use Bitly. Our next step is going to be creating tags for each and every link, so we can immediately filter to see what kinds of content topics are resonating with our audience from a high-level view.
As we start discussing how Bitly can be used for customer experience, we'll want to know which aspects of customer experience people find most interesting. That's the cornerstone of customer experience itself and we'll be using Bitly to do it.
Demo
Get a comprehensive breakdown of Bitly Enterprise features, see live use cases, and learn how to use Bitly for your brand.
Watch