By almost every metric mobile is king, so it's no surprise
Apple
and Google have both made recent plays to radically streamline their mobile experiences.
Yet these updates also tighten the tech giants' grip on their platforms and make it harder for brands to control how they engage with customers on mobile.
Luckily deep links, which route directly to in-app content, can cut across these mobile walled gardens. Today, Bitly is expanding the way enterprises use deep linking to create seamless mobile customer experiences.
Introducing the new Mobile Optimizer for Bitly Enterprise. Bitly Enterprise customers will now have tools to control their own mobile customer experiences, and directly drive key metrics like app opens, downloads, and customer satisfaction ratings.
These brand-new features are now available:
Support for Apple's Universal Links and Android's App Links: Take advantage of these advanced, industry-standard deep linking protocols with little effort. Simply associate a domain so that all Bitly links on that domain drive customers straight to your iOS or Android app. And if your app isn't installed? Customers can be sent to the app download page, mobile web, or be left to choose their own journey —you decide what happens next.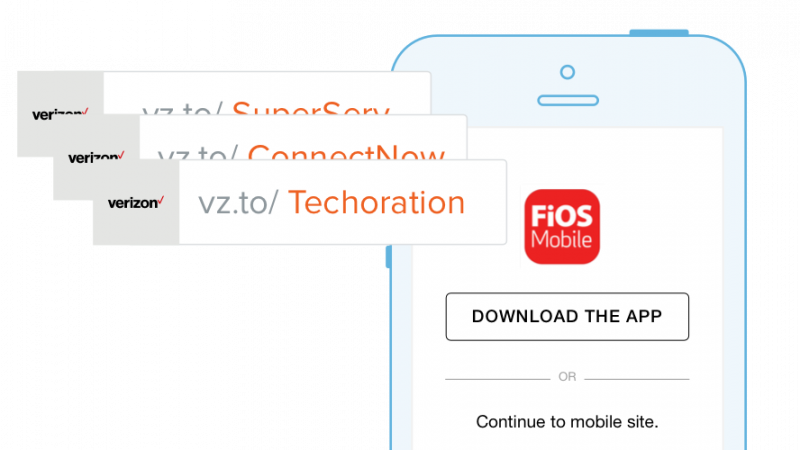 – SDK-enabled shortening, deep linking, and deferred deep linking: In addition to bringing you Bitly's classic shortening, our SDK has everything you need to create an outstanding mobile CX, now including deferred deep links. These clever links remember which URL your customer clicked prior to installing and loads that content right after the download or first login.
– Intuitive in-product interface: Set up your domain(s) for deep linking in just a few clicks. Rest easy knowing your customers are always getting the mobile experience you intended. Account admins can change the deep linking settings at any time.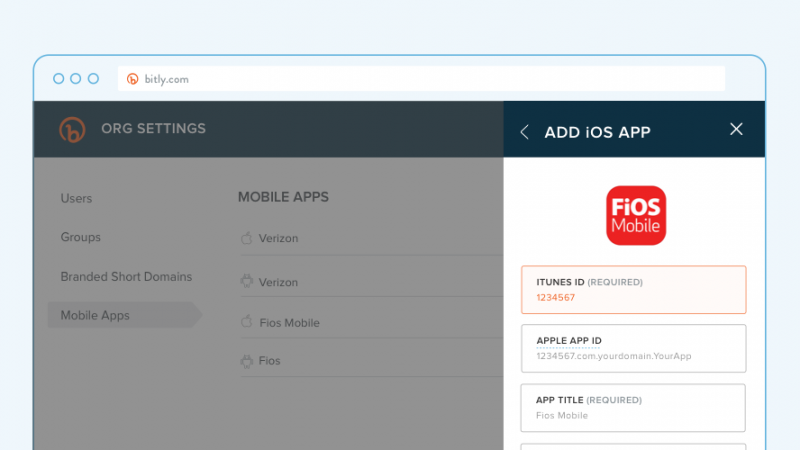 We've been testing and improving deep linking with over 20 companies and have seen it drive engagement, critical customer communications, app installs and more. The new Mobile Optimizer, now available to all Enterprise customers, will make it even easier to reach your mobile goals. Let's see how.
GOAL: ENGAGE AND RE-ENGAGE ON MOBILE
Everyone is attached to their phones these days, with time spent on mobile surpassing that of desktop, but one in four downloaded apps are never used.
Mobile engagement is easy to gain but also easy to lose.
With Mobile Optimizer you can create a consistent, on-brand and always-optimized experience that will drive both app opens and engagement.
Entertainment brands look to re-engage their customers by sending email blasts with clips from their latest episodes. By using Bitly for deep linking, every link they create is automatically a deep link, taking users right into the app for a better playback experience
If the customer wants to see the clip but doesn't have the app, no problem. The customer opens the email on her phone, clicks on the clip, and since she doesn't already have the app, she's prompted to download before viewing. Deferred deep links remember the specific clip and after the app loads, the customer is quickly led back to it.
If the customer likes the clip so much and shares it on Twitter, each of the users who clicks on her link gets a similar, app-optimized experience.
GOAL: DELIVER CRITICAL CUSTOMER COMMUNICATIONS
Mobile is uniquely suited for communications that rely on immediacy and instant-access. It's why SMS is so effective for communicating time-sensitive information such as service updates, billing notifications and password resets.
For commercial airlines,  sending flight delay notices to your customers via SMS in a timely manner is crucial. Even more crucial is making sure the link in the SMS is immediately actionable for the customer.
Bitly deep links take customers straight to the correct place in the airline's app where they can check delay times and take further action like rebooking.
Customer communications may have multiple outcomes but, with Bitly you just need to configure your domain once to fully optimize each link for app readiness.
GOAL: DRIVE APP INSTALLS
Aggressive acquisition strategies often mean aggressive app install targets. With domain-level deep linking, you can make sure you're not missing a single opportunity to promote app installs.
One major publisher uses Mobile Optimizer to integrate deep links into social sharing buttons across all of their articles and enable deep linking for every story.
Every day, thousands of readers share stories from the publisher's media properties. Each of those links is a Bitly Deep Link, so, whether the publisher's team is sharing a story or a story is being shared by mobile readers, every link results in an app install or app open.
As a result, the publisher saw 3,500 visits to the app store and 500,000 app opens. That's an estimated $12,000 value, considering the the average cost per install for app promotion campaigns is $3.39.
Bitly Mobile Optimizer turns every touchpoint into an app install opportunity.
LOOKING AHEAD
Keeping with our mission of helping businesses build awesome customer experiences, we will be expanding Bitly deep link support over the coming months. You can look out for Facebook App Link support, which will help you drive customers out of the Facebook app and onto your own branded content in one seamless leap. Our SDK will also offer expanded mobile-specific analytics in coming releases.
More accessible deep linking is one step towards building an internet your customers and you can see clear across. With mobile being the biggest platform for discovery -often the last touch before conversion- and ever-present in your customer lifecycle, you'll want to make sure you get the experience right from the beginning.
Win your customer over on mobile, and you've won them for good.
Ready to get started with Mobile Optimizer?
Head on over to our Knowledge Base for instructions on getting set up and then log into your account to give it a whirl!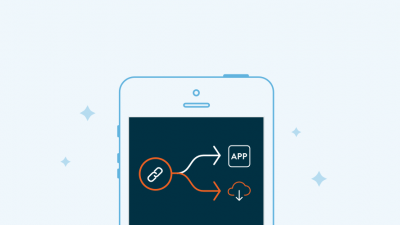 DEMO
Want to get started with Mobile Optimizer? Request a demo to learn more!
GET STARTED