Palm trees, oversized margaritas, and celebrity keynote speakers? Sign me up.
We've all come across conferences like that at one point or another.
Event marketing that doubles as work and play? It sounds almost too good to be true.
The landing page promises talks from leading industry experts, cool performances, and best of all, a chance to network with professionals outside of your regular circles – all from a warm, tropical city.
The problem is, tickets often run $1,000 a pop. And your boss? They're not so sure if event marketing will will generate much return on investment.
So how do you get buy in on attending that next conference in Las Vegas? We've got you covered with these three tricks.
1) Business Cards That Don't Suck
Make your business cards do all the heavy lifting for you. Add a Bitly link to each of your cards to track how many people you're driving back to a product page, demo page, or promo page.
Back in your Bitly dashboard, you will be able to see much traffic each individual link drove, when people clicked, and from which devices. Match this against how much revenue you're generating from these landing pages and compare that to your spend to get an idea of ROI.
If you're an Enterprise user, you can also create a campaign to see how all of your conference links performed in total.

If you're in Sales, you can use the Bitly link to quantitatively show how many prospects you've driven from the conference back to a demo page or specific product page. You can even give high profile clients custom links to track exactly which clients are engaging post-event and reach out to them to continue the conversation.
Bitly user and photography Brady Dyer uses Bitly links to do just this.
Since Brady travels often, he never knows when he'll meet a potential client. That's why he created a virtual business card using his Bitly custom branded domain: dyer.nz/bdpcard.
"I type dyer.nz/bdpcard on their phone so that it will load straight there and automatically add all my contact information without having to copy and paste," Brady says. "Once, I attended this global tourism opportunity conference and met the Prime Minister of New Zealand. I wrote a unique bit.ly link to my website on a card and was exciting to see he actually visited it."
Bitly links can help you trace the return on each offline interaction and encourage other conference-goers to engage with your content since it's branded and easy to remember.
2) Take A Temperature Of Your Audience
Snagged a speaking spot at your next conference?
Bitly links are a great (and sneaky) way to show off how many people in the audience actually paid attention to your talk.
This past winter, I held a workshop called Bitly: Beyond Shortening and Branding at Social Media Week New York. I used custom branded Bitly links in every call-to-action.
Every time I directed the audience to head on over to a website to learn more, log into their accounts to test out the feature I was talking about, or to save a blog post for later reading, I used a handy Bitly link, like bitly.is/demo that was easy to remember and jot down.
I even got a little meta and put a Bitly link up on one slide to show off how click data displays in real-time back in the dashboard.
As attendees started to click on the link I had up on the screen, we were able to see the number in my dashboard refresh in real-time.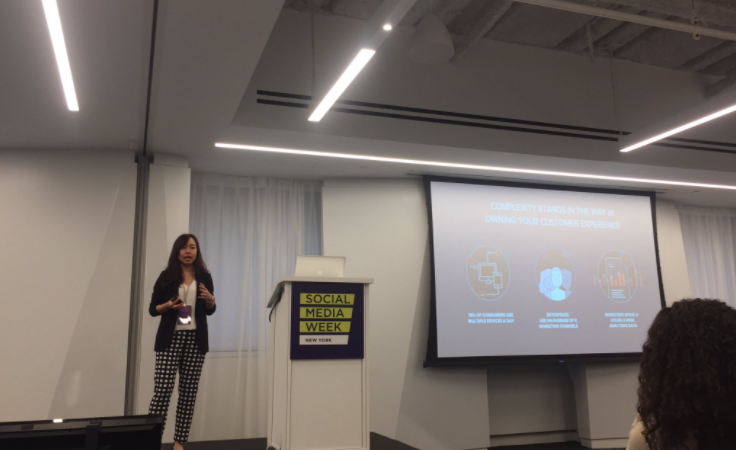 Dropping Bitly links throughout your presentation can be a great way to refine your content for future conferences.
Test out which products, topics, or call-to-actions drive the most clicks and double down on the content that works best.
3) Flyers That Live Beyond The Trash Can
You might be weary of using printed collateral at conferences.
Will people actually read one sheeters and brochures? Won't it just end up in the trash?
A recent study showed that print marketing still brings in the highest ROI. And psychology research shows that printed materials elicit stronger emotional responses, causing consumers to spend more time with printed content than they would with digital.
Using Bitly links, you can see how many attendees are actually reading your content and taking the extra step to visit your landing page.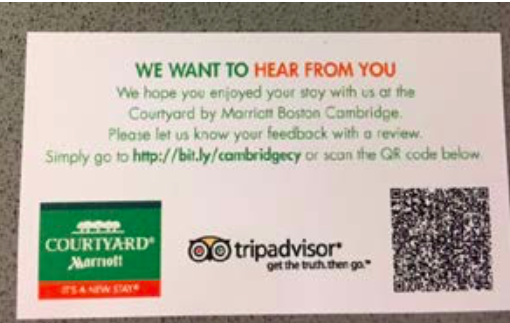 Marriot's Boston Cambridge branch uses Bitly links to track how many visitors answer the survey through these cards they keep at the front desk. If every Marriott hotel uses the same survey card and branded link setup, corporate can see how many guests are filling out surveys from each location.
Bitly links not only help you keep things branded, but they can also help you cut down on spend.
Realized there's a typo on the brochure? Need to replace the link on your flyer? If you're a Bitly Enterprise user, you can simply go into your dashboard, find your customized link and redirect it to your new destination.
Putting A Dollar Value On Networking
Measuring event marketing is key to getting sign off on that next conference in Vegas. But even when you do have sign off, understanding which topics or products make prospects tick can help you close more deals at events.
Bitly links make it easy to track without having to change up your workflow too much. By using Bitly links across all of your online and offline event marketing efforts, you can get one view of how much engagement each conference drives.
So book that ticket. Just add Bitly links to all of your marketing collateral, then sit back and sip on your margarita as you watch the clicks roll in.