To drive long-term growth for your business, an effective customer support system is more than important, it's critical. While 80 percent of companies think they deliver great customer experiences, only 8 percent of customers agree.
These numbers highlight how businesses—even those that claim to be customer-focused—can incorrectly gauge how their customers feel about them. A strong customer support system can help close this perception gap while benefiting your company in a number of other key ways. Let's dive into each.

#1 – Disrupting competition and gaining market share
Customer support teams play a huge role in giving prospects and customers timely, helpful information. Their responsibilities run the gamut, from answering customer questions to responding to suggestions and complaints.

When it comes to these interactions, positive brand experiences can help businesses stand out from their competition. In today's customer experience-centric world, this has never been more important to supporting new and returning business.
#2 – Improving products and services with feedback loops
Much of the feedback your brand receives on its products or services likely goes through your customer support team. By developing effective feedback loops, your company can make updates to its products and services that align with customer feedback and help improve the overall customer experience.

Here's an example
Say one of your customers was unhappy with a change your business made to its return policy so he shared this feedback in a recent customer satisfaction survey you sent out. If your company follows an established feedback loop, its actions might look something like this: your customer service team receives feedback, follows up with the customer, documents the exchange and shares the feedback with stakeholders. Of course, this doesn't mean you should act upon every piece of feedback. But it does help ensure decision-makers are aware of feedback patterns and can take them into consideration.
#3 – Keeping employees engaged
Employee turnover may not be the first thing that comes to mind when you consider why your company should invest in building a strong customer support system, but it's a crucial one. When your customer support system is functioning optimally, your support team members will feel more connected to the business and its mission because they'll be able to see how their work connects to its success.

Plus, the customer support team is often a person's first point of contact with a brand, so your business has a vested interest in making sure it has the training and tools to offer top-notch support to its customers. A recent report claims that 67 percent of customers are now "serial switchers"—customers who hop from one brand to the next following a negative customer experience.
#4 – Painting the full customer experience picture
It's been said that customer experience is the new brand, and in many ways that's true. A person's impression of a brand can be made or broken in a single exchange. When someone has a particularly great experience, they often feel compelled to share it. And if they don't, well, they're often even more compelled.

A strong customer support system illuminates areas where customers are satisfied or not satisfied. This helps businesses gain a fuller picture of the experiences their customers have with their brands. It can also help them make the necessary adjustments to improve those experiences.

Here's an example
Your business may not know that a significant number of its customers are unhappy with your website's new checkout experience. But, by measuring the customer effort score, a customer satisfaction metric that measures the ease of experience customers have with your a business, your team learns that many called it "extremely difficult" to complete. This is feedback your company can act upon.

Want to learn more? Download our ebook.
We've partnered with the folks at Sales Layer to create a free ebook, "Your Guide to Tracking Customer Support KPIs." Download it to learn:
– Why your brand needs a strong customer support system
– How to track your brand's customer support efforts
– How real brands apply support metrics to their customer experience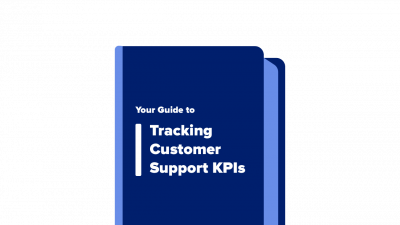 Free Ebook
Get started with applying customer support KPIs to track and improve your brand's support efforts.
DOWNLOAD NOW