Data matters. But accessible data matters more.
At Bitly, we want to make it as easy as possible for teams to get the metrics they need. That's why we're super excited to announce two big upgrades to Bitly Enterprise: date filtering and data export.  
With these two new features, you can access and share the data you need in just a few clicks. Here's how:  
Date Filtering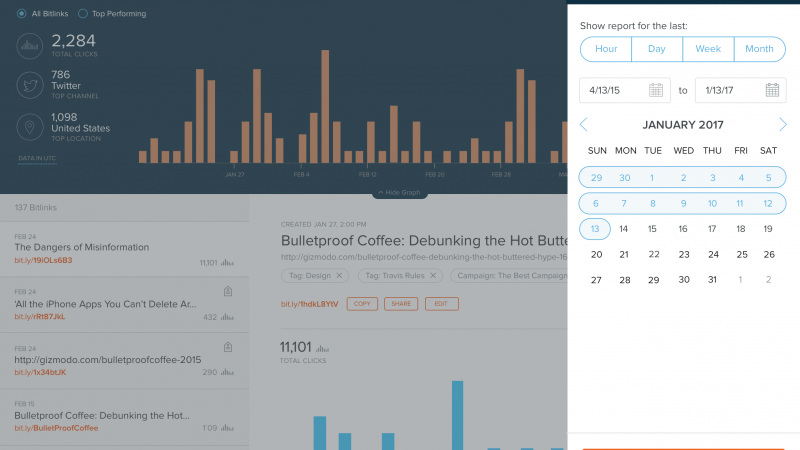 We've talked about the ten metrics you can see in the Bitly Dashboard. With date filtering, you can:
– Filter Dashboard metrics to any range within the past 60 days to see stuff like total clicks, clicks per unique, and top content
– Adjust date ranges of top-performing locations or referrers for any time over the past 90 days so you can easily visualize trends over the past quarter
– Analyze link data from any time period – check out engagement from a campaign a year ago or look at your all-time best content or product pages

So, now that it's so easy to pull the metrics you need, let's talk about exporting.
Data Export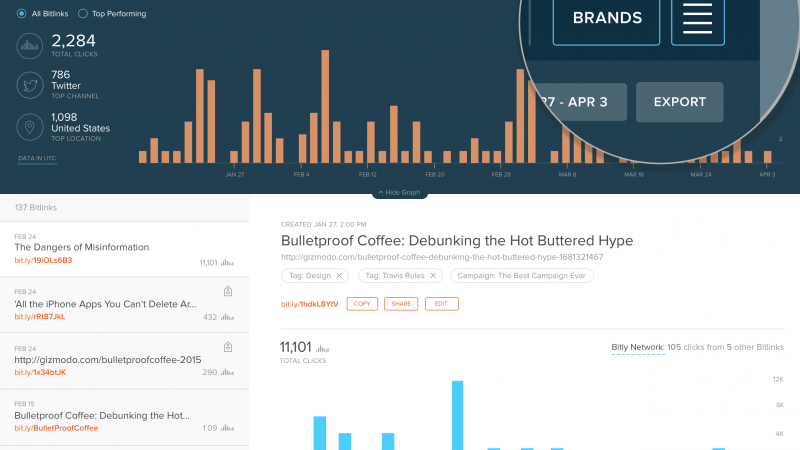 By exporting the data from the Bitly Dashboard or Bitlinks tab, you will immediately get all the relevant data in a CSV file that you can combine with your other reports. And, when you've already filtered for the date ranges you want to measure, you can have a ready-to-use report with just two clicks.  
Data export allows you to export:

– Top-line Dashboard metrics of total clicks, total uniques, clicks per unique, and the clicks and links created from the Bitly Network audience
– Referral sources or locations from the past 60 days
– All the data from your Bitlinks, for any time range – filter by tag, single link, campaign, title, and export with a click
– Top performing links – quickly pull insights on the topics and channels that best engage your audience
– With peace of mind – exports will only be sent to verified email addresses
Democratizing Data
Reporting shouldn't have to be a drag. Or a time suck. We want to make Bitly Enterprise as flexible and intuitive as possible for every team that wants to know how their links are performing.
With date filtering and data export features, we are working on our goal of helping companies see clear across the Internet. So if you're an Enterprise user, log in and get started. Your data has never been so accessible, shareable, and, really, just plain usable!