Since
Q4 of 2015
, Facebook has paid notable publishers, celebrities, and social media stars over
$50 million collectively
to create Facebook videos and use its new live streaming platform.
Founder and CEO Mark Zuckerberg has said that he is looking to move the platform "towards a world where video is at the heart of [its] services." Having delivered on Facebook's in-feed video experience, he's now looking to do so with Facebook Live.
Live streaming is set to be a major ad opportunity for the social platform. U.S. online video ad revenue is projected to increase to $16.69 billion by the end of 2020. Mobile internet usage has surpassed desktop for the first time. And Facebook's recent quarterly earning reports show that mobile advertising comprises nearly 85% of its total advertising revenue. So it's not surprising that Facebook Live is becoming a major priority.
By publishing original content from already established names like the New York Times, Gordon Ramsey, Tastemade, and more, Facebook is hoping to grow its user base, raise its engagement rates, and ultimately leverage its popularity for ad revenue. Even more, Facebook Live represents a promising opportunity to develop different ad formats, such as live-video in-stream advertisements.
With billions of potential video advertising dollars on the line and over $50 million in payouts, the question remains – will Facebook's gamble on content creators and influencers work?
Facebook Pays Publishers, Influencers Over $50M To Use Live Video
Facebook is currently partnering with nearly 140 video content creators and media companies to promote its video and live streaming platforms. These top influencers, which include YouTube and Vine stars King Bach, Piques, and Lele Pons, are being paid a total of $2.2 million to experiment with Facebook Live and create ongoing content exclusive for Facebook over the course of six months.

Facebook Live's contracted publishers and influencers vary widely, which should yield an expansive collection of content. Media outlets have posted content ranging from broadcasts of breaking events to professional tutorials and how-to videos.
For instance, Mashable launched a series titled #BobDraws on Facebook Live, where Mashable content creator Bob demonstrates how to recreate illustrations.
Celebrities and influencers can likewise bring their brands and stories to the table by building interest around breaking events or hosting occasional vlog and commentary sessions. Here, top influencer King Bach captured one of his YouTube shoots in a Facebook Live session to give his fans a behind-the-scenes look.
Facebook's strategy to court users is neither new nor shocking.
In 2011, YouTube doled out over $100 million to publishers, entertainment companies, and social media influencers to build out their YouTube channels. More recently, YouTube partnered with several top creators for the launch of their shoppable ads and YouTube Red. Snapchat has tapped top Instagram influencers Jay Alvarrez and Alexis Ren for their new Memories feature.
Facebook Live's payouts are determined by each influencer's popularity, total number of live streams, and video duration. Additional payment stipulations do exist for "exceeding expectations," which will likely be informed by different engagement rates.
Is Facebook's Gamble Attracting Audiences?
Facebook's $50M video and live streaming deal positioned Facebook Live for significant exposure.
By engaging media companies, Facebook was able to attract viewers that were partial to professionally curated, assessed, and edited content. CNN, for instance, used Facebook Live to broadcast commentary from pundits on the 2016 presidential debates. It drew 390,000 views for a short 16 minute video.
In tapping celebrities, Facebook Live videos attracted massive fan bases that wanted to view famous personalities reacting in real-time to significant events. Michael Phelps, an Olympian and celebrity athlete, gathered 4 million views on a live video right before his historic last race in the 2016 Rio Olympics. Even more significant, his live stream received 238,000 comments, a vast majority of which occurred in real time. This was just one month after Facebook Live had launched.
Most significantly, Facebook Live's recruitment of influencers has attracted audiences that usually consume video on other platforms. These users typically tune in daily. For instance, influencer Logan Paul brought his established audiences on Vine and YouTube to Facebook Live by announcing that he would be posting original content on Facebook. His latest live videos have brought in over 1 million views and 13,000 comments each, showing that users are aggregating on Facebook Live for video content and are enthusiastic about engaging. Aside from increased traffic, influencer presence also contributed to Facebook Live's overall credibility and relevance.
In fact, since Facebook Live's launch in the beginning of April, search query volume on the term, "Facebook Live Stream," has seen an increase of 64%.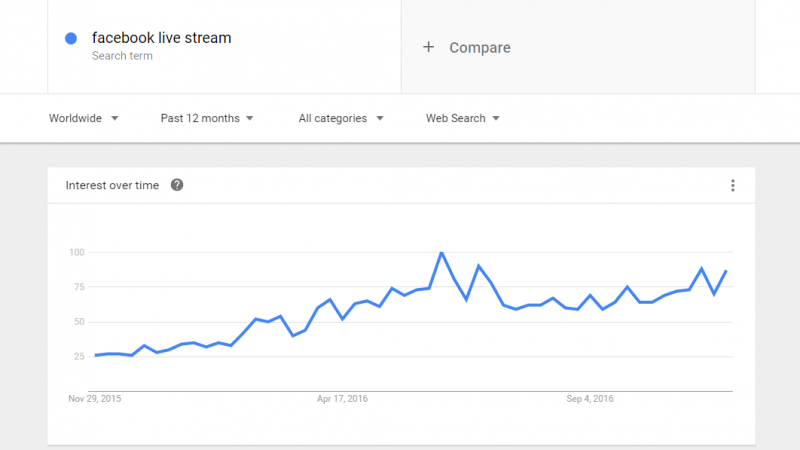 Paychecks Aside, How Does Facebook Live Benefit Influencers?
Influencer presence has certainly shown to be beneficial for Facebook Live. But what are influencers getting out of it other than Facebook's paycheck?
Influencers are constantly looking to expand their presence on the web and to increase their engagement rates.
This means that most are willing to work on different platforms in order to maximize their reach. Facebook stands as the most dominant social media platform, with 1.18 billion daily active users and 1.79 billion monthly active users.
Theoretically there is no better place for an influencer to maximize its audience. Moreover, Facebook's algorithm updates have made Facebook Live videos more likely to appear in News Feeds. Facebook is also reporting that users spend 3x more time watching a Facebook Live video than a non-live video.
Facebook's top influencers, Ray William Johnson and Logan Paul, are testament to Facebook's potential as a influencer-oriented social media platform. In a single month, Ray William Johnson and Logan Paul saw significant growth in their Facebook Live videos. Views for Ray William Johnson and Logan Paul increased by 56% and 22%, respectively. Both influencers also saw a nearly 40% increased change in shares.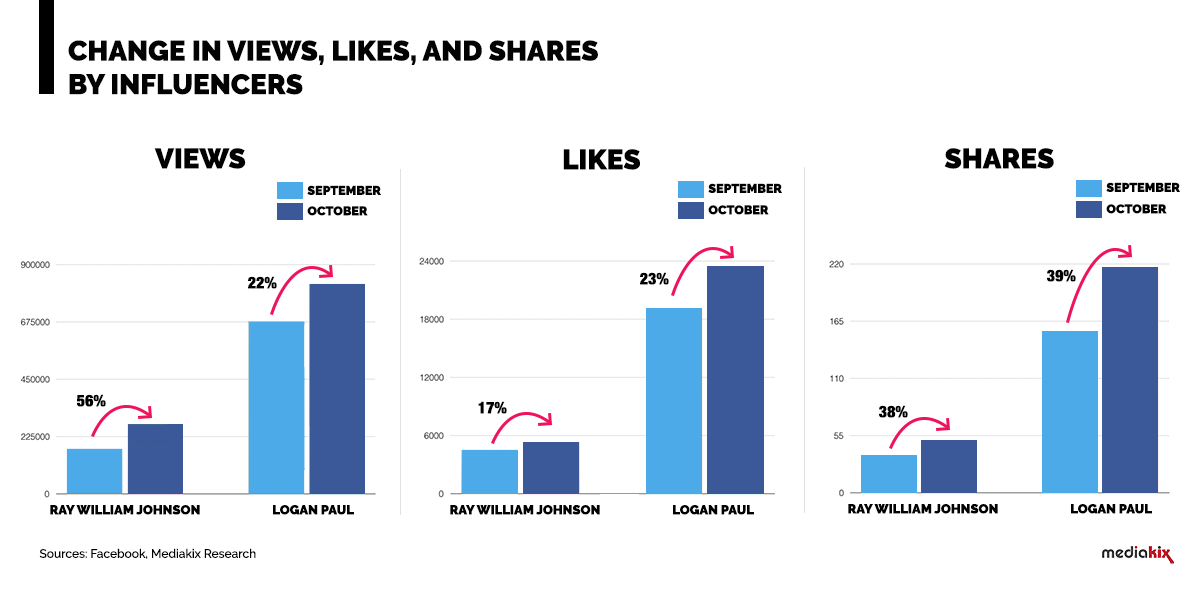 It's a win-win relationship. Influencers are helping Facebook generate popular interest by publishing original content on Live. Facebook is in turn empowering influencers by giving them an unmatched audience and specialized audience engagement features.
Looking To The Future
While Facebook Live has experienced immense initial success with its influencers, the platform and video sharing feature will need to continue strengthening those relationships. As we've seen in the past, social media platforms that neglect their content creators will lose their substantive content, user base, and relevance.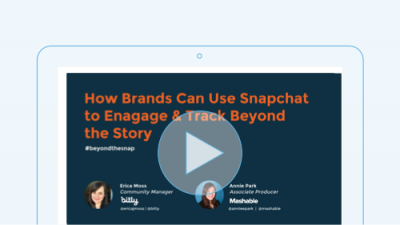 WEBINAR
Early Snapchat adopter, Mashable, shares how they built a highly engaged community that keeps on coming back.
WATCH