Last Friday morning, many of us tuned in from our desks to follow along as the drama from the Fyre Festival began to unfold.
What was sold as a luxury festival and an Instagrammer's paradise quickly dissolved into chaos overnight. Twitter had taken to describing the situation as the real life "Hunger Games." Others called it a "Lord of the Flies" situation.
As part of Fyre Festival's influencer marketing program, celebrities like Kendall Jenner, Bella Hadid, and Emily Ratajkowski shared sponsored posts, promising two days of high-profile performances, white sand beaches, private villas, and gourmet food.
But when festival-goers landed, they found that the grounds were weeks away from being completed. There were shipping containers everywhere, the concierge booth was half-built, and instead of plush cabanas there were disaster relief tents lining the beach.
At one point, all outbound flights were cancelled. Hundreds were left stranded in Great Exuma, Bahamas and eventually the U.S. Embassy stepped in to evacuate citizens.
So how did all of this go so wrong? Is this the beginning of the end for influencer marketing programs everywhere?
All The Red Flags
Part of the blame falls on a team of inexperienced organizers who bit off more than they could chew. Co-founder Billy McFarland admitted that he and JaRule were a "little naïve in thinking for the first time we could do this ourselves."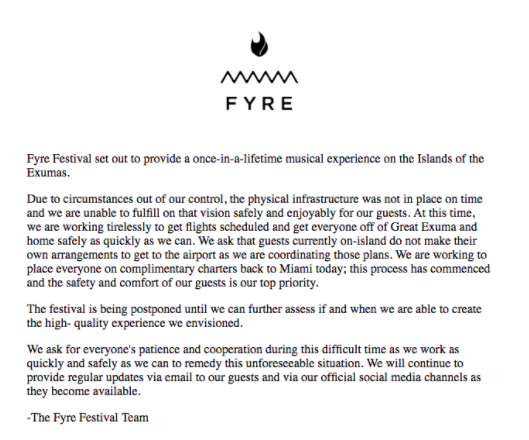 The larger part of the story though, is Fyre's influencer marketing program.
There were many big-name celebrities and influencers tapped to help promote the festival. Of the list, Jenner, Hadid, and Ratajowski alone have a combined following of more than 100 million followers on Instagram.
The festival's promotional video calls the weekend an "experience" and invites attendees to join the "quest." It offers all of the makings of a perfect social media post – clear, blue water, wild swimming pigs, yachts, floating lanterns… and reassures you that, "all these things that may seem big and impossible, are not."
Those who bought into this marketing shelled out anywhere from $500 to $12,000 a ticket to live this luxury lifestyle for a weekend.
"I saw it on Instagram and booked it before the lineup was announced," Mitch Purgason, a 25-year-old bespoke menswear designer in Charlotte, North Carolina said to the Sun Sentinel.
Afterall, if the event had Kendall Jenner's stamp of approval, how bad could it be?
Consumers Are Catching On
As it turns out… pretty bad.
It's rumored that Kendall was paid $250,000 to promote the festival. She heavily promoted the festival on her Instagram account, but all of those posts have now been deleted.
For us, the Fyre Festival really made us think about the the influencer-brand relationship.
There's a lot of gray area when an influencer shows off a handbag in a vacation photo or reviews a particular type of makeup they're wearing. Are they endorsing these products because they really love them, believe in the brand, and it's safe to use? Or is it all just a thinly-veiled business deal?
Nicola Foti, who makes comedy sketch videos on YouTube, and has around 388,000 followers, vouches to only partner with brands he personally supports. "My audience is usually pretty receptive to anything I talk about brandwise because they trust that I'm not just selling them something I don't care about," he says.
The FTC, on the other hand, takes the stance that any partnership that includes compensation, even the exchange of free products, should be disclosed. Influencers often do this with hashtags like #sponsored, #ad, #sp.
As a micro-influencer myself, I've been partnering with brands for the past three years and have recently started seeing an uptick of brands asking that I tag all of my posts with these hashtags.
The cutest little travel companion. Thanks, @coach for sending over this timeless classic! It's the perfect sized cross body to grab and go when you're on the road exploring new sights & eats! A little more about the Dinky bag – it's revived from @coach's 1941 collection and remains one of @coach's most iconic silhouettes as they celebrate their 76th anniversary. #coachdinky #coachprespring2017 #coach1941 #ad

While transparency is the first step in building trust, influence comes with more responsibility than that. As an influencer, you build your following off of your personal brand. Followers keep coming back to engage because we either focus on a specific topic, or because we represent a particular voice or aesthetic. They learn to see us as a trusted resource, an expert, and sometimes even a friend.

I've also personally struggled with finding the right way to vet partnerships but try hard to stand by the same approach as Nicola.

I know that a lot of my followers share my interest in using Instagram for social good. They like to learn about ways to get involved with local nonprofits and ways they can help advocate for certain causes. From tracking my engagement, I also know that my followers love fun food recommendations. I try to stay within that cross-section of content in order to build credibility.

But I also know that it can be exciting to get free handbags, watches, food – some bigger-name influencers I know even get free trips. The lure of something free can make it easy to overlook the response you'll get from your followers.




It's clear that the Fyre Festival made consumers take a cold, hard look at how much influence social media holds over our expectations and our wallets.




Expectation vs. Reality#fyre #fyrefestival pic.twitter.com/U80NApajxl

— William N. Finley IV (@WNFIV) April 28, 2017

In a way, Fyre Festival was an amazing success. Instead of entertaining thousands of people, it entertained millions.

— Josh Barro (@jbarro) April 29, 2017

Influencers are at risk of losing the hard-earned respect they've gained over the past few years. An incident like the Fyre Festival detaches the glamour of influencer content from the business aspect of the endorsement.

Celebrities Emily Ratajkowski, Bella Hadid, Elsa Hosk, and Kendall Jenner all remained silent for most of Friday. And when they did apologize, there was quite a bit of finger pointing. "Even though this was not my project whatsoever…"

Currently, 92% of consumers trust recommendations from strangers over those from brands, but if a few more of these well-publicized fiascoes occur, that street cred is likely to go out the window just as traditional marketing before it.

I think one striking thing about #fyrefestival is models on Instagram luring partygoers to their doom like modern-day sirens

— Rachel Jane Andelman (@rajandelman) April 28, 2017

And for brands, how much should you rely on influencers to drive the outcome you're looking for?

For example, how much did Fyre Festival organizers lean on their influencers to bring in the revenue they needed?

It was reported that some artists were not paid on time, though it's not clear if it was a matter of funding or accounting.

"Brands definitely need to be cautious," Perse added. "Use traditional reasoning. Celebrities can be paid to endorse and promote something but it doesn't necessarily guarantee the outcome they are looking for," Kerry Perse, head of social media for OMD told AdWeek.

[postcta]


Oh, The Irony

Our favorite part of the whole Fyre Festival weekend was perhaps how influence became a form of currency on the island.

One attendee jokingly tweeted that Instagram models were trading sponsored posts for a blanket and half a mango.

We heard some horror stories from out there. They got IG models trading sponsored posts for 1 blanket and half of a mango. #FyreFestival

— Jeremy Burke (@JEREMYBURKE) April 28, 2017

Another influencer took to Twitter to ask airlines for help – he followed up by saying that he had an Artist Pass.




Hey @delta and @AmericanAir, not you United, can you come to the Exuma airport and save us? I have an Artist Pass. #fyrefestival pic.twitter.com/WFdEWcvuZm

— William N. Finley IV (@WNFIV) April 28, 2017

In true influencer form, many festival-goers also turned the experience into blog posts and an opportunity to gain followers.




Even when festival-goers were burned by influencer marketing, they still had faith that their own followers would continue to trust them.

Growing Pains

While the Fyre Festival incident has shown influencer marketing's power to bring people together and to start conversations, it also shows how sponsored posts are just that at the end of the day – sponsored.

When something goes wrong, or when everything hits the fan, influencers will probably be quick to disassociate themselves with your brand. Or even delete their posts.

Kendall Jenner, Bella Hadid, and Emily Ratajkowski's lack of research and accountability will cost influencers everywhere. Influencer marketing is supposed to be more reliable because these are real people, but what if consumers learn that influencers aren't trustworthy? How will brands connect with consumers then?

Our guess is that one incident like this isn't enough to wipe out influencer marketing. But it teaches brands an important lesson to build loyalty with their influencers and to be transparent.

For us, we'll be a little more cautious of the next festival, restaurant, or piece of clothing we see promoted on Instagram.

And we're also watching intently as the festival organizers plan to host the festival again next summer. Will they be able to fan the Fyre back to life?

EBOOK

From outreach, to campaign strategy and tracking ROI, we've packed everything about building an influencer marketing program into this guide.

DOWNLOAD NOW