You want traffic, but you have no budget.
You want leads, but it seems like it's impossible to get noticed.
Trying to reach a new audience is getting harder. Channels are crowded and prospects are overwhelmed. Not only that, strategies and tactics are constantly changing.
What kind of content can you make that really resonates? How can you scale your marketing efforts so that you're maximizing each touchpoint? How do you make sure you're not wasting money on the stuff that doesn't work?
Summer is the perfect time to recalibrate and reset. That's why we're hosting a live panel with Hubspot on Thursday, August 3 at 11am to share some of our favorite growth hacks. You'll be able to talk with Hubspot's Senior Growth Marketing Manager Eric Peters and Co-Marketing Acquisition Marketer Bethany Cartwright, along with Blaise Lucey, Bitly's Director of Product and Content Marketing (me!).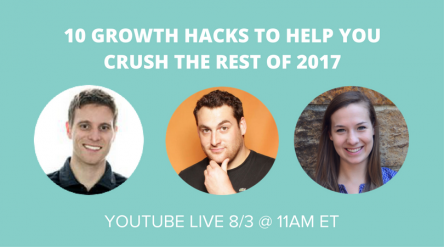 In 
"
10 Growth Hacks to Help You Crush the Rest of 2017
," we'll take you through an interactive session that will cover topics like: 
– Leveraging existing customers for growth
– How to maximize content output
– The best tools for long-term and short-term growth