This article was published on October 5, 2017 and updated on December 10, 2018.
Once you start seeing the pumpkin spice-flavored items hit the shelves, that's when the pressure starts to kick in. The holidays are here, and you don't yet have your customer service checklist prepared for the holidays.
Are we stocked with enough product? Can our site handle a greater influx of traffic? Most importantly, is our team ready for a spike in social support messages?
Research shows that one in three customers prefer using social to phone or email to reach out with product inquiries, shipping issues, and more. That will only be amplified this year, with e-commerce sales expected to increase by 15.5% in the U.S. alone.
So how do you keep up the quality of support and your response time consistent all while keeping your sanity in check? We've put together a social support checklist to help you beat the holiday craze:
1) If It Isn't Broken, Don't Fix It
Start by taking note of trends you saw last holiday season.
What was the volume of inbound support messages? Which social channels received the most messages? What were the most frequently asked questions?
Historical data can show you what's been working well and what to do more of. You can also use this data to identify opportunities for improvement and test in the months leading up to the holidays.
Cut through the holiday noise by already knowing what your audience wants more of and where to share it with them.
2) Build a Course of Action
This is going to get a little meta.
Create a master checklist of training sessions, resources, and actions your team has to take before the season hits.
Here's what we'd include in a checklist to share with a customer service team:
– Meet with the buying team or product team to learn about top products and potential FAQs for the holiday season.

– Download the holiday guidelines doc and keep it somewhere that would make it easy to refer to.
       – A holiday guidelines doc could include a reminder of your brand's tone and voice, canned answers to frequently asked questions, helpful links to know, and more.
– Support team leaders to evaluate resources and ensure that there is sufficient manpower.
– Become familiarized with the emergency plan.
       – An emergency plan details what to say and who to contact in case of an unexpected issue or PR crisis
Laying down the groundwork now can help your social support team be prepared for the busy months ahead.
3) Give Your Support Team a Helping Hand
Consider using interactive software and automation technologies to scale personal interactions this holiday season.
Many businesses are turning to solutions like chatbots to deliver quality service at scale while learning about customers at a deeper level. A majority of businesses, 80%, want to use chatbots by 2020.
Andy Mauro, CEO of Automat, suggested in a recent presentation that conversational marketing is the future. "Rather than tracking users with pixels and cookies, which… results in roughly targeted ads and email campaigns, why not actually engage them, learn about them, and provide value in return in the form of products and experiences that actually meet their needs?" Andy says.
Kayak does this through a Facebook Messenger bot. The Kayak bot helps users with travel inquiries in real-time. Users can ask the Kayak bot questions like "where can I go for $500?" and "when is the best time to fly to New York?".
A less expensive route would be setting up a social media monitoring and scheduling tool.
Tools like Mention and Buffer can help you find frequently asked questions and catch bugs that need to be addressed.
Your support team can also partner with your marketing team to use these tools to identify popular features and source influencers for your holiday campaigns.
4) Set Expectations
Let your customers know exactly when and where they can find you.
Include support hours in your social profile bios.
Snapchat Support does a great job of this on Twitter by including their operational hours and a link to their FAQ page for users to quickly find the help they need.
If you expect a particular product or service to bring in a high volume of support inquiries, you can also note this in your bio. Or set up a landing page to streamline interactions. Virgin Atlantic refers users from social to a landing page to track and organize their inquiries.
Know Your Customers
The good news is; preparing for the holidays doesn't always have to require heavy forecasting or complex campaigns. But it does take time.
Research shows that consumers expect highly-tailored experiences that are relevant to them. Almost 74% of customers are turned off when they receive content that has nothing to do with their interests.
Sometimes all it takes is tuning in and listening to your customers. You can't provide meaningful support without understanding the value and pain points of your product. Whether it's through chatbots or social listening tools, you need to set up feedback loops to listen before you can respond.
Let your customers lead the way this holiday season.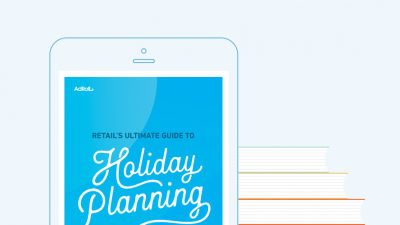 EBOOK
The one holiday guide you need to tweak, optimize, and absolutely win in the upcoming months
DOWNLOAD NOW