How do recruiting companies recruit?
If most of us have trouble reaching candidates and figuring out which channels are best for attracting talent, do recruiting companies have it any easier? And what kind of recruiting tech tools do they use to cut through the noise?
We recently connected with Taylor Dumouchel, digital marketing specialist from Peak Sales Recruiting, to find out. Peak Sales Recruiting, an NYC-based search firm, uses Bitly for recruiting and to track content marketing efforts across the funnel.
Taylor shares more about how the team uses Bitly links to track, test, and optimize.
1) How did you first start using Bitly?
I've recently transitioned from our recruiting team over to marketing. But in the past, I've mainly used Bitly for recruitment purposes.
Our marketing team has been using Bitly to share resources across the funnel, anywhere from the beginning of the recruitment journey with "10 Reasons Why Working With a Sales Recruiter Will Advance Your Career" to posts for interview prep, like "Top 5 Ways to Prepare for Your Next Sales Interview" and "Is The Company Culture Right For You? Five Questions You Need to Ask In Your Sales Interview."
We share this content with our candidates all across the funnel. So we include Bitly links in each email, social media post, and even text message to track each of these touchpoints and which channels get clicked the most.
We even use Bitly to engage post-hire. Let's say the candidate we're working with is a brand new VP of Sales. To enhance the onboarding process and increase ramp-up time, we would send the candidate our "50 Point Checklist For The New VP of Sales."
From analyzing our Bitly link data, we found that this checklist got a lot of traction. Since we saw that checklist perform well, our marketing team started creating and testing more checklists. As a result, our content engagement levels increased. Our most recent checklist, "20 Point Checklist to Motivate Your Sales Team," saw a ton of engagement..
Without Bitly links, we would be left guessing which content topics or formats our target audience prefers.
The recruiting industry is a competitive market. To remain successful, we can't leave anything up to chance. We have to back up our strategies with data science.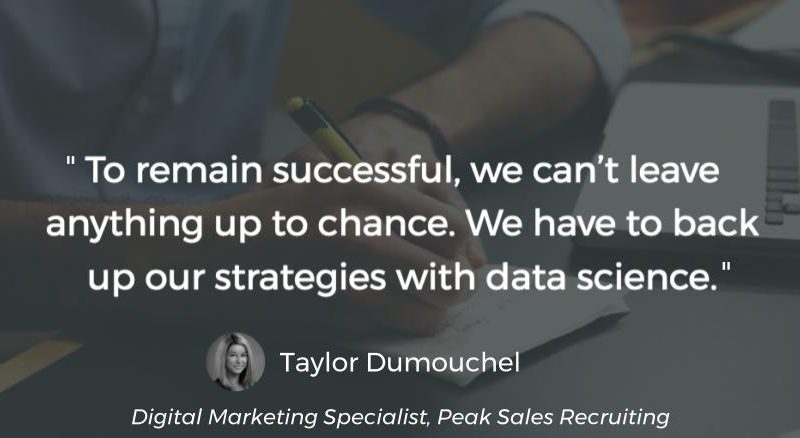 [postcta]
2) Do you ever use Bitly links for bigger campaigns? Is there one particular campaign you've found a lot of success with?
One of our bigger campaigns is specific to recruiting. Every candidate we speak to at Peak is put through a rigorous assessment process – including a psychometric evaluation (a test that measures candidate-fit for a particular role based on a range of behavioral and cognitive abilities).
We use it for three reasons: it increases hiring accuracy which decreases turnover rate, it helps improve working relationships through a better understanding of the candidates' motivators, and it helps ensure success in the recruitment strategy since we're making decisions based off measurable results.
Before we started using Bitly years ago, our headhunters would send candidates an opportunity brief, which is essentially Peak's version of a job description. At the end of this doc would be a link to the psychometric test.
But we found that we had a lot of trouble getting candidates to fill this form out on the first try. We would have to continuously follow up to remind the candidate to fill out the test.
The reason why it was particularly tough is because the best salespeople are always gainfully employed. If you're always hitting your quota, then that means two things: you're at the top of your game and you're making a lot of money.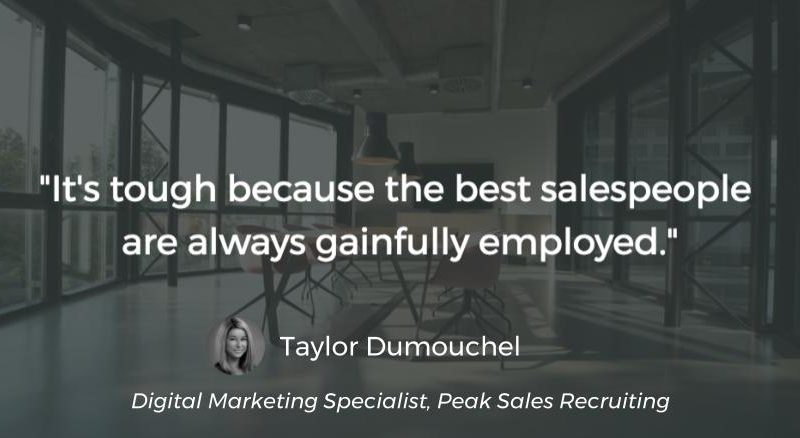 These candidates we're reaching out to are most likely very busy and very happy in their current roles.
So, we started using Bitly links to test and measure which types of messages would get the most responses. We wanted to improve the experience right from the beginning.
Through our links, we found out that sending a link to the test through LinkedIn while introducing it over the phone was the most effective way of getting candidates to complete the test as quickly as possible.
We also learned that Friday at 3 pm was the most effective time to ask candidates to complete the 30 minute evaluation. This finding came as no surprise to us because this time is typically when a busy sales executive's week is starting to slow down.
Thanks to Bitly we now have a much higher success rate in getting candidates to take the test as quickly as possible.
3) Which social channel do you see the most engagement on?
LinkedIn is by far the most engaging social channel for us.
Our headhunters alone have a combined network of over a million people on the channel.
These networks allow us to boost reach and gain a ton of engagement on content when shared on LinkedIn.
Bitly links also help us compare LinkedIn performance to other social networks. Although LinkedIn far outperforms the other channels due to our massive network, we use Bitly link testing to increase engagement on other platforms such as Twitter, Facebook, and Instagram. In today's landscape, people are on multiple channels and to be competitive you need to build a multi-channel brand.
4) What's one really interesting finding you've discovered from using
Bitly links

on social?

At Peak Sales Recruiting, we are 100% focused on headhunting top sales executives.

But even though we don't post any job ads to find our candidates, we do post job ads to fill some of our own internal non-sales positions.

We're currently in the middle of transforming these internal job postings. And again, to succeed, we know we can't leave anything up to chance. We use Bitly links to track which job postings get more clicks and on which platforms.

This helps us decide which strategies are performing best and which ones to continue replicating.

Through our Bitly links data, we've found that the best performing job posts include graphic design, key opportunities, and sections on company culture.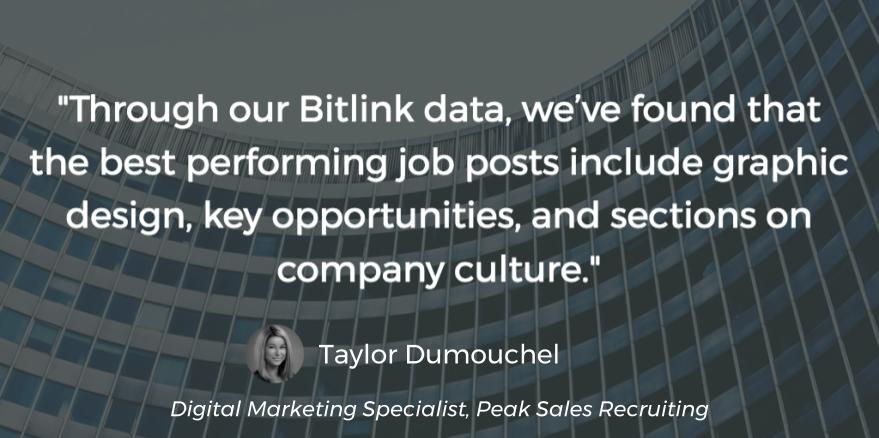 The interesting thing is that this data went on to support one of the studies our marketing team conducted.
In the study, we investigated how millennials are transforming the workplace and the talent market, since this generation will soon make up the vast majority of the workforce. We found that the two most important things for millennials when considering a job opportunity are a fitting work culture and opportunities for career growth.
This supported our Bitly findings that focusing on key opportunities and culture is the best way to boost applications.
5) What's one big initiative you are working on right now?
Candidate marketing, the practice of nurturing candidates no matter where they are in the job cycle, has been a big push for us. It's something we had established for many years now, and is always an ongoing process, but it's growing in importance.
We have established a massive database filled with top performing candidates who maybe as of now aren't ready to make a move or aren't fit for any specific role yet.
So when the right fit does come along, how can we match that A player with our client? The secret is to keep these candidates engaged. Our marketing team collaborates with our headhunters to create and distribute content to our database of sales professionals. We conduct surveys, make suggestions for professional development, run quizzes, and more. Of course, each touchpoint matters and we don't want to take any guesses, so we measure each resource and piece of communication with a Bitly link to determine the best way to engage our candidates.
Going into even more detail, we use Bitly links to track what kind of content resonates with certain ages, genders, geographic regions, and titles so that when we can be extra strategic when nurturing candidates and give them those extra personalized benefits of being engaged with the Peak brand.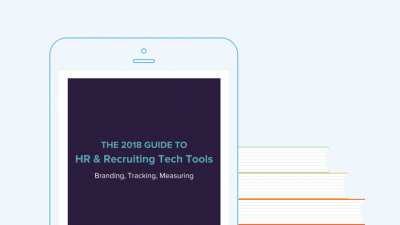 EBOOK
Download our latest guide to learn about the top HR & recruiting tools for your tech stack!
Download