HR and recruiting is all about the right people. And, increasingly, the right technology.
Whether you're trying to find great candidates for an open role or you're looking to streamline benefits packages, there's a tech solution for it. Or, more likely, a dozen tech solutions for it.
HR tech and recruiting tech is still in the early stages, but it's clear that the landscape is getting complicated. Employer branding, multichannel recruiting, unique benefits, bots, automation, and a host of other trends are affecting how teams operate and think about HR and recruiting processes.
That's why we put together a guide to get you thinking about 2018. In "The 2018 Guide to HR & Recruiting Tech Tools", you'll learn:
The top trends for HR & recruiting

How to build a recruiting tech stack

8 awesome HR tech tools

How to measure candidate journeys across multiple channels
Download "The 2018 Guide to HR & Recruiting Tech Tools" below!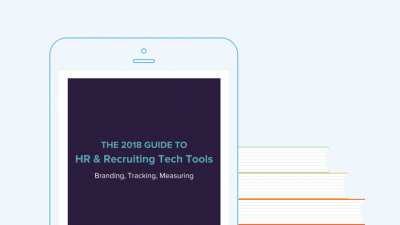 Ebook
Download our latest guide to learn about the top HR & recruiting tools for your tech stack!
Download