As I navigated the maze-like interior of the Boston Convention and Exhibition Center, my mind wandered back to the first session I attended at Hubspot's Inbound conference.
"Our stories are what's getting us found," said Lisa Gerber, owner of The Big Leap.
That's what grounded me in the chaos of the four day conference offering 273 speakers across four floors and two buildings: the story.
I was determined to book it from one talk in the East Wing of the basement level to the West Wing of the third floor in order to learn about Hubspot's own formula for customer success. And I certainly didn't mind a 6 a.m. wakeup call to hear Michelle Obama share her story on being your authentic self.
I wasn't alone either – I found myself going from room to room among a sea of 20,000 other attendees.
It all came to me as I was going up the escalator. This is the kind of excited energy we're all working towards as marketers in today's fragmented digital landscape.
We want our brand story to resonate so strongly across all the disconnected channels and devices, through all of the noise, that customers will keep coming back despite the odds.
Now how exactly do we bottle and scale this energy?
Story is The Connective Tissue
In "How to Use the Power of Story to Influence Action," Lisa Gerber talks about something that is increasingly important in today's fragmented landscape: emotional connection.
It can be really easy for us to get distracted as marketers. There are a dozen channels to monitor and engage across. Marketing teams spend an average of three hours a week analyzing data from different sources. It's easy to focus in on your checklist and forget that there is a human with real problems on the other side of your content.
"[But] consumers brains are wired for stories. We think in stories. We think in cause and effect," Lisa says.
Finding your brand's story, growing it across channels, and consistently providing value is the key to winning trust and loyalty.
Marcus Andrews, Senior Product Marketing Manager at Hubspot, says that the "core component of the customer experience piece is to keep your promise."
In "Growth Through Success: How Companies That Embrace Customer Success Grow Faster, and Retain Customers Longer," Marcus referenced several high-profile corporate gaffes from this past year.
Marcus referenced how the Fyre Festival failed to keep their promise of rock bands, private villas and gourmet food.
He also referenced how Equifax mishandled the hack by focusing on profit over their customers. And United focused on process over people when the CEO's initial response was that United employees were only following "established procedures for dealing with situations like this."
But sometimes, a good customer experience requires breaking protocol.
"Happy customers are part of your growth channel," Marcus says.
And there are stats to prove it, since loyal customers are worth up to ten times as much as their first purchase.
Lisa Gerber's solution is to tell stories that solve for the consumer's problem. It is all about matching the story to where the user is in the buyer's journey.
Lisa breaks down her storytelling formula in three easy steps:
1) Make An Emotional Appeal
Get protagonist right. A common mistake that brands make is making themselves the hero. But consumers don't care about that. They want to know how you're going to make them feel and how your product is going to make their lives better.
2) Know Your Protagonist And Solve Their Problem
Consumers want and expect brands to know them. A majority of consumers, 75%, are more likely to buy from a retailer that knows their name or recommends products based on purchase or browsing data.
3) Every (Brand) Story Also Has a Happy Ending
When it comes to brand stories, there is always a happy ending.
Today's consumer likes to have that happy ending upfront. There are no mysteries. "No one has time anymore for 'click this and you'll be amazed.'" Lisa references Slack's famous motto – "Be less busy." Who doesn't want to be less busy?
Marcus says that Hubspot swears by their "7 Customer Tenants," which is similar to a customer code.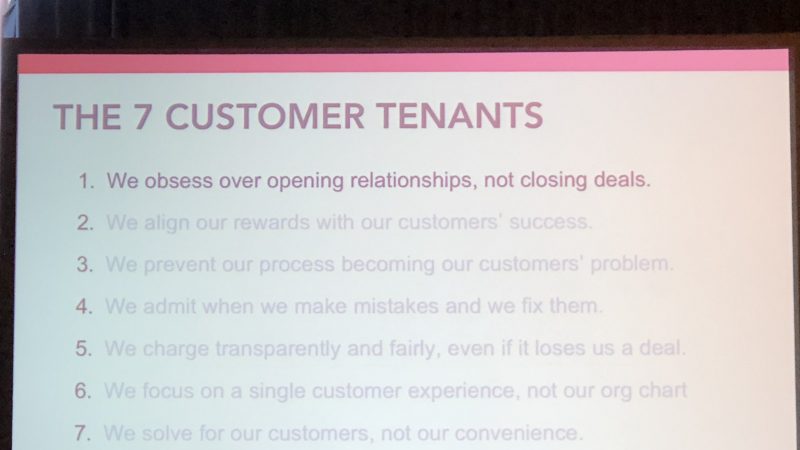 Finding Your Authentic Self
'Customer experience' was the magic word at Hubspot's Inbound conference this year.
I heard the words "customer experience" used at least once in each session I sat in on.
Some speakers talked about providing a personalized, consistent, and seamless experience across each touchpoint. Others talked about listening, and being real.
Arvell Craig, Marketing Coach at Design That Speaks, pointed out how the Inbound conference emails – the updates that reminded attendees of very important information like when to sign up for sessions and where to go for lunch – were all addressed by Elijah Clark.
Since these emails were consistently branded and came from a person instead of the generic "Hubspot Team," we felt special as attendees. By the end of the conference, it felt like we knew Elijah even though we had never met him.
Taking Ownership
Arvell Craig also hit on the important point of ownership.
It's become harder to gain control of your customer experience. Data is siloed across various platforms making it hard to build a clear picture of how your marketing efforts are performing. Where are customers most engaged? When and where are they engaging with our content from?
In his talk, "The Minimum Viable Email Sequence, Arvell reminds us to find ways to take back control of our data. "Email data is owned. Social media data is rented," Arvell says. He reminds us of the power of the email with the statistic that email still drives the most ROI out of any other marketing channel.
Another way to take back control is by empowering your employees to become brand ambassadors.
In "How to Use Content as a Tool for Each Department of Your Business," Kelsey Meyer-Raymond, President and Co-founder of Influence & Co., spoke about how her company uses content to empower the sales and recruiting teams.
Kelsey recommends educating your sales team on how to use content in conversations at every stage of the funnel. From initial outreach emails to nurturing and re-engagement, content can keep conversations consistently branded and targeted.
The same goes for recruiting. When employees share branded content on the web, it builds a very strong image of your company that helps candidates decide whether there's a good fit or not. Kelsey explains how the Influence and Co. team care deeply about progressive healthcare. So much so that they wrote a piece about it in the Harvard Business Review.
Candidates who come across the piece will immediately understand what the company values and how they treat their employees. This acts as a first screen, because candidates who might not share the same views will decide to pass on applying and seek an opportunity that they feel is a better fit.
Taking ownership of the brand from both a micro and macro level can help keep messaging consistent and targeted.
Learn To Do Less Things Well
Co-founders Brian Halligan and Dharmesh Shah lit up the stage with their keynote on the first day of the conference. They spoke to the current landscape that we're in and some forward looking trends.
"It's a wonderful time to start a company. There are so many tools and services for free now. But it's never been harder to scale," Brian said.
He spoke to his weakness: being a yes-man. In a hilarious display of his weakness, Brian told the story of his relationship with his dog through a series of photos. He said that his dog Romeo's favorite toy is the toy chicken. You know, the one that squeaks. Every time they go to the chicken store, they have this conversation where Brian attempts to say no, but then Romeo will give him those big, sad dog eyes. And of course, Brian eventually caves and says yes. At the end of the story, Brian pulls up this photo of a pile of toy chickens with Romeo peeking out from underneath.
Brian explains that this yes-man mentality might be great for the startup stage, but isn't sustainable for scaling. He said that "startups are much more likely to die of overeating than of starvation."
And those words couldn't be more applicable for today's increasingly complex landscape. Don't feel the need to hop on every new social media channel, to produce more content, or to out-post your competitors.
It's all about quality and learning to do less things well. Find your story and customers will keep coming back, despite the odds.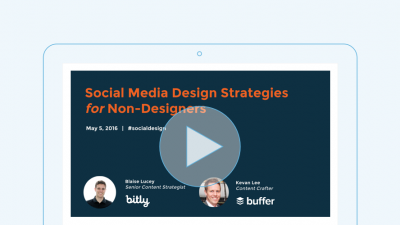 WEBINAR
How to design stunning social content with little resources and experience.
WATCH