Influencer marketing has really grown up over the past few years.
More than half of all marketers have influencer marketing strategies like Facebook giveaways, Instagram takeovers, and YouTube tutorials, baked into their marketing plans. Brands have doubled down on their spend over the past two years – with budgets ranging from $5,000 to $25,000.
Research shows that influencer marketing will only continue to evolve in 2017. Tapfluence predicts that traditional celebrity endorsements will crack and influencer marketing will play a bigger role in agencies, B2B, and the martech stack. Fame will not automatically equate influence anymore. Marketers will be experimenting more with micro-influencers and placing more importance on metrics like engagement over follower count.

Consumers are starting to become familiar with the influencer marketing tactics we've developed over the past few years. They trust it, expect it, and are waiting to be delighted by more. Almost all consumers (92%) trust recommendations from strangers over those from brands. That's why Tapfluence also predicts that brands will start testing out new influencer marketing tactics, like bridging online and offline and audience targeting through influencers.
Whether you have a polished influencer marketing program or you have yet to hop on the bandwagon, it's time to think about fresh ways to target your audience and move the needle in 2017.
In this guide, we'll cover all of the steps you should take to build an influencer marketing program from the ground up. Read on to learn:
– Where to find the right influencers and how to turn them into brand ambassadors
– How to craft a campaign brief that keeps everyone on the same page
– Why Facebook is investing in influencer video marketing
– How to track and measure ROI from influencer marketing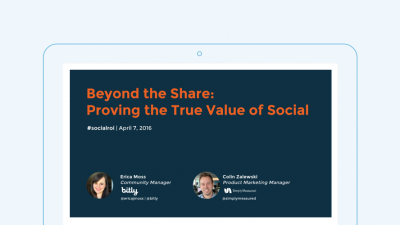 WEBINAR
Beyond the Share: Proving the True Value of Social
WATCH NOW