After hours of "painstaking" influencer marketing research: browsing through well-curated Instagram feeds, following influencers on Twitter, and rubbing shoulders with influencers at meetups… you've found the right influencer to represent your brand.
Now what?
The crux of any successful influencer marketing campaign lies in communication and execution. You're already partnering with these select influencers because their aesthetic reflects your brand, they're passionate about your product, and you dig their style. But still, a lot can happen from conception to execution. How do you ensure their content matches your vision?
This is where a campaign brief comes into play.
As both a marketer and micro-influencer, I've done quite a few Instagram partnerships with food and clothing brands over the past few years. For this next installment of our Influencer 101 guide, I've pulled together some commonly used briefing points that I've seen lead to successful influencer marketing campaigns:
1) DOs and DON'TS
To kick off the collaboration, send the influencer the campaign brief along with a separate work contract to sign.
Include a dos and don'ts section in your brief, so influencers know exactly what they are committing to and you can streamline the project's objectives.
A great dos and don'ts list is specific enough to be helpful, but still gives influencers enough room for creative autonomy.
Here are some common dos and don'ts for an influencer marketing brief:
Do's:
– For visual content, shoot in a well-lit environment, try to use as much natural light as possible! Daylight works best.
– Incorporate brand colors if possible.
– Include #sponsored in the caption. According to new FTC regulations*, you need to disclose all sponsorships and promotions.
– Style the product in a way that's clearly identifiable. If there's a specific feature, like a logo, pattern, or interface that is unique to your product, be sure to ask influencers to include this in the shot.
Dont's:

– Include identifiable logos, products, or branding from other brands and competitors.
– Use collages, filters, or stickers.
– Be overly promotional in the caption.
*Keep in mind that FTC regulations for influencer partnerships might be changing very soon.
2) VISUAL INSPIRATION
Think of this next section as a miniature mood board. Fill up a page or two with examples of what you'd like your influencer's posts to reflect or represent. You'll want to make sure there's a cohesive theme that the influencer can take away, whether it's a color, shooting style, mood, or personality.
Here are some examples to get you inspired:
Color
Natural Light
Flat Lay
Minimal
For more examples, head on over to our "7 Design Hacks for Better Instagram Pictures" post!
3) CONTENT CHECKLIST
Full-time influencers are juggling multiple partnerships. Even part-time influencers often receive plenty of inquiries a week.
Make it easier for your influencer to keep track of all that they need to create content that will deliver results. Not only will the production turnaround time be shorter, but this saves a lot of potential work on your end. Without a check list, influencers might forget to use the right hashtags the first time around, or not follow through with posting the number of photos you were looking for
Use Bitly links to keep yourself organized too! Give your influencer a customized Bitly link to easily track when they are posting and how their content is performing and impacting your bottom line.
Here's an example of a checklist to get you started:
USE A BRIEF TO PREVENT GRIEF
The average brief doesn't have to be anything more than three to five pages long. It doesn't take too much time to put together, and once you get a template going you can reuse it for all of your influencer marketing initiatives.
Don't underestimate the value of putting aside a few hours to draft up a creative brief for your influencers. Too often, I've heard horror stories of brands losing revenue or influencer relationships being tarnished all because of simple misunderstandings at the beginning of the project. Putting together a creative brief can prevent a lot of grief down the road.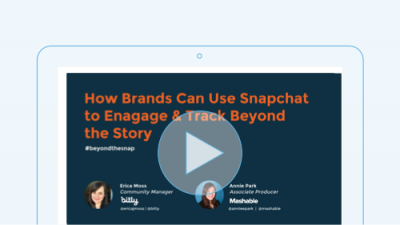 WEBINAR
Early Snapchat adopter, Mashable, shares how they built a highly engaged community that keeps on coming back.
WATCH NOW