In March 2015, we announced the ability for marketers to turn on mobile deep linking for all links created through Bitly.
Today, we are excited to build on this by announcing the rollout of support for Apple Universal Links and Android App Links.
Bitly is committed to empowering marketers with the tools needed to build a robust and seamless customer experience. We believe that deep linking will help drive app re-engagement and app installs and get users to the right place on the right device, every time.
Let's take a look at what this update might mean for you and how you can get the most value out of it: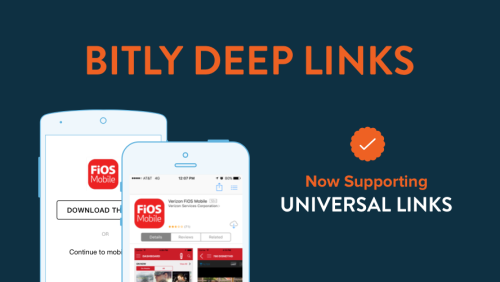 Why Are Deep Links Important?
Picture your daily routine on the web. Whether you're looking for the day's news or searching for a hip new jacket, you're probably used to browsing Twitter or Facebook, or checking your email for current content. When you find something you like, you click through expecting to land directly on a page that delivers exactly what you were looking for. On an iPhone or an Android device, you expect to be taken to an app. Unfortunately, this isn't very common.
And this is a problem because most of the content we consume today is on mobile. U.S. adults spend an average of 3 hours and 8 minutes on the phone each day. And mobile is a tough crowd. 47% of consumers expect a web page to load in two seconds or less. The average app loses 77% of its users in the first three days.
Deep links significantly boost app engagement, create a richer user experience and ultimately boosts retention rate by driving customers directly into the app.
What Are Universal Links and App Links?
Over the past year, Apple and Google introduced ways to enhance the mobile user journey, with Universal Links and App Links respectively. These two deep linking protocols allow URLs to seamlessly redirect into an installed app.
Until now, there wasn't a standard protocol for mobile deep linking and each company would build their app using whichever standard their mobile teams embraced. But this is a lot like using different languages to communicate with each other. It's hard to understand each other and certain things might get lost in translation. Universal Links and App Links are equivalent to the English language, a language of international commerce.
The way deep links work, if you're trying to access a news publication on the mobile browser, it will automatically direct you into the content in the app that you've downloaded on your phone. If you don't have the app downloaded, it will bring you to an interstitial page where you have the option to download the app.
Mobile apps make it easier for consumers to engage with content and make purchases. Most importantly, apps deliver the speed that mobile browsers can't. Web browsers take longer to load content and most consumers wait only 6-10 seconds before abandoning a page altogether. A one second page delay can cost a 7% reduction in conversions.
How Do I Get Started?
Enabling your Branded Domain to be a Universal Link or App Links domain is as simple as checking a box in Bitly and then adding your Bitly domains to your list of supported domains in your app.  Once those steps are done and you have integrated our software development kit (SDK), we will take care of creating the rest of the setup.
How Does It Change My Workflow?
For those of our customers who are currently using third-party tools to create and manage your  links across your organization, you don't need to change anything.  Once your domain and app is configured in your Bitly account, all of the links managed through these tools will automatically drive users with the app installed into their mobile app.
What Happens To All My Existing Links?
Once you have enabled your Branded Domain, all existing links you have created with Bitly will become active deep links as well.
This means that instead of having to backtrack and manually deep link each individual link, you essentially flip a switch and all of your links will drive your customers to the best possible journey, no matter which device they are on. All links created through your Branded Domain in Bitly, when clicked, will automatically open your app if it is installed on the user's mobile device. When others shorten your Branded Domain through Bitly and share, that link also stays deep linked.
What Types Of Analytics Will I See?
Since you'll be enabling links across various marketing channels and devices, your Bitly dashboard will give you a unique view into your brand's customer journey.  
You'll be able to see how your users are engaging across channels, the value they take away from each touch point and how each of these content pieces work together. Using these analytics you can focus on optimizing your content and not worry about all the nuances of getting users to the right place on every device.
What's Next?
Apple and Google made great strides over the past year around restructuring their platforms to enable mobile app content to be more native and behave as web content has for years.  
Android adoption will increase as time progresses and Apple introduces a new version of iOS each summer. If the charted course continues as we have seen this past year, we can expect to see more advancements in access to mobile content and tools for app developers to introduce their content to users natively.
Interested in activating your Bitly branded domain for Universal Links and Android App Links? Head on over here to learn more and schedule a demo.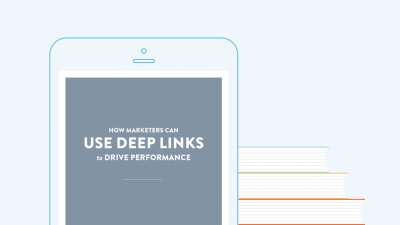 Ebook
Explore how to use deep links to create one seamless mobile experience for your customers.
Download