Each September, the world waits with bated breath to see how Apple is going to change our lives.
That's not an exaggeration. Every year, over 700 million people change their behavior based on the new capabilities of the iPhone. Last year millions of them switched from scanning their fingers to scanning their face.
Marketers are one group of people that's keenly interested in Apple's annual announcement. Like the iPhone itself, marketers also aim to change people's behavior.
Much of the news this year has been dominated by the clear focus on privacy concerns in the new iOS and the ever-bigger screen sizes of the iPhone. Lost in the mix were all the major life hacks that marketers can benefit from.
iOS 12 offers several improvements that marketers will enjoy. Social media marketers in particular have a lot to look forward to, from camera improvements to streamlined productivity tools.
We've assembled the top iOS 12 features that will help you do your job faster and better this year. Take a look and get yourself up to speed.
     1. New phone, new camera
The new iPhone XS and XS Max come with lens refinements that promise better photos than last year's models. But even if you don't buy a new iPhone, you can still enjoy many of the new and improved camera features, thanks to iOS 12.
For example, the improved Portrait mode on the camera has better lighting, which makes for better pictures. Plus, there's now a bokeh slider you can use to break down the individual layers of a photo, to further separate the person or subject from the background.
Get ready to capture stunning headshots, beautiful product photos, and more that you can use for social media.
(Photo credit: Apple Toolbox)
The camera also simply works faster now. With iOS 12, you can swipe to the Camera from the lock screen 70% faster than with previous operating systems. For those in-the-moment snapshots where you're running social media for an event, this can make all the difference. In your day-to-day life, it will just makes things run that much more smoothly.
With iOS 12, the iPhone camera now resembles Snapchat. Text bubbles, stickers, and shapes are just a few of the live special effects you can add to your photos in real-time—before you ever take the shot.
Social media marketers have to keep up with a constant demand for more and more content. The iOS 12 camera effects give you lots to play with, while ensuring that all that content you're producing looks like a professional made it.
     2. Hello, Memojis
Last year we witnessed the launch of Animojis. This year, we got Memojis.
Memojis are the next iteration of Animojis. Instead of animating a cartoon animal or poop emoji, you can animate yourself. You can add accessories to your Memoji, like glasses or jewelry, and change up the hair and eye color to match your own. Then, record up to 30 seconds of video to save and send.
(Photo credit: Digital Trends)
If your brand has a founder with a big personality, congratulations: you just unlocked a social media treasure trove.  For example, a memoji video would be perfect for your band's Instagram story as a great way to show a humorous and relatable side of the company. This can feature your company's founder or be used to introduce other important employees
The iOS 12 Memoji feature is available on all iPhones that have the TrueDepth camera, starting with the iPhone X. There's also four new Animoji (including a T-Rex!) to explore.
     3. Easy-breezy photo management
Photos are a social media marketer's life force. As your main source of content, you're in and out of the Photos app all day long. Any improvement Apple can make to Photos is a welcome one, and this year, there are many.
The new "For You" tab in the Photos app auto-creates mini-albums for you based on time, venue, and highlights. That means it's easier than ever to find photos from your latest influencer VIP party and edit them to share on Instagram.
There's also an improved search function in the Photos app, allowing you to search specific places, people, and events instead of tabbing around and zooming in on the map.
Finally, the import-from-camera process is a lot less clunky, and with iOS 12, you can now edit RAW photos from the app as well.
(Photo credit: L: Apple Insider, R: Apple Toolbox)
     4.  Streamlined notification settings
The new iOS 12 notifications settings are a hot topic among marketing publications right now. Many app marketers are worried about how these new options allow users to easily reduce—or opt out of entirely—the app notifications they get from brands.
But for social media marketers, who are constantly being bombarded with notifications from Instagram, Facebook, Twitter, and more, the changes are all good. There are two major notification updates that make managing social media a lot less stressful.
The first is grouped notifications. With iOS 12, users can now decide if they want notifications delivered chronologically (the old way), or grouped by app.
If you manage social media for a popular brand, or if you're an agency marketer managing multiple accounts, you can imagine how much this streamlines things. Instead of getting individual line notifications for every like or share, you'll now see a group of notifications for Instagram, with a separate set for Facebook.
(Photo credit: Apple)
Beyond reducing the stress of visual clutter, this helps you do your job more effectively. You don't have to scroll through pages of notifications to understand what's going on; you can quickly ascertain which account needs immediate attention.
The second change to notifications is the introduction of multiple delivery formats. Your options include: Prominent Delivery, where an app notifies you on the home screen with a sound; Quiet Delivery, where the app's notification is delivered straight to the notification center without a sound; or no alert at all.
(Photo credit: Apple)
These delivery settings help you narrow in on just the notifications you need, when you need them. If you're managing social media for an event, you'll want to respond in real-time, so you can opt in to Prominent Delivery for all of your social apps, while choosing Quiet Delivery for things that may normally get more important treatment (like your emails).
If you manage multiple social pages and handle a high volume of notifications, you can breathe a big sigh of relief—Apple has finally answered your call for a streamlined notifications inbox.
     5. Better battery life
As usual, you can expect slightly longer battery time with the new set of iPhones (30 minutes on the XS and 90 minutes on the XS Max). More batteries means more time to do your job, and less time running around looking for a charger.
But even without investing in a new iPhone, the iOS 12 Battery Settings help you extend battery life on your current phone. The new and improved battery usage details in Settings help you pinpoint which apps are eating your battery life.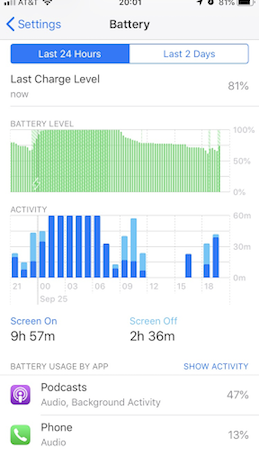 Close out these apps, and you'll never have to worry about your iPhone dying in the middle of an Instagram update.
iPhones: Still your favorite social media tool
iPhones have long been a friend to social media marketers. Their camera captures quality photos that look good on any brand's social media page, and their portability means you can post updates whenever, wherever.
With iOS 12, that friendship will only get stronger. Get ready to create better visual content, post updates faster, and collaborate easily with the rest of your team.
To view all the latest iOS 12 features, whether related to your social marketing career or not, you can check out Apple's preview page.