There are thousands of marketing tech solutions. 3,874 to be exact.
According to Chief Marketing Technologist, the number of solutions reached 3,874 in 2016. Last year, there were about 2,000. There were about 150 in 2011.  
If you're feeling overwhelmed by the possibilities – or the platforms you're already using – you're not alone. More than three-quarters (79%) of business and IT leaders say that they haven't been able to integrate different data sources across the organization. Marketers spend more than three hours on average every week analyzing data from different sources.  
Going into 2017, brands are going to have to think as much about integration as about innovation. When there are four thousand possible solutions, organizing and maximizing each one is just as important as actually using them. Recent products like Intercom and Slack show that there's real power in having a product that integrates existing platforms in a new way.
So what can connect all of these different channels and data sources? Or help you track and measure the customer experience across a growing number of channels?
When you optimize your link with Bitly, the link can connect everything. Whatever the channel or platform, there's always going to be a link. Even in print media, on subway ads, on business cards, you can use a link to track and measure ROI.
With auto-branding, deep links, and integrations, Bitly offers a way to unite every team's unique marketing stack.  
The link in 2017 is going to be the most important marketing unit in your marketing stack. Here's why:
The Great Big Tech Scape
Your marketing stack is going to look different, depending on your industry and company size. Here's a snapshot of all the platforms you might be using:
– Web Analytics
– Social Media Analytics
– Email Marketing
– Mobile Marketing
– Content Marketing
– Search Marketing
– Paid Digital Advertising (Display, Programmatic, Search)
– Marketing Automation
– Customer Relationship Management (CRM)
– Content Management System (CMS)
Here's how those tools look when you line them up in an organization: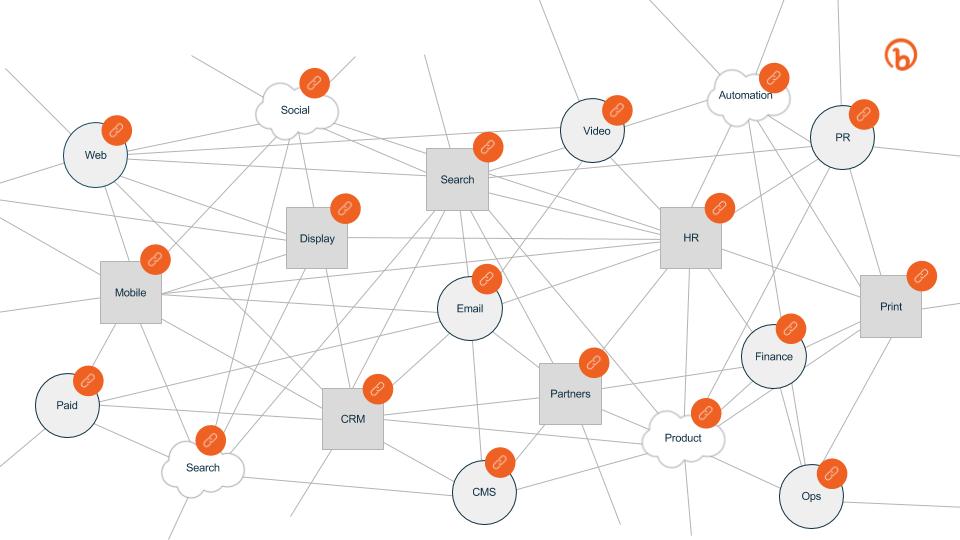 Since you can use links in all of these platforms, you can centralize the data coming from them. That gives you the agility to quickly monitor results from different campaigns and teams from one central dashboard.
Let's say that we're building content across a bunch of different channels:
– Tumblr
– Twitter
– WordPress Blog
– Facebook
– Pinterest
– A Branded App
– Instagram
– Snapchat
– Email
– YouTube
On the surface, this seems like it's going to be a nightmare of filling out metrics in Excel or Google Sheets. When things get more complicated and you involve lead gen, web analytics, and paid ads in the mix, you end up with a spreadsheet that can end up looking like this: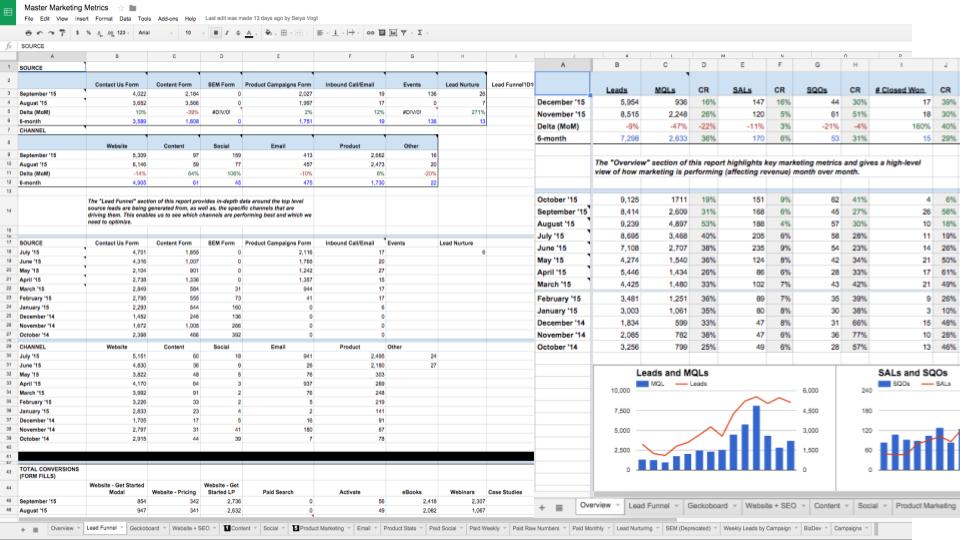 We know that from experience. That's a big reason the marketing team uses Bitly so much. Before we rolled out Campaign Builder, the team had to rely on something like this just to see our daily metrics or dig into Google Analytics. Now, we can easily consult a campaign to see how all of our channels are driving traffic: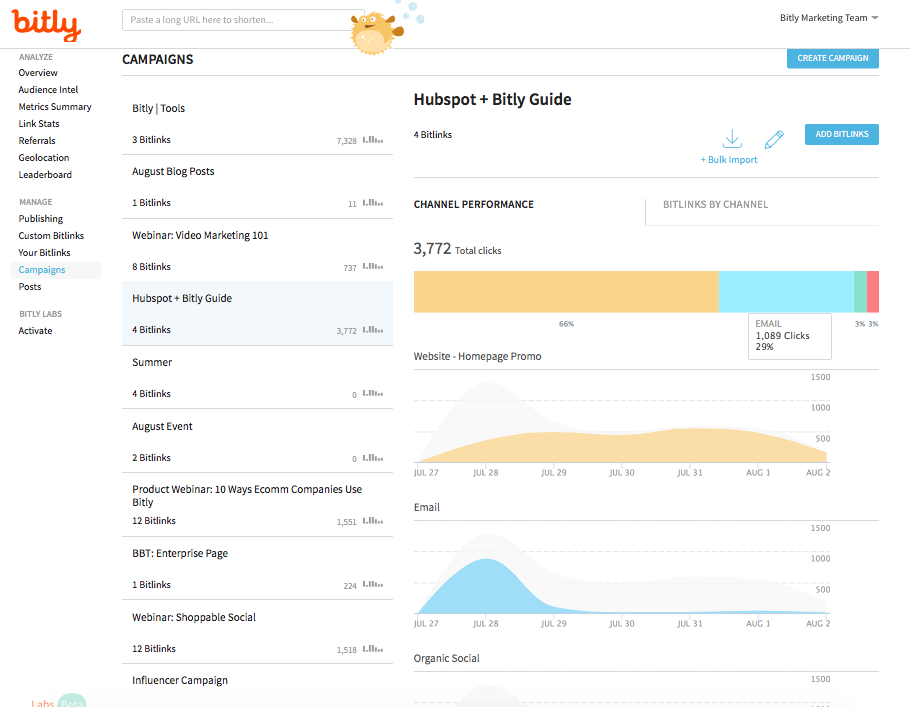 The link is the central point of each channel. Clicks become a cornerstone to measuring the customer experience. Here's how that ten-channel marketing stack looks when it's all connected by optimized links: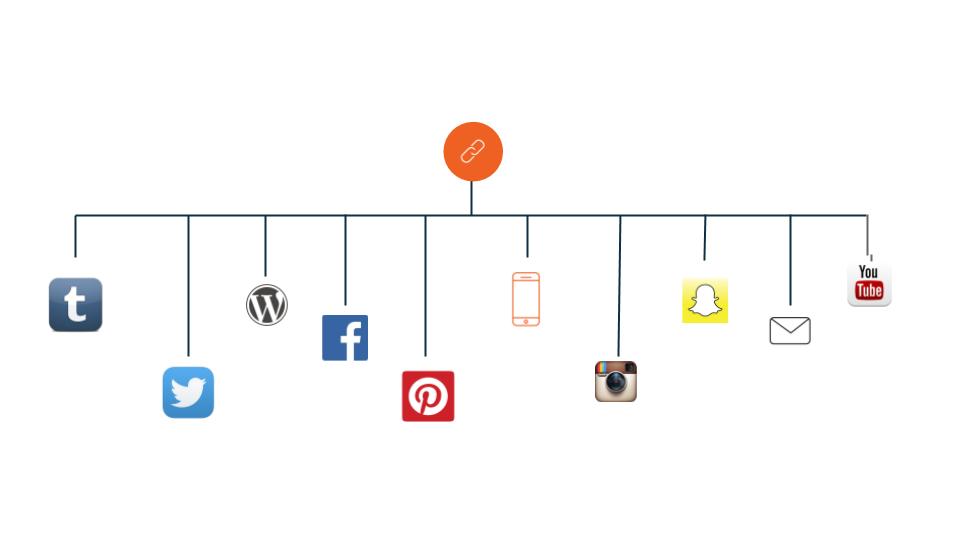 Amplify & Simplify Your Workflow… without Changing It
Bitly is a layer that integrates across all of your channels, without forcing you to change any platforms or systems. If you already use links, you're halfway there. Whether you're using Omniture or Google Analytics, Buffer or Simply Measured, Bitly can help you bring your links to the next level with seamless integrations.
When you optimize the link, you optimize your workflow. It doesn't matter if you're a CMO or a sales rep, links are an important part of your job.
Here's how a range of how different roles are optimizing and centralizing their processes with Bitly:
– Marketing Managers easily track what's happening across every channel in multichannel marketing campaigns without having to dig through analytics systems and spreadsheets
– Content Marketers measure the impact of different content and see which channel works best for distribution
– Paid Performance Marketers compare cross-channel social and search ads in one easy dashboard
– CMOs build out separate dashboards for each team or team member for visibility across the company's different efforts
– Talent Management tracks where job postings are getting the most clicks and ensures branded links create awareness on every partner site
– Partner Marketing Managers track which affiliates, partners, and influencers are most effective in every campaign without having to rely on third-party metrics
– Mobile Marketers use Mobile Optimizer to ensure a seamless customer experience through deep links that automatically detect device type, track SMS campaign results, and show which channel drives the most app opens
– Sales Managers give reps Bitly links for every channel and monitor individual rep performance to optimize prospecting and territories
– Event Managers use Bitly to track how offline events convert people to web visitors via printed collateral, swag bags, business cards, presentations, surveys, and any other trackable link
– Email Marketers use Bitly links in email campaigns and across different ESPs (Email Service Providers) to centralize analytics from different content, teams, drips, and more
– Brand Managers track link performance across different brands, franchises, or locations by creating different Bitly links for each use case
– PR Managers use Bitly to track how byline placements, press releases, interviews, and events are driving traffic back to landing pages, product pages, or other collateral
Rethinking the Link
The link is the most fundamental unit of the web. It connects people from place to place and connects brands to customers in a constantly evolving digital ecosystem. This is especially important when you consider that ecosystem is saturated with nearly 4,000 marketing technology companies.
When you optimize the link, you're not just optimizing your marketing campaigns or your operational processes, you're optimizing the customer experience. By building an Internet you can see clear across, you can see what customers really need… and when you can see what customers really need, you can create the experience that they really want.
Webinar
Want to see how Bitly Enterprise can simplify your workflow and bring your marketing to the next level? Watch the demo!
Watch