This is our favorite time of year here on the Bitly marketing team.
Of course we're excited about the holidays and all of the cheer that comes with it. But this is also the time of year where we get to sit down and reflect on our learnings from the past twelve months and look forward at the trends to come.
In honor of this tradition, we've sat down with marketing pros in social, content, SEO, and more to talk about what they have their sights set on in 2018.
Here's what they had to say:
1. Businesses Will Leverage LinkedIn For More Targeted Marketing
"2018 will be the year that LinkedIn gets more marketing attention. In the B2B space, LinkedIn is really becoming the focal point for our clients, more so than ever before because advertising has changed. People aren't connecting with ads, people want to connect with people so we are going to start to see more executives, entrepreneurs, and sales professionals position themselves as the brand or industry experts. "
Ashley Johnson, Founder & CEO of Mouth Marketing
2. Video Will Remain King
"In a world with countless videos – it's important to get users to stop and watch. This means optimizing all videos so that they are easily accessible, high quality, and most importantly: mobile-responsive. Not only does this make it easier for folks to watch it on the go, but it incentivizes the platforms to prioritize your content."
Elizabeth Giorgi, Founder and CEO of Mighteor
3. Personalization at Scale, With Inclusivity In Mind
"First, marketers must take into account Gen Z consumers whose consumption choices are still under-researched. Marketing specialists need to learn their world view, values, and mentality since they are rather different from those of millennials.
Second, artificial intelligence will become more ubiquitous, so marketers must gain first-hand knowledge on machine learning and marketing automation. Tools that allow access to voice-based marketing automation will be indispensable for all marketing specialists. 
Third, personalization will be more savvy. Tech-driven consumer personalization will become a cornerstone of marketing, and marketers need to take into account customers' personality traits and make their marketing strategies all-gender inclusive. So, you should probably think about how to target your ads towards LGBTQ+ community.
Fourth, marketing will be less about social networks and more about social messaging apps. While social networking platforms are still important, it's clear that social messaging apps are getting more popular and marketers will need to be ready to embrace marketing campaigns targeted at such apps."
Jana Garanko, Head of PR at SEMrush
4. Interactive Technology Will Lead to More Targeted Marketing
"Marketing is on the cusp of a new world of hyper-targeting. Ads and promoted messages will follow customers across their devices and into their homes. Voice-controlled smart speakers and AR-enabled glasses — even simple Google searches — will offer marketers more ways than ever to get in front of their customers. Marketers will share their brand story, as well as customized messaging based on traditional data (location, demographics, past purchases) and newer data points, such as mood and proximity to others, that will drive a larger conversation about privacy and data collection."
David Klein, Director of Marketing & Communications of ClickTime
5. A More Competitive Advertising Landscape
"The future of marketing & advertising will be hyper-relevant to the viewer and will come from multiple new sources. 
Laws will be stronger on digital advertising in terms of privacy and legitimacy of the products and messages that they push. Advertisers will still be able to target via aggregated stats, however, their big data algorithms will be much more complex and effective for targeting niche groups in a timely manner. False advertising laws will be stronger and transparency of product quality via crowd-sourced and friend reviews will bring the best products to the top of the advertising heap."
Kean Graham, CEO of MonetizeMore
6. Storytelling Will Be a Brand Differentiator
"Original content and storytelling will build brands like never before. The value of original, addictive content has become clear to brands who wish to benefit from more website traffic for less spend. Providing original content increases brand awareness while building the trust and influence that will be needed for a brand to stand out in 2018.
Storytelling will transcend mainstream brands, as everyday companies will search for new ways to differentiate themselves from their competition. Brands will do this by incorporating storytelling in with their original content to establish credibility and to generate a more loyal audience."
Jessica Moreno, Social Media and Brand Account Manager of Active Web Grou
7. Brands Should Get Familiar With Voice
"With the rise of Amazon Echo and Google Home in consumers' homes, voice search is becoming increasingly important. There are several things you can do to make sure that you are on top of the trend:
With many voice queries coming from mobile, it is essential to make sure that you site is mobile-friendly and also ready for Google's upcoming mobile-first indexing. This is where they will be primarily using the mobile version of the site's content to rank pages instead of desktop.

Use conversational style content. When using voice search, they will more likely be conversational and contain questions.

Search questions will become increasingly question-based and it's up to you to provide the high quality, engaging and useful content that will help to answer the searchers' queries.

Be aware of location-focused queries by making sure your site is set up for it, especially if you run a local business. The basic thing to do is to register with 'Google My Business', make sure all the details required are filled-in, up-to-date, and include unique content, encourage reviews, and feature at least five photos."
Ahmed Khalifa, Founder & Director of IgniteRock
8. Keyword Arbitration: One of The Most Powerful SEO Techniques in 2018
"In terms of SEO in 2018, keyword arbitration is going to be the next big thing for websites with over ten pages.
Keyword arbitration is the act of crawling a site, composing a spreadsheet full of page titles, meta descriptions, H1s, H2s, and other important pieces of data- and then seeing how keywords are distributed and mapped towards different pages.
This is one of the most powerful SEO techniques, and very few professionals actually know about it. It not only enables better keyword targeting, but better search intent matching, content gap analyzing, and overall brand and marketing strategy analyzing."
Edward Sturm, SEO consultant
9. Finding The Balance of Automation and Human-Touch
"In 2018, we're going to see even more companies taking advantage of the opportunities offered by chatbots.
Chatbots can provide an instant sense of personal connection, no matter what time of day a prospect lands on your site. As it becomes clear that chatbots can be utilized to get your prospects more quickly in touch with you and help move them along the Buyer's Journey, we'll see more companies, including B2B, take advantage of this exceptional digital marketing tool.
We'll also continue to see the rise of video, but this year we'll see an added emphasis on live and "candid" videos that provide prospects with an authentic look at the people behind their favorite brands, providing that all-important personal touch."
Doug Fowler, President of Waypost Marketing
10. Leveraging Micro-Influencers To Create deeper engagement
"2018 is going to be the year of micro-influencers! These influencers offer a more personal connection with their audience, often resulting in higher engagement than when using macro-influencers. By utilizing micro-influencers, brands are able to create more relatable and attainable content, allowing them to engage more distinct audiences that macro-influencers can't always maintain.
As influencer marketing continues to grow and evolve, FTC regulations will continue to evolve with it.  We believe there will be more software developments to better track ROI, including what percentage of the audience is made up of bots and a deeper understanding of their engagement.
HYPR is an increasingly popular tool for viewing and tracking real-time analytics of influencers, helping facilitate outreach to the best influencer for a campaign quickly and easily.  We've seen great benefits using HYPR and predict this platform will only gain popularity in 2018 as influencer marketing becomes a vital part of any marketing strategy."
Courtney Spritzer and Stephanie Abrams Cartin, Co-CEOs of Socialfly
11. Thinking of SEO in Content Themes
"Search engines are evolving, and so are their users. Simply tagging your content with isolated keywords won't drive traffic to your website as it did in the past. To get visitors' attention and optimize for rank, marketers will have to produce engaging clusters of content on themes relevant to their audiences.
This "content pillar" strategy isn't new: just think about how Wikipedia entries associate related topics. That ecology of content helps to explain why Wikipedia articles nearly always appear near the top of search results. Marketing practices will need to adapt to these changes in search engine use by creating premium material, curating it to create natural conversion paths, and ungating it to increase visibility. Adopting this new approach might be difficult, but it will become increasingly challenging to thrive in the digital landscape relying on obsolete methods."
Ryan Woods, HW Productions
12. Merging Online And Offline With AR and VR
"I'm getting really excited for two marketing trends that I think will begin to really take off next year: Augmented Reality and the continued advance of machine learning + AI.

AR and VR technologies will expand the possibilities for marketing and sales. Companies like IKEA, Sephora, and Jura are using AR to allow potential customers to visualize their respective products rather than window shop online. AR is finally bringing the in-person shopping experience to e-commerce. And, with a growing reliance on social media for marketing, AR-inspired filters can boost conversations around a company.

And on the AI front, the technology can easily be leveraged to help potential customers while freeing up employees. It also allows for seemingly boundless opportunities on the back end for marketers to understand clients. AI even gives marketers a leg up in testing more ad platforms and optimizing reach and targeting. AI can quickly aggregate and synthesize data. Partnering that technology with machine learning allows the AI to become more efficient on its own."

Wes Marsh, Director of Digital Marketing, Solodev
13. Video Will Be Big in The World of SEO
"In 2018, look for more and more companies to accompany videos with their outreach campaigns. Videos now appear on over 70% of search results, and according to studies, 46% of consumers are more likely to purchase a product after watching a video.
One important aspect to keep in mind, however, is that text is still very important to add to your videos in order to see SEO success. Google's robots prefer to digest text and adding a transcript to the bottom of the page where the video lives will result in more on-page copy that the robots can see. There are plenty of great audio-to-text tools out there that companies can leverage to add a transcript to older videos as well.
Seeing as videos can create backlink opportunities and most videos result in a solid 'average time on page,' different search engines benefit from companies using video as a marketing tactic. With social videos generating 1200% more shares than text and images combined, according to WordStream, look for video sharing to be a big SEO trend in 2018."
Stuart Ridge, CMO of VitaMedica
14. Organic Reach Will Continue To Decline
"In 2018, marketers should expect to see several easy marketing wins disappear in the digital space. 2018 is likely to bring about the death of organic reach on Facebook, stronger email inbox filters, and more competition than ever in organic search engine result pages.
While it will still be possible to earn organic results, the brands that do will be those that approach marketing with a truly inbound strategy. Online marketing platforms will likely only allow for their users to see marketing content that is genuinely valuable and relevant. The standards for what passes as relevant will tighten, and 2018 could end up being a hard year in result of this. However, in the long run, a change like this could be highly beneficial for both consumers and brands."
Eric Johnson, Content Creator & SEO Specialist, FeedbackWrench
15. Mobile-First Indexing: Prioritizing Mobile
"Google is already making a big shift into mobile-first indexing which will impact a large portion of sites that are not mobile responsive ready. As far as 2018 goes, tools have to become more sophisticated in understanding relevance. 
Google is looking for sites that meet the needs of its customers and users.  Does the site answering the user's question? Is it fast enough on mobile? What options does the site offer have? How close is this business to the user? We need to focus more on our site, content, and technical SEO in 2018 more than ever before rather than focusing on trying to rank for specific keywords.
Jonathan Alons, Marketing Manager at uBreakiFix
16. Influencer Marketing Will Become More Regulated
"As the popularity of influencer marketing continues to grow rapidly, lawsuits against both influencers and the brands they represent will also increase in 2018. The first case against an individual influencer making accusations over the failure to adequately disclose paid sponsorship promotions was filed by the Federal Trade Commission earlier this year. Since then, the commission has initiated lawsuits against many other influencers and their partners over various compliance issues. As it stands, the vast majority of paid endorsements by individual influencers are not properly disclosed. Influencers will need to better familiarize themselves with the rules and regulations governing these endorsements if they are to curtail this growing trend of litigation."
Peter Yang, Co-Founder of ResumeGo
17. Reach and Engagement > Follower Count
"Reach & engagement rates and not follower counts will become the primary metric for determining influencer value.
At One Tribe Apparel, we built our Instagram following to 52,000 through mostly through influencer collaborations. We've done everything from providing free products, to sponsored posts to affiliate arrangements.
Mid-way through this year we began slowing down on influencer marketing and shifting that budget to other areas because we were no longer seeing the same ROI.
After Instagram changed its algorithm from timing-based (you see the most recent posts first) to one based on prior engagement (you see the accounts you most frequently interact with) the reach for many influencers and brands has dropped significantly. Even with this drop, most influencers are still basing their rates on follower counts and not reach and engagement. But a 100,000 follower count is relatively meaningless if you can only reach 15,000 to 20,000 of those followers in each post.
With the rise of Instagram tools and analytics programs, I predict we'll see this shift in 2018. Brands will value reach and engagement more than follower base.
Ryan O'Connor, Owner, One Tribe Apparel
18. Minimal Copy And Shareable Visual Content Will Dominate
"Visual communication will dominate marketing campaigns in 2018, and we'll see more focus than ever on new media, from mini-infographics and motion graphics to augmented reality. Marketers will finally leave behind text-based communications for good in favor of minimal text and high-quality, shareable visual content.
Meanwhile, with video dominating web traffic, we'll see more motion graphics than ever, while static visual content will center around bite-sized assets optimized for platforms like Snapchat and Twitter. 2018 won't yet be the year for widespread VR adoption among marketers, but more marketers will be incorporating AR functionality into their assets and campaigns."
Eric Tra, Marketing Director at Killer Infographics

What are some of your big marketing predictions for 2018? Share them with us on Twitter by tagging us with @bitly and #2018marketingpredictions.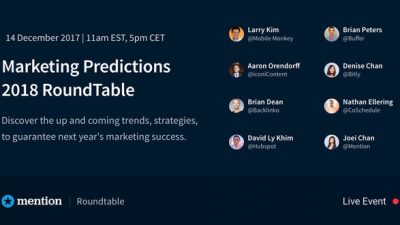 WEBINAR
Join us and other marketing experts from Buffer, Hubspot, Mention, and more as we talk about 2018 predictions.
SAVE YOUR SEAT