With a 1,000 marketers in attendance and a lineup of speakers from a range of industries, including Airbnb, Google and New York Times, this year's #ThinkContent, hosted by NewsCred, was focused on discussing how content is used to unify the customer experience.
At Bitly, we've been focusing a lot on data and customer experience as well, so we were excited to listen to what the speakers had to say. Here are some of the highlights from last week's #ThinkContent:  
Connect, Don't Impress
In a talk titled "Reaching A New Generation – How to Effectively Use Content to Capture the Attention of Millennials. From a Millennial", 26-year-old Samantha Jayne, tackled the "mystical formula" it takes to connect with millennials. Samantha pulls from her experience building Instagram-account-turned-book Quarter Life Poetry, which exploded overnight after being featured in a Buzzfeed piece.
"Your audience doesn't want perfection, they just want to know they're understood." – @samanthajayne #ThinkContent

— NewsCred (@newscred) June 2, 2016
Samantha breaks it down into three simple rules: don't try to talk to everyone, talk like your audience and don't be safe, be authentic.
When she first started promoting her book, she decided to run four video campaigns. With the scrappy budget of $15,000 to produce for four videos, her first video collected over 10 million views on Facebook with zero paid media.
"Video is so stressful because you want to impress. It's easy to want to impress people with your brand. Brands are awesome, they do great stuff. It's so easy to want to say things like 'We're great, look at our awards! Look at our interesting features. Join our movement.' But be vulnerable, be honest, be real. Create content that connects, the sharing will follow."
Don't create something "shareable" create a connection and sharing becomes an impulse. Wonderful presentation @samanthajayne #ThinkContent

— stacykfuller (@stacykfuller) June 2, 2016
Coming from an ad agency background, Samantha dug a little into the differences and similarities between creating successful content as an influencer versus a brand. She shared that it can often be harder for brands to take risks because of the layers of approval. But if there can be buy-in at a higher level to be edgy, the payoff can be big. Samantha points to Clearasil's recent "We know acne, we don't understand teens" ad as a good example.
Risky, edgy, nail-biting ideas are effective. It's hard to convince execs about that, though. #ThinkContent

— Donte Ledbetter (@Donte_LL) June 2, 2016
Purposeful Content Is Becoming The Norm
Unilever's VP of Marketing Rob Candelino shared a success story of how Unilever used content to tap into a new audience and shift perception with their "Love Your Curls" campaign. Dove found that 8 in 10 women feel pressured to wear their hair in a certain way, and only 10% of women with curly hair think that they're beautiful.
Candelino and his team launched a variety of content such as ebooks and an emoji to combat this mentality. They saw an overwhelmingly positive response, far exceeding their goals.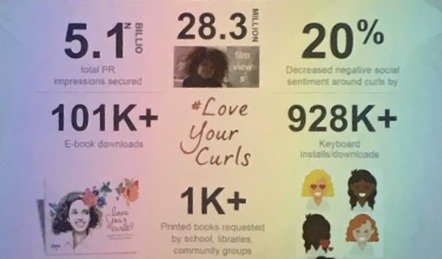 "We take a stand and then we create the content. It's enriched by the energy of the people we are paid to serve. Then you get responses like this. Deeply emotional, very passionate, life-changing content," Candelino says.
"If you stand for everything you stand for nothing." Great point by @RobCandy on the importance of specificity in marketing. #ThinkContent

— Day One Agency (@D1A) June 2, 2016
Canceling sees this type of content becoming the norm for the way brands communicate with consumers, because it's the only thing that sets you apart from the noise. Purposeful content creates an emotional connection and establishes trust.
Rich Media & Alternate Realities
It was a real treat hearing more about visual media from Instagram's Global Head of Business and Brand Development James Quarles and from New York Times' Editorial Director Adam Aston.
Aston spoke about using augmented reality to deepen that connection with consumers. Virtual reality is set to be a $80 billion market by 2025. Adam shares that their strategy at New York Times is to combine the compelling visual experience with a great narrative.
The idea of exploring alternate realities is as old as Shakeapeare – and Star Trek's holodeck. – @nytimes' @adamanyc #ThinkContent #VR

— Jenny Danzi Elias (@jennydanzi) June 2, 2016
Quarles from Instagram followed by saying that "people are embracing the power of expressive media." Visual media is extremely compelling when it comes to making purchase decisions. More than half (60%) of Instagram users discover products via Instagram and 70% take action after the insta-interaction.
We'll only see these numbers continue to soar as brands refine their strategies on these platforms and as technology becomes more sophisticated.
Content Journey = Customer Journey
"The content journey is the customer journey," says Co-founder and CEO of NewsCred Shafqat Islam. Content isn't a nice-to-have or a one-off touch point anymore. Rather, it's the key to building lasting relationships with your customers.
And to be successful, we should be specific in our messaging and our targeting, but be open minded when it comes to testing out new media as the landscape changes.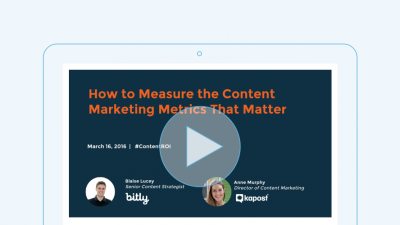 WEBINAR
Don't get distracted by the vanity metrics. Start tracking how content impacts your bottom line.
Watch