There are some things that just go together.
Peanut butter and jelly, Han Solo and Chewie, Mulder and Scully, Snapchat and millennials… and LinkedIn Ads for B2B marketing.
If you're a B2B marketer and you're not already using LinkedIn Ads, here's the butter to your bread. There are "61 million senior-level influencers, and 40 million decision-makers" using LinkedIn. Half of all social traffic to B2B websites & blogs comes from LinkedIn and 78% of B2B content marketers say LinkedIn is an effective advertising platform.
LinkedIn Ads offer hyper-targeting by professional demographics, allowing you to reach more engaged, higher quality decision makers. At 225 million plus users, LinkedIn, the world's largest professional network, is your best sidekick.
Here's what you need to know to get started with advertising on LinkedIn.
LinkedIn Ad Formats: Sponsored Updates & Text Ads
Two basic LinkedIn Ad formats to choose from are Sponsored Updates and Text Ads.
Sponsored Updates
Sponsored Updates are native ads that fit right in with the look and feel of the LinkedIn feed. They are also responsive across all devices: desktop, mobile and tablet.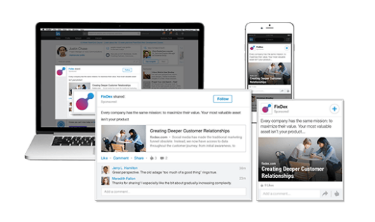 Text Ads
Text Ads are smaller, text-heavy ads with 50 x 50 pixel images that show up in the right hand side of the feed. 
They look like Google Search ads on a users sidebar, but they contain less text and don't allow for any extensions.
Text ads are great for testing out different messages and finding the right verbs and adjectives to drive clicks back to your website.
You can also create dynamic ads in the sidebar using these demographics, to create a more compelling CTA. Below, for example, FixDex Forum uses Justin's profile picture and name to grab his attention and convince him to join the community.
SlideShare ads can also be an effective medium to test, since the channel receives 500% more traffic from business owners than Facebook, Twitter, Youtube and Linkedin.
LinkedIn's Rich Media Ad Options
For video ads, a video renders in place of the image and copy. Videos can be up to two minutes long and expand once they're clicked. You can import an existing video from your own YouTube channel or upload a new video.
LinkedIn's Sponsored InMail Campaigns
With LinkedIn's sponsored InMail campaigns you can craft a personalized email message and send it to users who fit your business' target demographic.
These campaigns still allow you to use all of LinkedIn's targeting features, like job title, city and industry. You control your spend by setting a cost-per-send bid.
InMail is great when your message won't fit into a standard text ad. It can also feel more personal and 1-to-1 for the user who opens your InMail.
Best practices for InMail include having an offer in the content of the email & a link to a landing page. Conversely you could add a LinkedIn form to capture relevant lead data.
LinkedIn Ads: Audience & Targeting
LinkedIn Ads can be highly targeted by B2B demographics. Your campaign might look like this:
Title: VP of Marketing
Location: NYC
Company Size: 10,000+
Industry: Retail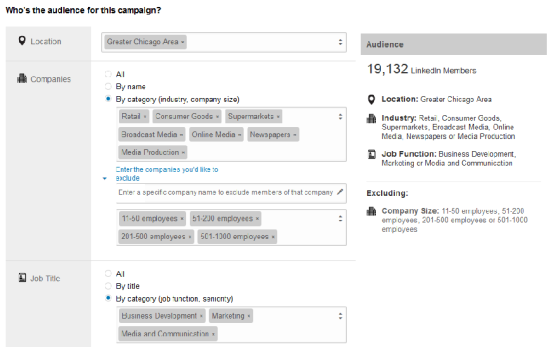 Bidding
Like most options for your paid social strategy,  LinkedIn Ads run on a bidding structure: you can bid by cost-per-impression (CPM) or cost-per-click (CPC).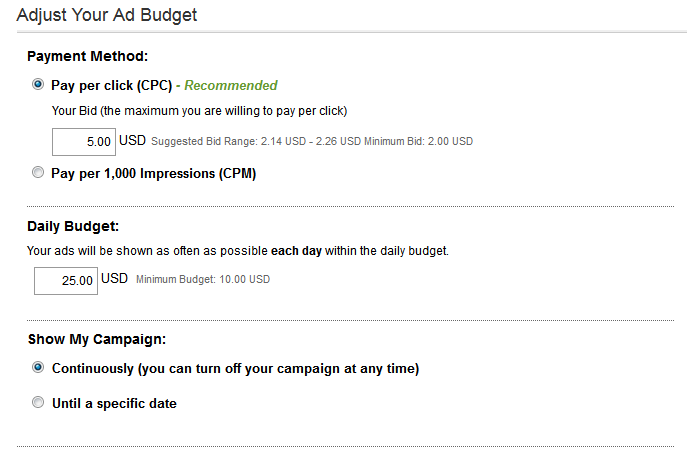 LinkedIn's Campaign Manager does have pretty strict minimum requirements, with the minimum audience size being 1,000 and the minimum CPC and CPM cost at $2 a click. This isn't a concern for larger businesses looking to tap into LinkedIn's audience base, but can be a challenge for smaller advertisers.
If you do decide to make the jump, you'll want to get the most bang for your buck by testing whether a CPC or CPM model is most effective at driving leads and/or conversion. But of course, testing shouldn't stop here, variables like segmentation, content and time of day also affect the performance of your campaign.
The Social Quant, a tech company with a platform that helps clients build engaged Twitter audiences, uses Bitly links to A/B test their CTAs on social.
"Bitly allows you the opportunity to effectively test different copy to see what gets more clicks and what's a complete dud," says CEO Mike Kawula.
Kawula and his team regularly tests copy and visuals across different campaigns to see which combination drives the most engagement around their blog posts.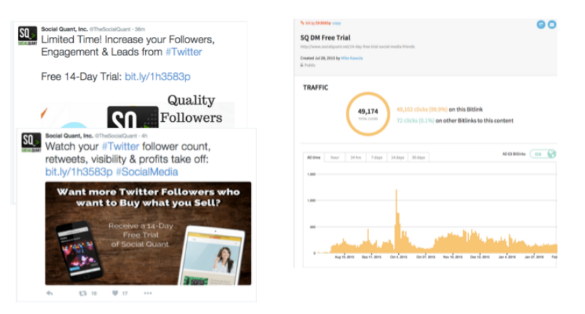 Programmatic Display Advertising
With LinkedIn's programmatic display ads, You will now be able to purchase right-hand side banner ads through open exchanges as well as LinkedIn's private auction. You can also use both first and third party data to target ads in place of LinkedIn's targeting features.
To get started with LinkedIn's programmatic display ads, you'll want to talk with popular demand side advertisers like Google Campaign Manager, MediaMath or Rocket Fuel, among others.
Put On Your Lab Coat
No matter what the numbers say about LinkedIn being a platform of choice for B2B marketers, the only numbers that you should really be looking at are your own.
Continuously test your campaigns to find the copy, creative, time and audience that works best for your budget and resources.  
For further optimization, try adding Bitly links in your campaigns to see how your LinkedIn ads are performing against content across other channels. 
You can even A/B test by using the same Bitly link in two different creatives to test the performance of one image against another. By simply adding a link, you'll be able to see all of your clicks rolled up in one dashboard.
So put on your lab coat and get to testing! Two new members join LinkedIn each second. Your audience is always evolving, and so should your content. With the right approach, you can use LinkedIn ads to build a lead gen machine that helps you reach the most qualified business professionals.
This article was published on June 30, 2016 and updated on March 19, 2019.
---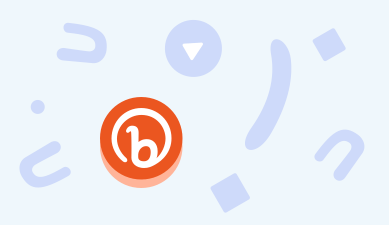 READY TO GET STARTED WITH BITLY?
Learn how Bitly Enterprise can help you reach your business goals.
GET STARTED