I still remember the first time a friend called me an "influencer."
Even though I've tripled my Instagram following over the past two years and participated in multiple marketing programs for instagram influencers, I still can't quite get comfortable using that word to describe myself.

We all hold some degree of power in influencing the behaviors of those in our immediate social circles. Whether it's a Facebook post about a unique dining experience at a restaurant, or a tweet about a local bed and breakfast that went the extra mile, or even just walking around with a branded shirt on our backs – we all influence.
I've just channeled that into Instagram under the username, @withlovedc. I post about my daily life – curated through a bright, minimal lens.
And somewhere in this four year journey of sharing local coffee shops, travels, and brands I admire, I've gotten lucky enough to develop an audience and even pick up a handful of sponsored partnerships along the way.
I've gotten free food, handbags, watches, and even healthcare products.
But if you're a marketer looking to build an influencer marketing program, you might be wondering about payment. Just how much is an influencer's work worth? How do you calculate it?
Here's my take:
What's An Instagram Influencer's Photo Worth?
Ever since I started getting involved in instameets back in 2015, I've heard rumblings of creatives partnering with brands for little or no pay. This is a topic that some influencers can get really fired up talking about.
A lot of Instagram influencers have felt taken advantage of. Creatives often produce work for big brands with big budgets but at a fraction of the cost of an agency, or sometimes just in exchange for "exposure."
Some brands have influencer marketing budgets anywhere from $5,000 to $25,000, and some influencers make $1,500 a post, but the reality is that most of your average influencers aren't making much, if anything, at all.
A lot of times it's because influencers either aren't aware of their worth or they're afraid to negotiate. But sometimes brands don't see the value of paying for photos – whether due to budget constraints or lack of internal buy-in.
I do hold a more conflicted stance on this since I'm also a marketer. I've sat on both sides of the table and I don't think it's as cut-and-dry as brands being the bad guys here.
Influencer marketing programs are still relatively new and a lot of execs question what they can do for your bottom line.
Securing a budget can be hard for companies who are just getting started. Even for influencer marketing veterans, it can be tricky to track real ROI. One senior exec confessed in a Digiday article that they spent too much money too quickly.
But I also know just how much work can go into producing and how sometimes influencers pay for additional props or equipment out-of-pocket to deliver an exceptional final product.
Case in point: I spent an hour at Té Company trying to get this shot of the wood watch that the lovely team at Jord Watches sent me.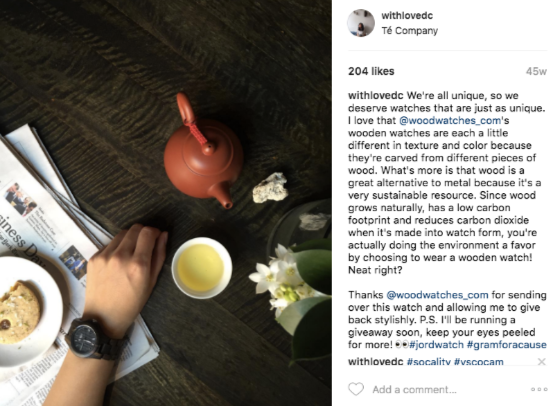 I walked into the popular tea shop in the late afternoon, so I should have known I would be out of luck. The window seats were already taken up by groups sipping on tea and taking photos. I sat at a dimly lit table, ordered tea, and opened up a book. It was going to be a bit of a wait.
Influencer rule number one: always look for the natural light by the window. It makes for crisper, bolder photos with less glare.
As I sat waiting, my tea started to cool and over-steep. I grew anxious. I wanted to enjoy my food, but it also served the dual purpose of being a prop. I began taking small, messy, but not too messy bites out of my cookie so that there was just the right amount left to fill in the frame when I was ready to move tables and take the shot…
Let's see what this shoot cost me:
– $12 tea & cookies (that I would have consumed regardless of the partnership, but went cold)
– An hour of my time (waiting for an open table and then arranging the shot)
– The embarrassment of standing up to take an overhead shot in public
I wasn't getting paid for this particular partnership, but I did receive a free watch and a repost on the brand's Instagram account in return for a few photos on my own.
On the flip side, Jord Watches received a total of 481 likes from my audience. While it's not a lot in the greater scheme of things, they tapped into my targeted audience base who is generally interested in fashion, lifestyle, and social good.
I also posted a series of three posts over a course of three weeks, subtly reminding my followers about the watch in different contexts. In the first post, I introduced the brand and its story. In the second, I highlighted the watch as the perfect Father's Day gift. And in the third, I teased a contest for my followers to get a discount towards owning their very own wood watch.
It's Not Always A Numbers Game
On the surface, it might look like I netted a loss from this partnership, but to me it was worthwhile. Here's how I did the math.
At 98.9K followers, Jord Watches offered a much larger audience than I was able to organically reach myself.
I also did some background research on the brand and loved that they were focused on sustainability. Wood has a low carbon footprint and reduces carbon dioxide when it's made into watch form. Since I've built my following around giving back through Instagram, I knew this would be a product my audience would love.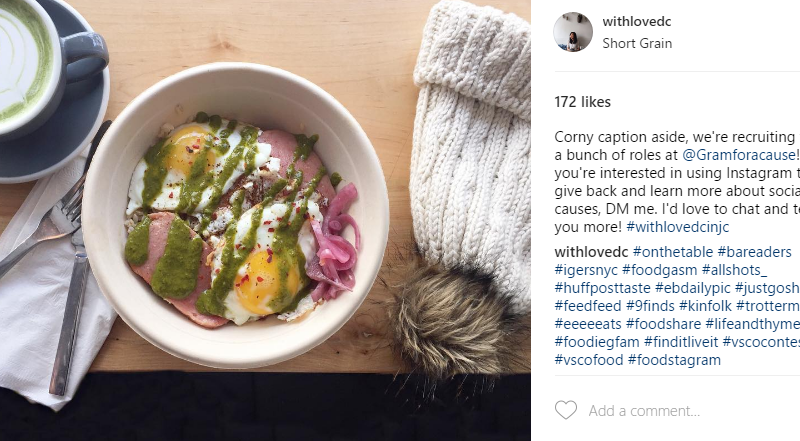 Last but not least – variety. Up until this partnership with Jord Watches, I had never shot a watch or wrist accessory. It was a unique challenge because I would have to learn to style it on an arm while keeping the image aesthetically consistent with the rest of the photos on my account. It's good to take on a range of projects, because it really flexes your creative muscles and forces you to see in a slightly different way.
Other Ways Instagram Influencers Can Establish Worth
For influencers, sometimes worth is about building up our brand. Sometimes it's about the acknowledgement of our work.
Other times, worth is as straightforward as paying for rent.
So it can be frustrating when a brand isn't able to pay. But even when that's the case, marketers, don't be afraid to approach influencers. The key is to be transparent up front. While research shows that 53% of influencers expect money and 20% expect free products , most of us are just looking to be fairly compensated for our work. So if you're a little short on budget, talk about future opportunities, additional exposure, or exclusive products.
Influencers might even be able to get creative with ways to turn their work into additional income post-partnership. Here are some apps I've used in the past:
– Twenty20: This crowd-sourced stock photography marketplace takes submissions from photographers. Post your photos onto your feed and each time a business licenses your photo for use, you'll receive a 20% commission. There are a few other ways to make money from Twenty20 too.
– Popular Pays: This app is best known for their Local Swap feature, which allows influencers to unlock rewards throughout their local city depending on how many followers they have. All you have to do is take a photo to earn your product. I've gotten free coffee from Toby's Estate through Popular Pays.
– Tradesy: Is your closet looking a bit full from all those free clothes? Head on over to the App Store to download Tradesy to sell clothing and accessories you no longer need. Tradesy will ship you a kit to package and tag your products so that you can resell within minutes. The app is a great way to turn your free goodies into income.
Marketers, research your Instagram influencers because they will be researching you. Know what their passionate about, who their audience is, and what kinds of products match with their visual aesthetic. Know their worth, so that you can be confident going into the conversation exactly what you can offer.
This article was published on April 25, 2017 and updated in March of 2019.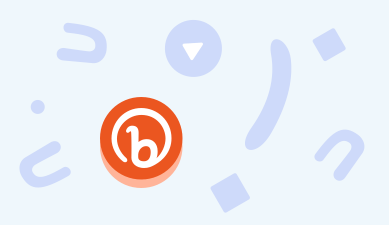 READY TO GET STARTED WITH BITLY?
Learn how Bitly Enterprise can help you reach your business goals.
GET STARTED