When you usually think of redirecting a link, you're probably thinking about correcting the URL or migrating a webpage from one place to another.
While all Bitly Enterprise users can redirect their links (as long as the branded domain and link is customized), many actually use redirects as part of their marketing strategies.
Links are a powerful marketing asset and redirects can help create a dynamic digital marketing strategy across different customer touchpoints. We've seen customers use link redirects for all sorts of cool things.
Here are six different use cases for a link redirect and why they can be so powerful:
1. Social Media Profiles
One of our favorite link redirect strategies is on Instagram. Mashable uses the same Bitlink to drive people to the content that corresponds with the latest post. On the back-end, Mashable can just redirect this link every time a new post is posted.
The link stays the same and the team can see which content drives the most engagement over time.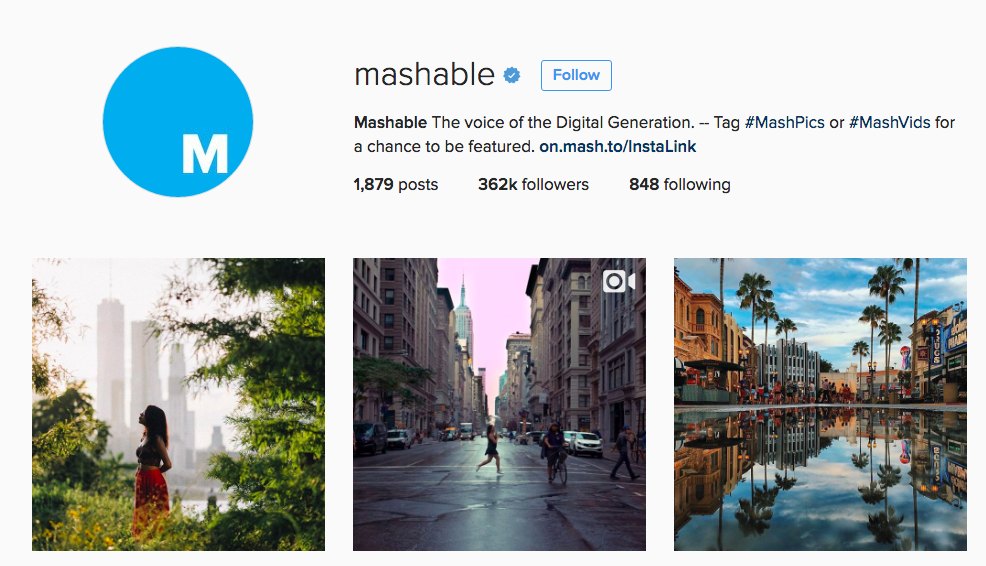 You can use redirects on all your social media profiles.
That way, you can make sure that people are sent to the freshest content, but you don't have to actually go into each social profile to change the URL to something new.
2. Sales Specials
Do you host different sales each day? Are you promoting them across digital, mobile, and offline channels? If you use the same link for every sale, you can just redirect it to the new URL, rather than updating the creative.
For example, if we had taken out a magazine ad, a subway ad, and had an ongoing digital campaign to promote new sales at Bitly, we could use bitly.is/sale as an evergreen link that always led to the latest sales page. That also gives us the chance to keep optimizing the page for the best possible customer experience – and conversions.
3. Recurring Content  
You can redirect links to content that changes on a regular basis. This can really help if you have regular training webinars or product webinars that may have a different landing page each time.
At Bitly, we use bitly.is/demo as the evergreen link to the latest landing page to sign up for a Bitly Enterprise demo. Every time we host a new demo, we just redirect the link to the new landing page. If we don't have one scheduled, we redirect the link to a recording of the demo.
4. Company Resources
If you're promoting a careers page, working on training materials, or sharing the latest benefits to employees, you know that things change. And when they change, it can be a pain to update all of the material.
By using one link that you redirect each time, you can share updated benefits packages, training processes, job listings, and more without having to go to the company intranet, LinkedIn, or partner pages to change the details in each individual place.
Whenever someone wants to share a job posting or look up company benefits, they can just click the same link each time to get the most up-to-date information.
5. Press
If you want to showcase the latest press releases, interviews, or placements in publications, you can use a link redirect to have one static destination for PR.
For example, bitly.is/PR links to a piece about Bitly's journey as a business, "The Rise, Fall, and Rise of Btly: How a Link Shortener Became a Real Business". We can share that link as our PR link whenever someone wants to see the latest press.
If we decide we want to start showing off a new product launch, press release, interview, or customer testimonial video (like this awesome one from Cox Media Group) we can redirect the link there.
6. Sales Collateral
Many companies have a problem keeping sales and marketing aligned. But, if you just have one link where sales knows it's possible to find the most recent sales deck or testimonial video, you can help keep things streamlined.
This can especially help if the team is pushing one certain product, feature, or new branding and you want to make sure that it's easy for sales to keep getting the most recent version.
Redirects: Silent but Effective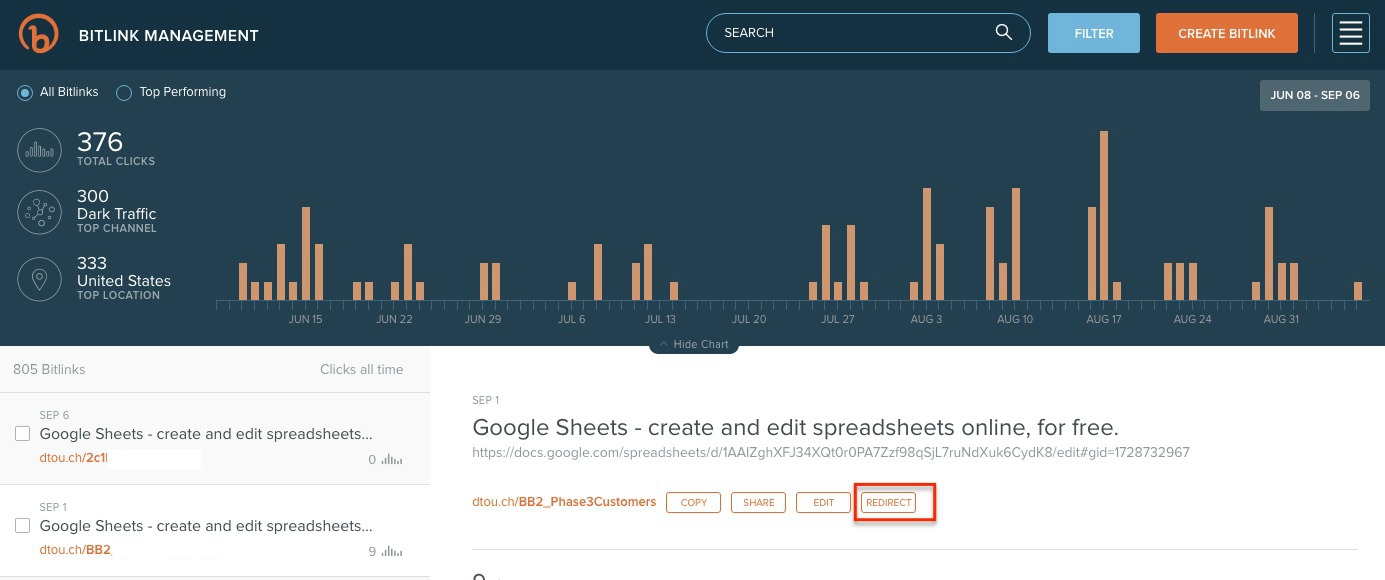 If you're a Bitly Enterprise user, all you have to do to redirect a link is click the "Redirect" button.
We've talked a bit about how the marketing team here at Bitly uses Bitly Enterprise in our day-to-day. Since we spend so much time in the product, we redirect links a lot. The best part about redirecting a link is that it's completely seamless.
Sometimes, we've even shared the wrong thing or an update has gone live that points to the wrong destination. All we have to do in this case is redirect the link to the right place. Link redirects happen instantaneously, which opens up opportunities to experiment and continually personalize the customer experience based on the latest A/B tests, brand positioning, or product packaging.
Link redirects don't just help with marketing assets – they can help your customers get to the right place. Even if that place changes on a daily basis.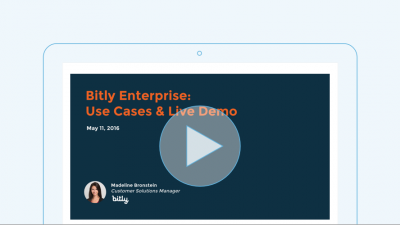 Demo
Learn more about advanced features of Bitly like mobile deep linking, advanced analytics, and branding.
Watch