If you've landed on this page it's probably because you are A) looking to shorten some links using the Google URL shortener, or B) want to know why you can no longer use it to do that.
Either way, you've come to the right place.
To address both inquiries, as of March 2019, Google closed the doors on its URL shortener. That means, if you haven't found an alternative, now is the time to do it.
If you were using the goo.gl shortener and this is news to you, we're sorry to have to break it to you! We know how important it is to be able to access your favorite tools whenever you need them. We wrote a post all about the closing of the Google URL shortener (and how Google recommends Bitly as a replacement), so definitely check that out if you're interested in the details.
Here's the good news: with Bitly, you'll still have all the features you've come to know and love at goo.gl. (In fact, you'll have even more.)
Let's start with the features you're likely to be familiar with.
Bitly Offers the Same Features as the Google URL Shortener
Bitly's comprehensive analytics dashboard captures over 20 data points on every click. This gives you insight into who is clicking and where they came from, so you can adjust your content and distribution strategies as you learn what works.
1 – Strong Analytics
Bitly's comprehensive analytics dashboard captures over 20 data points on every click. This gives you insight into who is clicking and where they came from, so you can adjust your content and distribution strategies as you learn what works.
With access to more data, you'll be able to make smarter, more informed decisions.
2 – Dashboard + Hide Links
The Bitly Dashboard also updates to show you every URL you create, as you create it. You can even search your links, something that's especially handy if you generate a lot of them, which many of our customers do.
No matter how many links your tracking with Bitly, you can always access an easy-to-view list of the links you've created and dive into the data on each individual link.
Finally, like goo.gl, you can hide links from your dashboard to make managing large lists easier.
3 – Unique Short URLs
There are only so many hours in the day. Don't you want to know which channels are worth the investment?
Since Bitly makes tracking links easy, you'll always know where people are coming from, be it social media, email or elsewhere, so you know what channels are giving you the most ROI on your efforts.
4 – Reliability + Speed
We get that Bitly is the type of tool people depend on for everyday use. That's why we have a team in place to ensure that we're up and running as expected, so you can focus on the work that you need to get done.
5 – Integration into Google Campaign URL Builder
You can easily shorten long links via Bitly directly from Google's URL builder without interfering with any of your attribution analytics in the process.
We wrote a post on how to use the Google Campaign URL Builder together with Bitly, but here's the abbreviated version.
Using the URL builder, you can add parameters to your links that allow you to more accurately track the performance of your campaigns and the effectiveness of your efforts.
It'll create a super long URL and then give you the option to shorten that URL using Bitly, straight from the Campaign URL builder.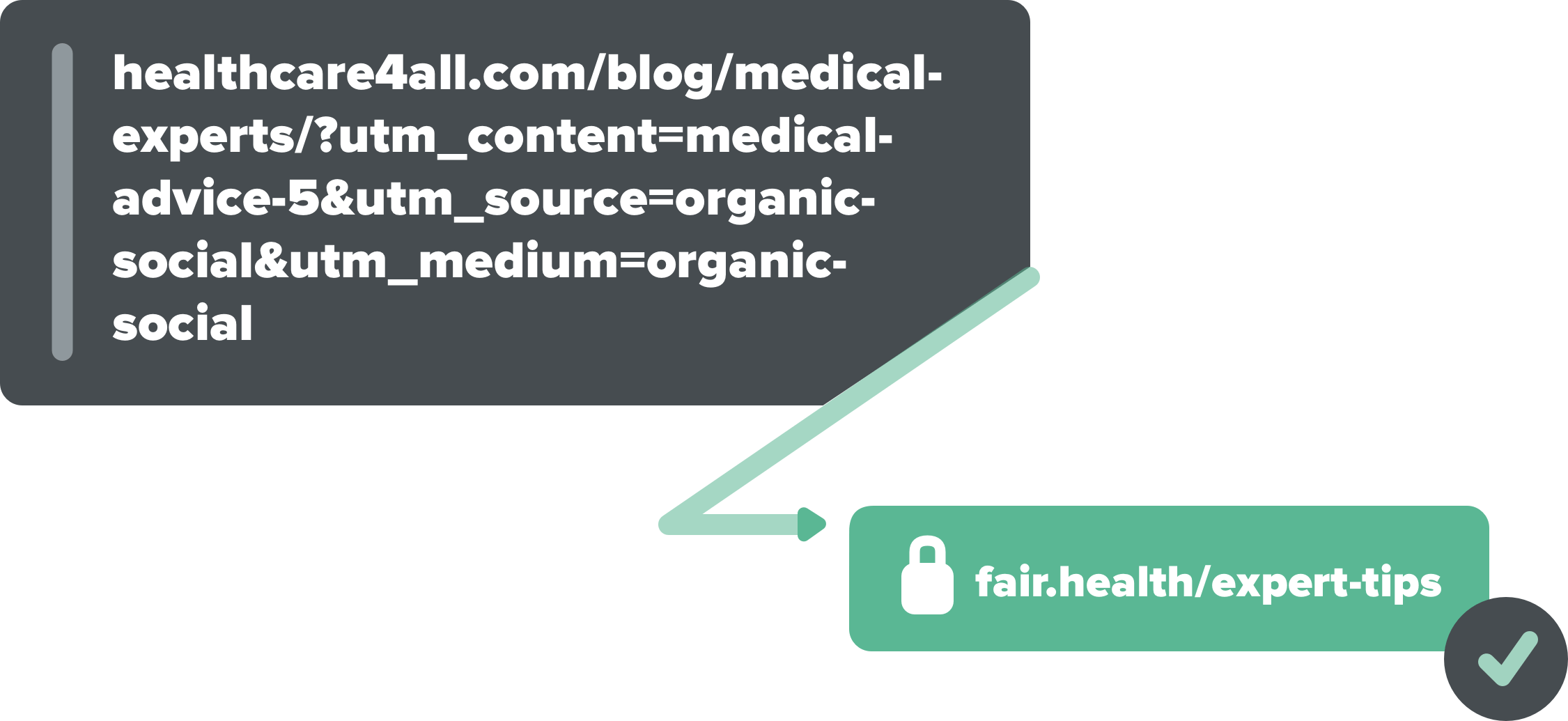 But that's just the tip of the iceberg. Bitly has a whole bunch of other features that help make the case for why you should replace the goo.gl shortener with Bitly. Let's start with branding.
Plus, Branding Features, Enhanced Analytics + Lots of Integrations
But that's just the tip of the iceberg. Bitly also has a whole bunch of features you didn't have with Google. Let's start with branding.
1 – Customize the entire link
Bitly allows you to own and amplify your brand through consistent recognizable links across channels. This starts with link customization. With Bitly, you can customize the front- and back-half of your links. For example, instead of "goo.gl/CSchoq" you could have a clean, fully customized link like "sneakr.life/yourorder."
Customizing your Bitly links isn't just for aesthetics: Brands that use custom links have seen increased click-through rates because people know they can trust where they're being sent.
2 – Provide encryption and security
Bitly has your back when it comes to security, too. In March of 2018, we announced HTTPS for all Bitly links.
If you're not sure what this means, rest assured it's a good thing. HTTPS connections help make the browsing experience more secure by preventing eavesdropping or tampering by third parties.
3 – Avoid dead links
With Bitly you can avoid the dreaded dead links—links that point to a deleted or moved web page—by redirecting your custom links to a new location. It's quick and easy to do, and a lifesaver for brands.
4 – Route users to your mobile app
Finally, with deep links you can create highly personalized mobile experiences with links that directly route users to the right destination within your brand's app. When you enable deep links, mobile users who click on your Bitly links will be automatically taken to the same content, just in your app. If they don't have your app installed, they'll be invited to download your app or taken to the mobile web experience.
Enhanced Analytics
1 – Easily + automatically add UTM parameters
Be better at tracking the effectiveness of your marketing campaigns by easily and automatically adding UTM parameters with Bitly. By doing it all in one place, you save valuable time.
Want to track a campaign? An audience? A goal? With Bitly Campaigns, a feature of Bitly Enterprise, you can create your UTM parameters automatically from within the Bitly platform.
2 – Take complete control of your analytics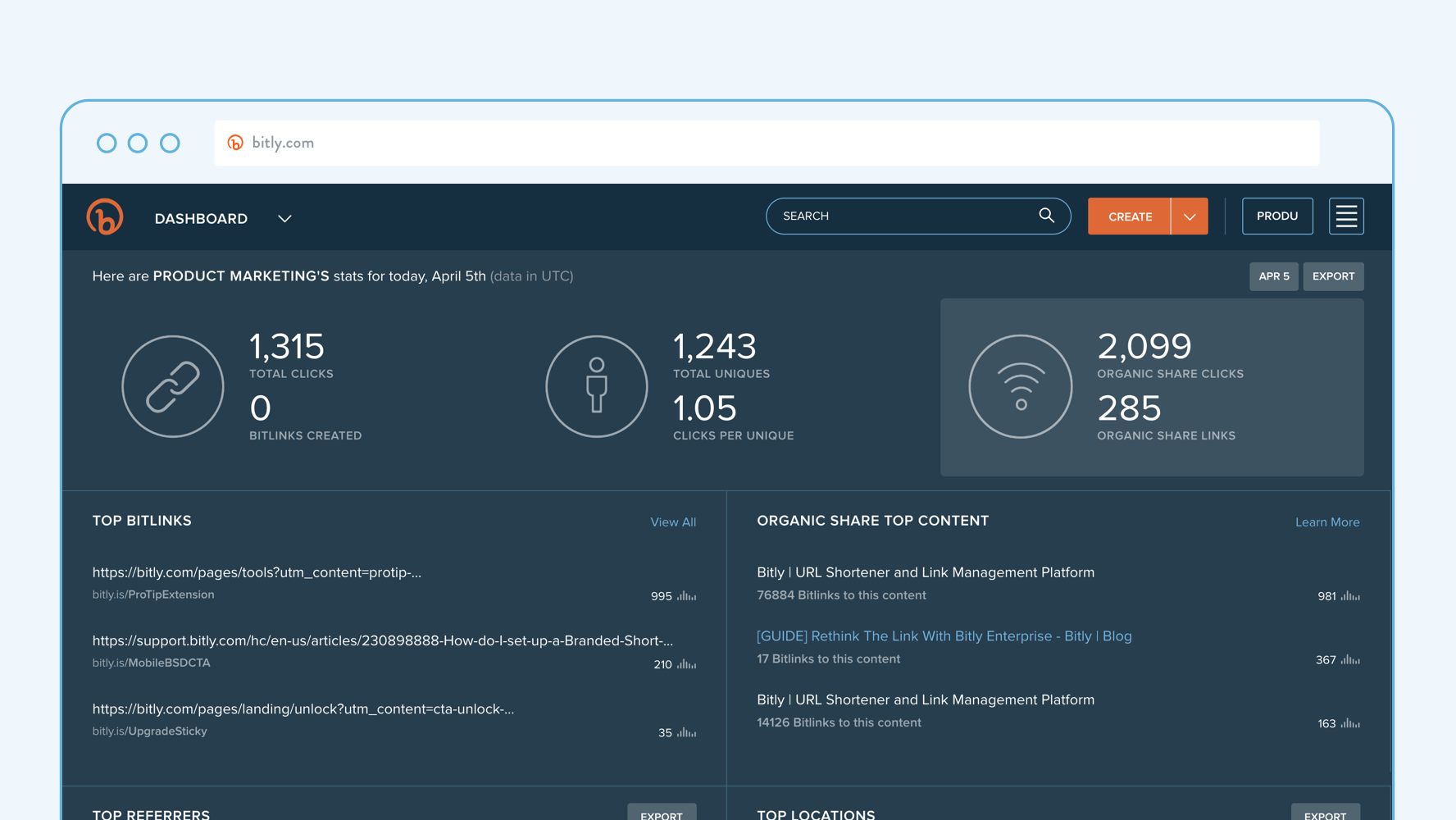 Unlike with goo.gl, Bitly Enterprise users have the added benefit of private analytics, so no one—including your company's competitors—will be able to access information on how your content is doing. Of course, you're the one exception to that rule. With Bitly you gain access to a comprehensive dashboard where you can track statistics about your links, including:
– Click-through rates
– Geographic data of people visiting your links
– Information about your top referrers
Plus, you'll always have insight into your campaign performance, no matter how or where your links are shared.
Integration into existing tech stacks
1 – Connect to the apps you're already using
Bitly integrates with nearly every social media and marketing tool out there via an open and flexible APl. This means you can shorten, brand, and share links through existing or custom integrations, retrieve link-level and user-level analytics programmatically, and more. No more having to hop from one app to the next unnecessarily. Learn more about connecting Bitly to other tools.
2 – Depend on Bitly's trusted API
The Bitly API is trusted and has given rise to so many different use cases, from productivity and analytics to targeting and personalization.
Customers use the API to send out Bitly links at scale, for example through SMS messaging and email. In fact, we get 900 million API calls per month.
A Decade of Link Management Experience
Another thing we're incredibly proud of at Bitly is the fact that our customers trust that we do what we do really well. Bitly has over a decade of experience in link management, and while we don't lean on that fact alone to offer our customers a superior experience, the knowledge we've acquired over the past decade is invaluable.
Also, in an age where companies fade away as quickly as they crop up, our customers can take comfort in knowing that we're not going anywhere—which is why two-thirds of the Fortune 500 use Bitly.
Ready to get started with Bitly? Talk to our Sales team and learn how Bitly Enterprise can help your business reach its goals.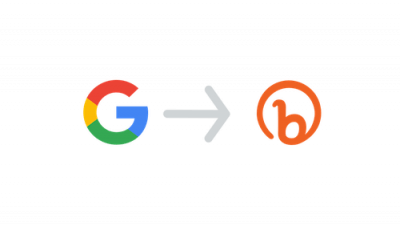 Ready to get started with Bitly?
Learn how Bitly Enterprise can help your business reach its goals.
GET STARTED