Remember that time when Facebook was the new thing and brands were scrambling to understand it?
And when the same thing happened on Twitter and, to a lesser extent, Pinterest?
Well, 2016 is going to be the year when that happens on Instagram in a really big way. The social network is rolling out paid ads, working with dozens of major ad tech companies to perfect the API for those paid ads, and will undoubtedly start thinking about how to get every brand small and large to invest into those paid ads.
If you're a digital marketer, Instagram marketing has probably been on your mind for a while. Maybe you even have an Instagram account that you use every now and then. But it's not a major network that gets lavished with attention like Twitter or Facebook. Because, really, Facebook and Twitter and LinkedIn are still the big three… right?
Wrong.
Engagement, by the Numbers
Are you struggling to get retweets and responses on Twitter? Have you noticed a steady drop in your audience reach when you post to Facebook?
Well, it might be time to start focusing on Instagram. Instagram's engagement rate is 50 times higher than on Twitter and 38 times higher than on Facebook.
Instagram users are also much more receptive to brand content. An infographic from Selfstartr showed that, while 32% of Facebook users engage with companies regularly, the same is true for 68% of Instagram users.
From a user experience, this makes sense. Facebook is grounded in connecting friends with friends, but Instagram is solely focused on compelling media. As long as the picture or video is interesting, people are going to like it, whatever the source.
Since Instagram launched as an app, most interactions take place within the app itself. Companies on Instagram can't push followers to click links, so, instead, every brand is focused on building great, interesting content.
Anticipating the Shift
Last year, Instagram grew by 60%, for a total of 300 million users and an active monthly user base of 64 million the US. That officially makes it bigger than Twitter. And it's growing a lot faster.
When Facebook acquired Instagram in 2012, the social media giant largely left Instagram untouched. And, at this point, any brand can still create an Instagram account and, with the right combination of content and promotion, build a community there.
This stands in stark contrast to Facebook. Since that acquisition in 2012, organic reach on Instagram has grown by 200%. Organic reach on Facebook has dropped by 60%.
However, don't be surprised if the organic reach of Instagram posts starts falling this year. Some brands are starting to invest something to the tune of 11,000% more in paid Instagram marketing than last year (although 11,000% probably isn't much if the budget was in the low triple digits in the first place).
To make sure that those ads get the impressions and engagement that makes those investments worth it, Facebook is probably going to start suppressing organic reach and emphasizing paid content in the near future.
So now is the time to start ramping up your Instagram account and building your community. That means understanding what makes Instagram users follow and engage with content, and how paid ads are going to work in the future.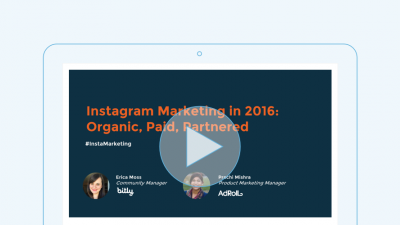 Webinar
Strategies, examples and tips on how to elevate your Instagram marketing content.
Watch