Growth hacking is complicated.
We know that it's part marketing, part product development, part engineering. There's no silver bullet when it comes to finding the right way to grow your business and win the market.
Growth hacking is all about seeing growth as your "true north." But what does this look like in practice?
We teamed up with some friends to answer just this. Here's what they had to share:
Gamify, Gamify, Gamify
"Human beings are wired from birth to play games. When we play games, our neurons release dopamine in anticipation of winning. Study after study has found that people who play games remember more, are more engaged, and feel positive about the experience. That's why games are such an unbeatable growth hack.
Games can be used for marketing to turbocharge the profitability of a campaign. At OfferCraft, we typically see up to four times the participation rate in gamified campaigns compared to the baseline. Games can also be used for onboarding and training, employee engagement and retention, sales goals, and even operations and finance  to make tedious or boring tasks more palatable. Every aspect of a business can be made more fun and more profitable through the use of gamification."

Dan Grech, VP of Marketing and Public Relations, OfferCraft
Go Freemium
"As a fast-growing VPN and cyber security SaaS provider, we've found that offering our VPN service through a freemium Chrome extension has been a powerful, effective, and unique growth hacking tool. Essentially what we do is offer a freemium lightweight Chrome extension with a monthly data limit.
First of all, this allows us to attract customers who may not yet be ready to commit to purchasing a plan, but who could later to convert into loyal paying customers in the future. Secondly, we provide customers with the opportunity to gain more data per month by following us on our social networks and referring the service to their friends. This has allowed us to rapidly grow our social media follower base (in just a few short months our number of Facebook followers has more than tripled!) and reach a much wider audience in a shorter period of time."

Karen Mesoznik, Inbound Marketing Manager, SaferVPN
Create, Repurpose, Distribute
"For me, growth hacking comes down to four steps: curation, creation, distribution, and discussion of content.
First, review content you've previously created to find relevant and well performing pieces. From there, repurpose the content and make it into something new. You can summarize a popular blog post into a short video, for example.
Next, distribute the content across your channels using optimized keywords for SEO benefits. Last, use the content as a springboard to engage further with your audience and spark real discussion."

Peter Schroeder, Digital Marketing / Social Media / Growth Manager, RendrFX.
Find Your Community
"Community engagement is really under appreciated in today's world.
At EMERGE App, we engaged with our potential users over Quora and were able to drive constant stream of traffic on daily basis. Another growth hack was a great launch over ProductHunt. We were one of the top 10 products of the day."

Raviraj Hegde, VP Growth, Emerge App
"Barnacle" Marketing
"Seven years ago, I moved to New Zealand and started digital agency from scratch with just a $200 budget. Now, we are now the largest specialist search agency in the country and are still on a massive growth path.
Having a small budget and no network in New Zealand meant that hard work and some serious growth hacking were the best options for me to grow the business.
The most successful growth hacking technique we have employed is what I call barnacle marketing – attaching yourself to something or someone who has a big audience and leveraging that audience.
One example is that I managed to get invited to spend a few days with Sir Richard Branson on Necker Island. Obviously being associated Richard Branson has benefits in itself, however I set out to get the most memorable picture possible (I ended up getting a picture of me dressed as Stay Puft from Ghostbusters and Sir Richard was dressed as Where's Wally).
We have signed clients directly as a result of the publicity I got around this. I have also been asked to speak at events. Eighteen months later random people still come up to me and ask about my experience!"

Richard Conway, CEO Pure SEO
Optimize Your Page Load Times
"One constantly undervalued tactic is simply optimizing page load times. By cleaning up some code or scripts and properly compressing images, you can make your site load much faster and prevent people from bouncing off to whichever site they want to visit next (possibly to one of your competitors!).
Even minor improvements to page load time have been proven to have a significant effect on bounce rate, time on site, and conversion rate.
Growth hacking has a certain buzzword-y sexiness right now, but marketers and engineers should focus on low-hanging opportunities before trying to find outside-the-box growth hacks that may or may not exist."

Steve Weiss, CEO, MuteSix
Advance Landing Pages & Meme Marketing
"Two proven hacks I have been using over the last few years:
Push product/feature landing pages live at least six months prior to release of the product/feature. I have found that building and optimizing landing pages far in advance of a launch gives us a big leg up in getting traction with the search engines so that when we launch we are already ranking for those search terms.
Use memes in your online display advertising. Memes attract lots of eyeballs on social media, but not many advertisers have picked up on this, so I have been using meme-like display ads (with accompanying meme humor) in our display campaigns. They have led to better click-throughs and conversions than our traditional display ads."

Make a Killer Content Strategy
"I've consulted with brands from The New York Times and NASDAQ to Contently and American Express, all focused on growth hacking and product marketing. The one thing I've taken away from all of those projects is the power of content. No matter what the product or service, driving inbound traffic is a surefire strategy for growth, as long as your site is optimized for conversion.
For many of my clients looking to grow fast and sustainably, I suggest a social media-driven content marketing strategy.
Through targeted blogging and consistent social media engagement, we're often able to dramatically increase site traffic and conversions. I use content calendaring app CoSchedule to power my clients' social media + content marketing strategies. I also recommend using WordPress plugin Yoast SEO to optimize all blog content for organic search traffic.
With a recent client, Oola Sportswear, we saw a 900% increase in site pageviews and a 27% decrease in bounce rate in the first month we implemented a social media-driven content marketing strategy. The brand, as a result, reached 225% of its Indiegogo crowdfunding campaign goal, largely powered by traffic from blog posts and social media."

Use Reddit
"If you run a blog and you publish legitimately interesting content, Reddit alone can get you tens of thousands of highly interested readers every month. All you have to do is write something excellent, and then find all relevant subreddits and their ideal posting times. To get started, check out redditlater.com with the discount code "sumome" for 25% off!
I've gotten more than 14,000 readers in one month, with an average of 24% of visitors reading through the entirety of the 2,000 word blog posts. I published deep-dive guide on how to here."
Eddy Azar, Growth Hacker, Golem
Start Building Your Link Strategy
"People often skip link building and then wonder why their website isn't performing. Links are important for ranking, but when a website is young it can be harder to get links flowing in.
An easy way around this is to start with guest posting and resource pages. Many sites accept guest posting and these sites are easy to find. You can do this manually using Google search operators like "keyword" + "submit post"
You can also automate this by using a tool like Citation Labs' Link Prospector, or Outreach Ninja, which not only finds the opportunities for you but also allows you to email straight from the tool based on templates which you can tweak and personalise."

Martin Hayman, Head of Search, Orb Online
In Growth Hacking, the Whole is Greater Than the Sum of Its Parts
The moral of the story is this: don't underestimate any strategy, or take any tool for granted. It's the little things that can give you an edge over your competitors. Be it link building, a photo with Richard Branson, or posting on Reddit.
Regular testing can help you build the right mix of tools, channels, and tactics that guarantee growth. Growth hacking isn't just an empty buzzword. It's another tangible, measurable marketing lever you can pull to drive adoption and engagement.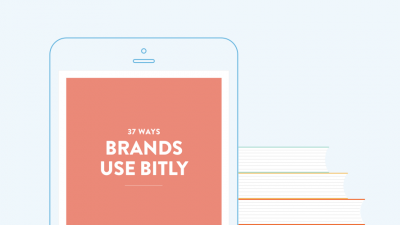 EBOOK
Social media, metrics, content and more. 37 ways brands are using Bitly.
DOWNLOAD