Bitly is dedicated to building a diverse, supportive, and inclusive culture where every teammate is valued and every step towards creating an equitable workplace counts.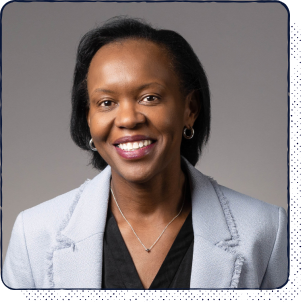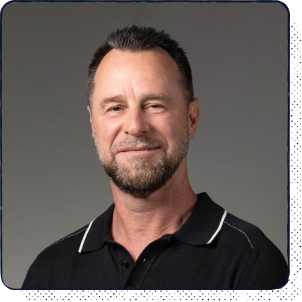 "At Bitly, we look at DEI holistically. Not only are we focused on doing the work internally, but we're also learning how we can use our products in ways that align with our strategy to ensure DEI is a key cornerstone of what we do and every decision we make."
-Jackie Cureton, Chief Diversity Officer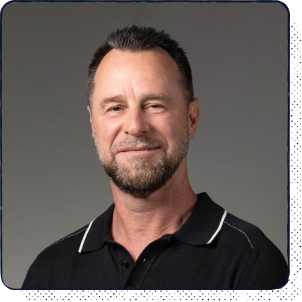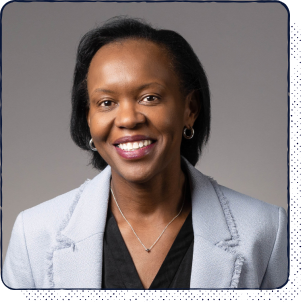 "One of our primary objectives is to ensure Bitly is an amazing place to work. Through strategic focus and ongoing investments in DEI, we're committed to building a workplace culture where all employees feel connected, supported, and have a sense of belonging."
-Toby Gabriner, CEO
Our commitment to uniting us all
We're in the business of creating more meaningful connections. Learning is in our DNA and we're committed to making Bitly an even better place to work by constantly improving in these areas.
Awareness and education

Creating a safer space to share learnings and openly ask questions.

Inclusion and belonging

Ensuring every employee feels valued and can be themselves.

Diverse representation

Embracing our unique differences so that Bitly reflects the world we operate in.

Focus on equity

Reviewing our policies and procedures to address systemic issues and ensure fairness.

Community and partnerships

Enhancing our DEI mission and making an impact through external relationships.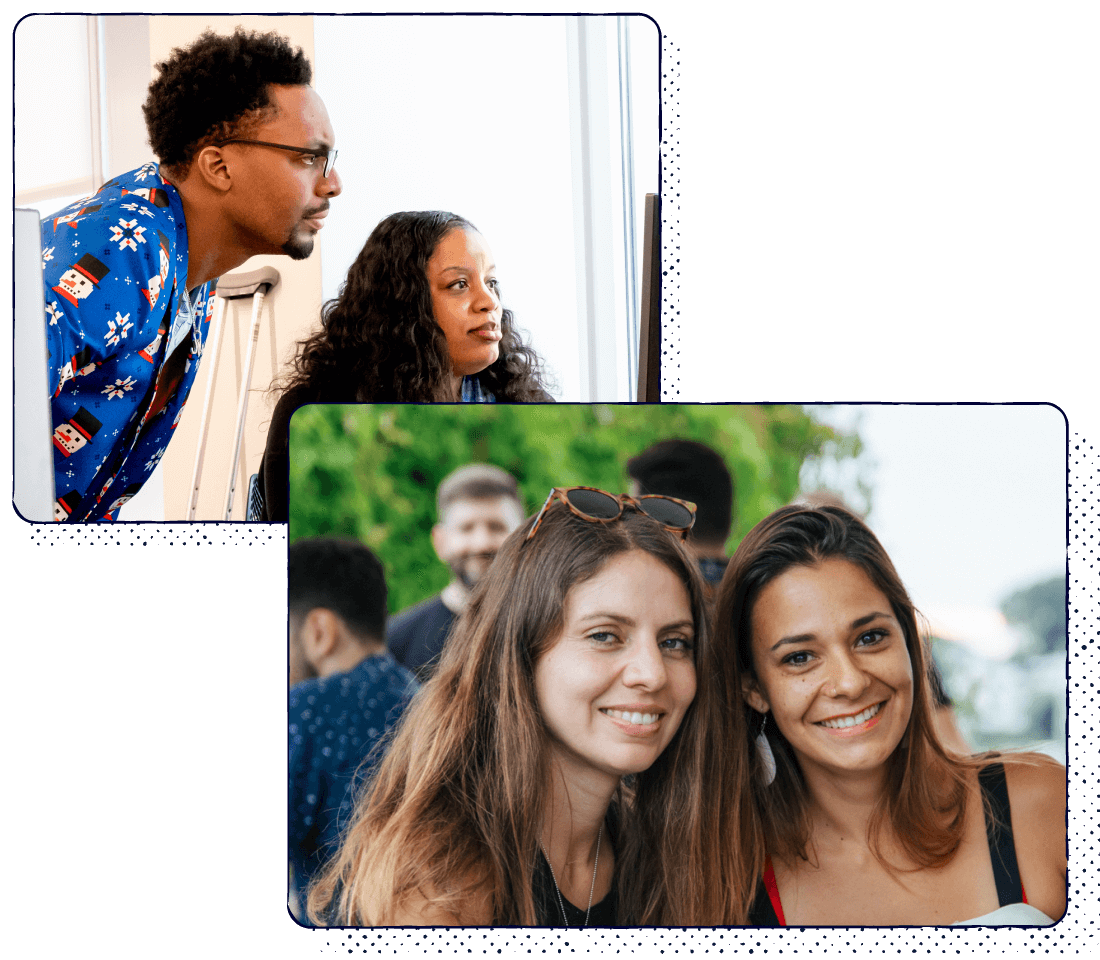 Building community and belonging from within
Our Employee Resource Groups (ERGs) are employee-led, bringing together members and allies from around the world. These groups strive to foster a positive and inclusive workplace where everyone has a sense of belonging and the opportunity to grow.
The Allyship ERG focuses on educating its members on ways to implement and perform active allyship. We recognize that we're all at different points on our respective allyship journeys and by calling in we can all improve incrementally through conversation.
This ERG hosts quarterly "What Should I Say" sessions to discuss what inclusive language is and why it matters. This helps members tackle commonplace discriminatory phrases through resources and a space for both practicing and learning together.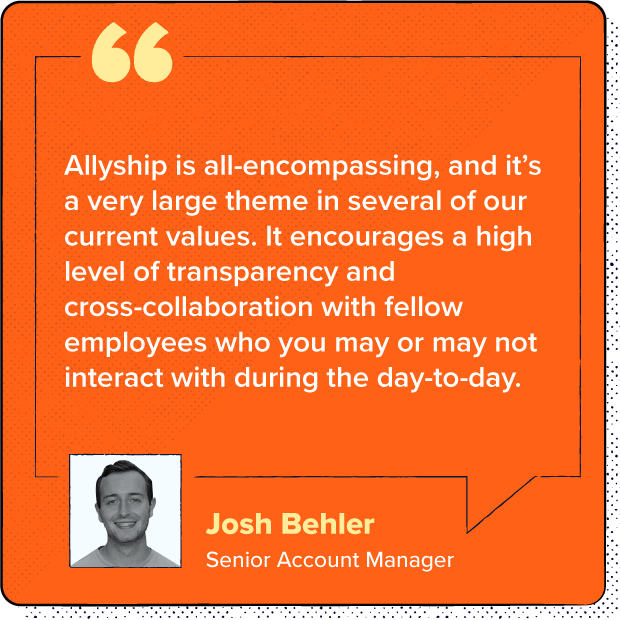 The Bitly Cares ERG strives to make an impact in local and global communities through volunteer opportunities. One of our big annual events is the Global Catalyst for Movement challenge, which raises money for a good cause depending on how much we walk, run, bike, swim, or dance as a company within a month.
We also kick off the giving season each November with Giving Tuesday, where we support charitable organizations through optional donations that are matched by Bitly.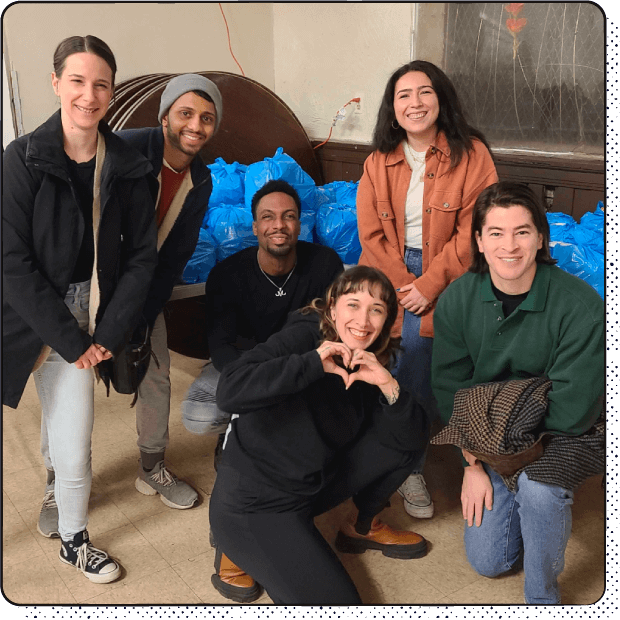 The Disability ERG serves to empower its members to advocate for the awareness and inclusion of people with disabilities and champion their pride, accessibility, and visibility.
We celebrate Global Accessibility Awareness Day by inviting guest speakers from the community of disabled people into Bitly to inspire conversations about how we can all function and thrive while recognizing obstacles that may impact our daily lives. Together, we learn how to be each other's allies and promote equity for disabled individuals.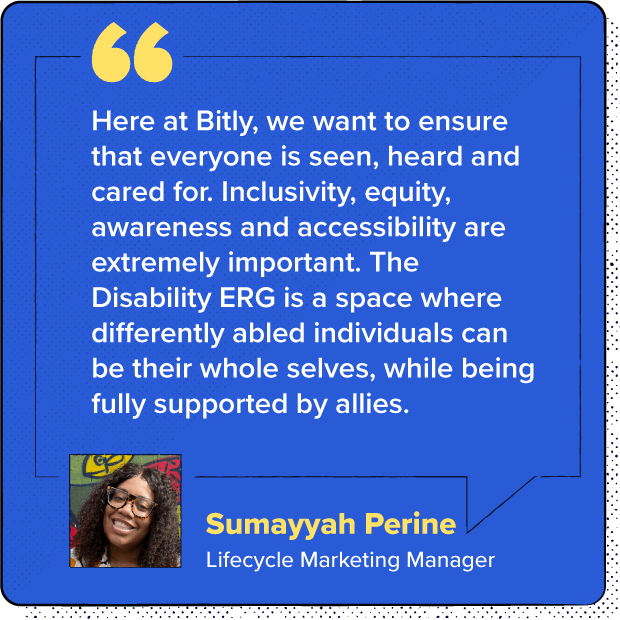 The Mosaic ERG facilitates honest conversations about race, ethnicity, and culture to address current and historic events through regular meetings and discussions.
During heritage months throughout the year, we celebrate ethnic diversity and the many contributions of marginalized groups through events and activities. We plan events and activities, like bringing in keynote speakers to facilitate important conversations, to drive a deeper understanding and acknowledgement of the triumphs and challenges affecting each highlighted community.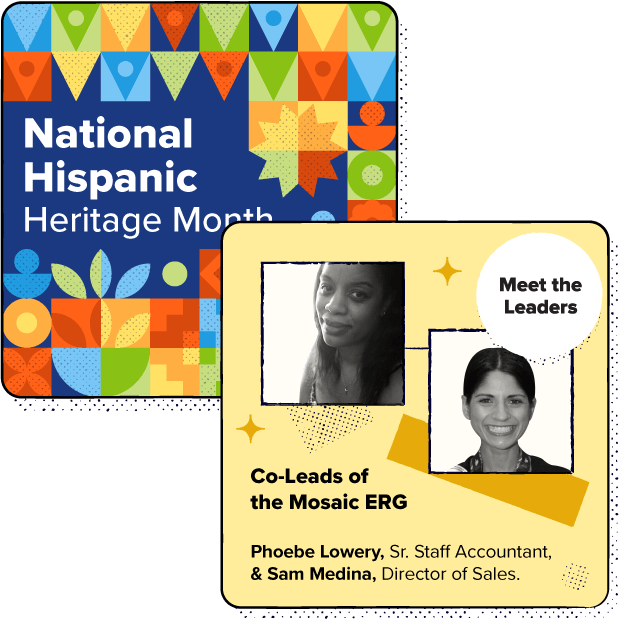 The Pride ERG works to support LGBTQ+ employees through community connection, education, and advocacy. We aim to make members feel included and champion equitable treatment both within Bitly and in our wider communities.
During Pride Month, we plan company-wide awareness initiatives where we invite speakers to talk about LGBTQ+ topics and historic events. And throughout the year, we host regular virtual meetups, learning sessions, and book clubs, fostering continuous conversations and knowledge-sharing within our ERG group.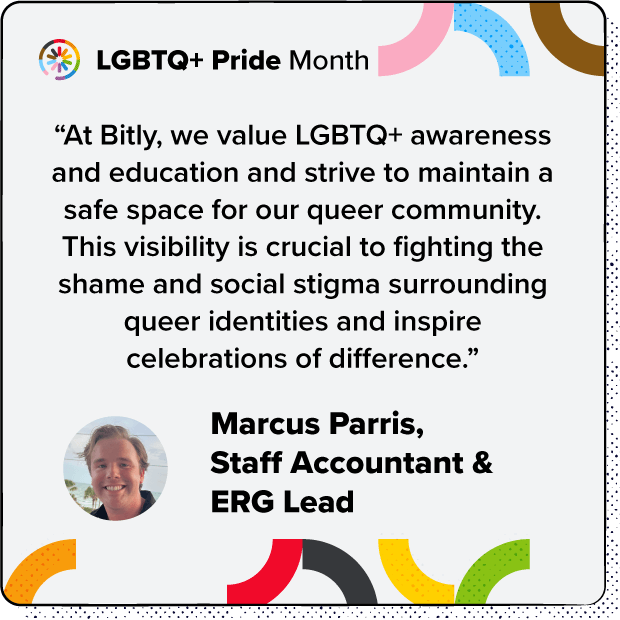 The Bitly Women ERG meets monthly to discuss topics such as women in power, transforming male-dominated cultures, women in tech, our health, and much more. We share experiences, ask questions, and gain new perspectives on how we can drive progress and change for women, not just at Bitly, but globally.
During Women's Month in March, we invite guest speakers to talk about gender equality and host company-wide awareness events. We also hold book clubs, movie discussions, and learning sessions to ensure we continue to keep the conversation going.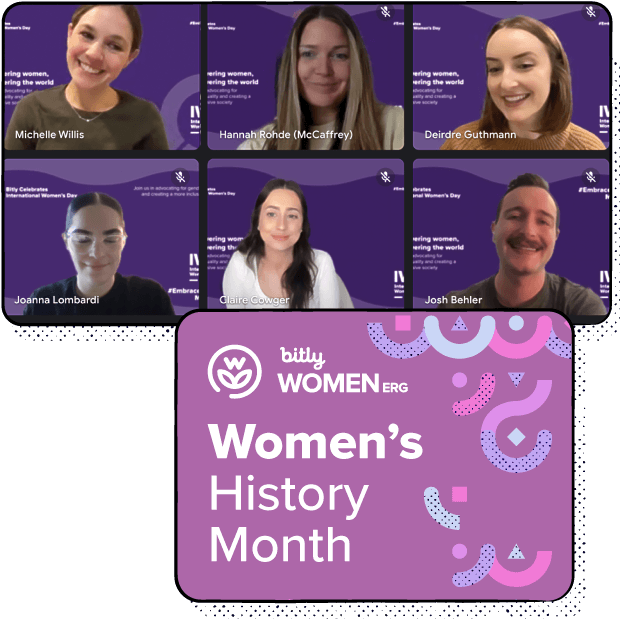 Our Spotlight on
Inclusion Program
We created this program to support charitable organizations that work in the areas of equity and inclusion, advocating for justice, or serving systematically oppressed populations. Spotlight on Inclusion provides non-profits with a free Bitly plan to empower these organizations to achieve their goals.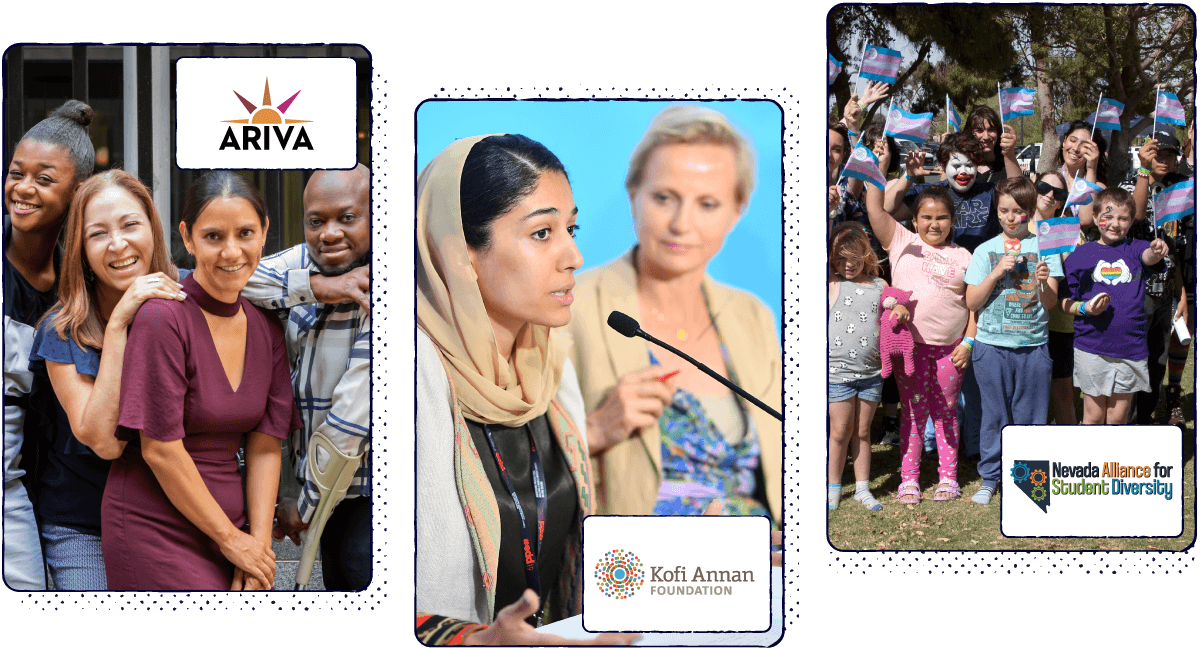 Dive deeper into DEI at Bitly
Learn more about
working at Bitly
We love how each new hire brings a new perspective, different ideas, and the opportunity to grow a more diverse workplace.