Build a Link-in-bio page and showcase your links
Drive Traffic
Drive more views, sales, subscribers and leads
Make it easy for your audience to discover your best, most relevant content and take action that leads to bigger results and deeper engagement.
Create and share clickable URLs from any social media profile.
Extend your reach and use your personalized Bitly Link-in-bio and landing page everywhere you want to share your most important links.
Create a QR Code for your Bitly Link-in-bio and let followers scan to experience your customized landing page.
Branding
Build personalized experiences without coding
Our user-friendly interface makes it easy to quickly design your landing page to match your brand's signature elements, no technical skills required.
Upload an image or logo, choose preset font types and colors, or choose custom colors for your background.

Choose preset shapes and shadows for your link buttons.

Add and edit social profile icons without sacrificing link space.
Edit and manage your links on your phone with the Bitly mobile app.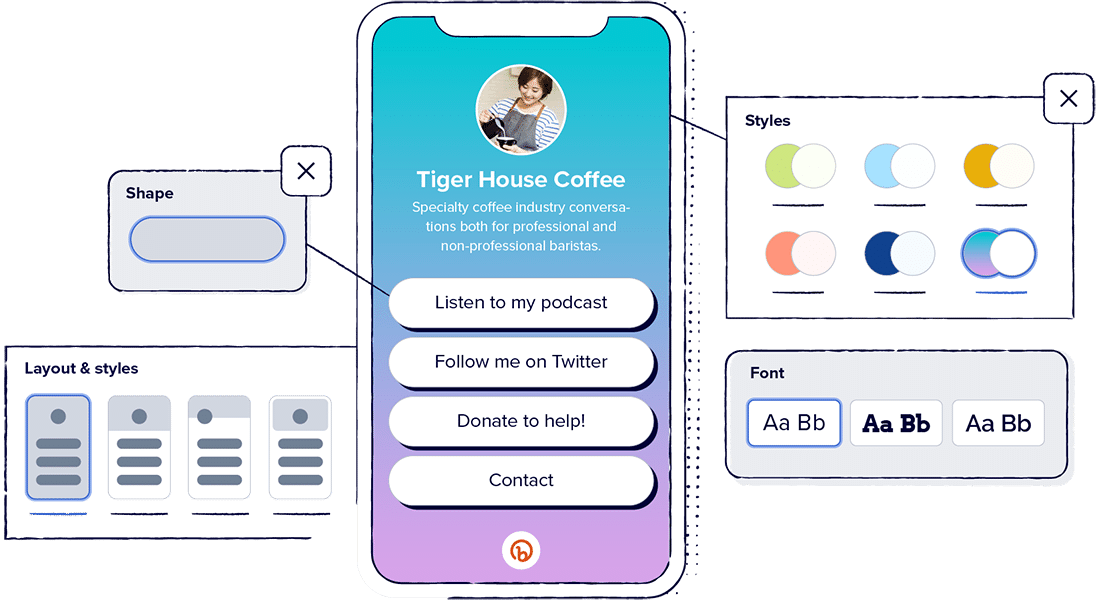 Manage Links & Pages
Everything in one place
Aggregate, manage, and track all of your Bitly Link-in-bio links from a single, centralized location.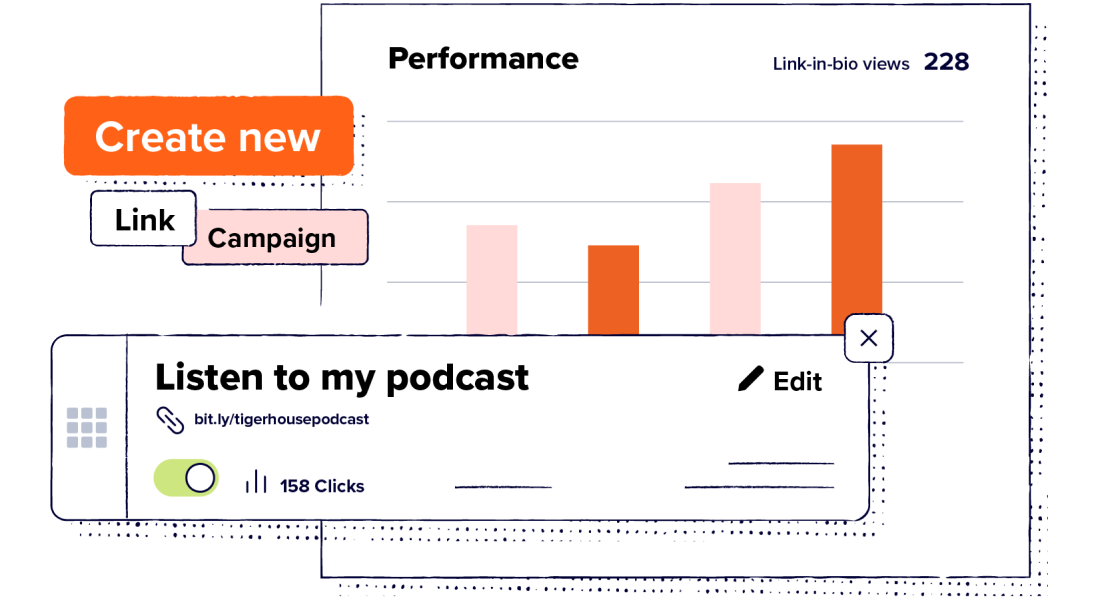 Search, find, and add your existing Bitly links to your landing page without having to copy and paste.

Track total views and clicks, as well as devices, referrals and geos driving the most traffic.

Easily update and change links if content expires or is incorrect.

Schedule links to appear and stop on specific dates and times for advanced event and promotion planning.
Advanced Link-in-bio
Make your Bitly Link-in-bio even more powerful
Access advanced Bitly link management features and the ability to analyze all of your links from a single dashboard.
Create a custom domain for your Bitly Link-in-bio with your own name or brand
Analyze the performance of your existing Bitly links across all channels, beyond your Bitly Link-in-bio landing page
Redirect links to different content if something changes or becomes outdated
What Bitly customers are saying

Bitly helps with organizing the content I need to share with my audience so that when they look at my description they're not seeing all of these crazy long links and it's easy to access all my information without it feeling overwhelming.
Tiffanie Davis – Influencer @itstiffaniedavis

The more I use Bitly, the more valuable it becomes to me. It cuts my time down because it saves all my information, and it gives me insight into which links are most popular and have the most clicks.
Mary H. – YouTube Influencer

Bitly helps me customize and shorten my URLs so that marketing campaigns are totally effective. What I like most is that we can route and redirect our visits according to the country, the device, the IP ranges and the type of connection. Its analytical panel is easy to understand and provides us with statistics and precise metrics, along with graphics to segment and reach our target audience.
Evan B. – SEO/SEM Search Engine Specialist, Vodafone

Bitly has enabled us to build trust with clients by giving them branded short links that carry the main message of the link and that carries our brand. Bitly also gives us data analytics on who is clicking our links which helps us carry the clients forward in the advertising process.
Thankdeka M. – Project Manager
Loved by big and small brands everywhere