On average, organic tweets now only reach around 10% of followers.
A Facebook page with over a million likes only averages around a 2.27% organic engagement rate.
As social channels grow in adoption and become increasingly saturated with content, organic reach on its own isn't enough anymore. Paid content has become an essential piece of the marketing strategy.
But while paid is necessary, it's not a necessary evil. We've rounded up a few steps to finding the right paid social channels that will generate the highest ROI and conversion for you.
Start With These Three Questions
Here are three questions to ask when you first set out to find the right paid social channels for your business:
1) Who's My Perfect Customer?
First things first, who are you trying to reach? Demographic characteristics such as age, gender, profession and location greatly vary from channel to channel. Each social media network has it's own unique niche and purpose.
2) What's My Budget?
Your overall paid social budget will determine how many channels you should advertise on and which ones will give you the most bang for your buck. Most social media platforms charge per engagement, whether it's a click or impression.
"The most important thing to think about when it comes to paid social media exposure is that the more engagement you get out of your initial post, the more money you save. What I mean by this is that if you reach a large audience with your paid post and pique their interest, they're likely to organically share it with their friends."
– Brandon Howard, All My Web Needs
To calculate your budget, you'll want to work backwards from your greater marketing budget and factor in other initiatives you will be running for the quarter or year. It's likely your business goals, time of year and expenses will factor into these calculations as well.
That being said, the average breakdown of a social media advertising budget is: 57% on Facebook Ads, 13% on YouTube Ads, 13% on Twitter Ads, 2% on Pinterest, and 15% on other.
3) What Type of Content Am I Sharing?
The type of product you sell and the audience you're trying to reach will influence the type of content you produce. Visual content is all the rage these days – content with relevant images get 94% more views than content without. Video now dominates on Facebook – Facebook native video engagement is 97% higher than Youtube and 75% higher than Instagram. Meanwhile, infographics get the highest click-through-rate on LinkedIn, more so than any other channel.
Evaluate What Each Paid Social Channel Has To Offer
Let's take a look a deeper look at answering these questions by social channel:
Facebook | Twitter | LinkedIn | Snapchat | Pinterest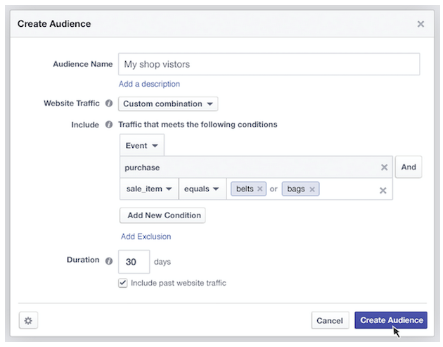 Demographics:
Worldwide, 72% of the online adult population is on Facebook. To put this to scale, there are over 1.65 billion monthly active users on the platform. Not only is this a massive audience to tap into, but these users have a lot of purchasing power.
$55.00
Pros:
– Facebook's Power Editor allows you to get really granular with Facebook Ads. You can target by location, demographic, interests and life events. The editor even lets you target connections, such as friends of those who like your page. You can slice and dice however you see fit to make sure your paid content always gets in front of the best possible audience.
– Facebook Ads also support a range of media formats so you can get really creative. Try experimenting with images and video in the new ad formats. Facebook Carousel allows you to add 3-5 images and links within a single ad unit to tell a fuller story. The newly launched ad format Canvas is an interactive ad that allows users to engage with images by swiping, tilting and zooming in and out.
– Last but not least, it doesn't cost much to get started on Facebook. The minimum daily spend is $1.00. While you'll likely need to spend more than that to see results, it's still a fairly accessible channel for businesses of all sizes.
Cons:
Paid post ads have a 90 character limit, so you do have to choose your words wisely.
– To encourage higher quality ads, Facebook also has a rule that all ads must contain less than 20% text. Ads with too much text will not be approved. The good news is that Facebook has a handy tool that helps check your image-to-text ratio.

– While Facebook has strict character counts, it does offer CTA buttons to help you drive home your message. There are seven CTA buttons to choose from.
– Book Now
– Contact Us 
– Use App
– Play Game
– Shop Now
– Sign Up
– Watch Video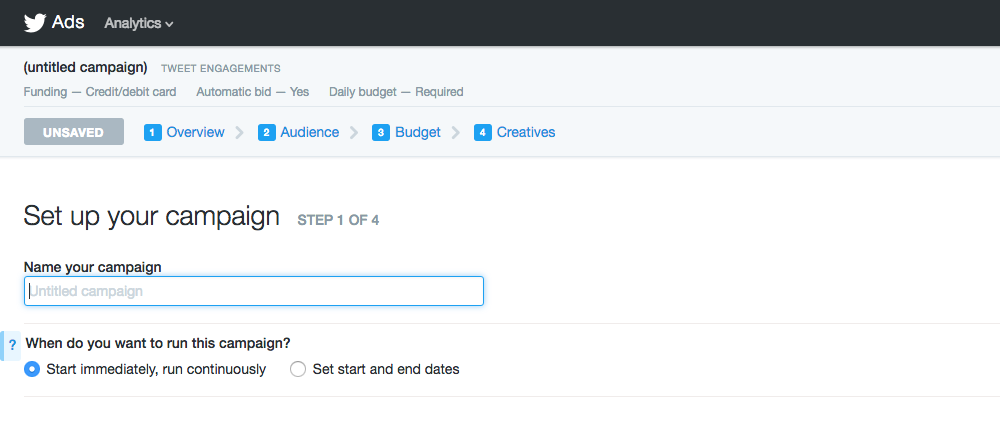 Demographics:
Twitter is most popular with the under 50 crowd and skews more heavily towards male users. Urban and suburban areas are also more active on Twitter.
$46.29
Pros:
– You can generate quick leads using Twitter's Twitter Cards or Promoted Tweets. This can be especially useful when you're trying to trend jack. It's quick and easy to promote a tweet around an event or a trending hashtag. Twitter's Lead Generation Card also makes it really easy for users to share their email address and sign up for your email newsletter or become a member.
– Twitter users can engage with your paid content just as they would an organic tweet. So if they retweet your paid ad, their followers will see it too. Twitter does not charge for this extra engagement.
Cons:
– Twitter's stats dashboard is fairly high level, so you will want to compliment it with other tracking tools to get a fuller picture of how engagement compares. Bitly can provide more insight into content performance at both an individual tweet level and channel view. Bitly can also provide a transparent view into how each campaign performs across Twitter and beyond so you can compare results cross-channel.
– Twitter's native ads share the look-and-feel of an organic tweet and are shared right in the feed. Since users tweet as they go, it can be really easy for paid content to get lost in the noise. Twitter does offer left-hand side ads, but it's pretty costly.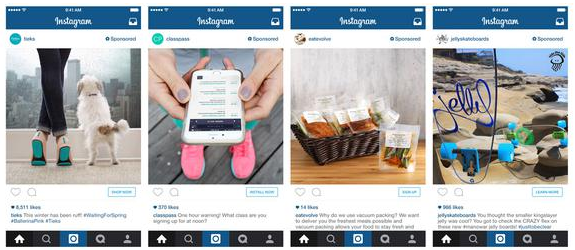 Demographics:
With 400 million monthly active users, Instagram is the second largest social media network behind Facebook. More than half of online adults ages 18 to 29 use Instagram and it's most heavily used in urban areas.
$65
Pros:
– Primarily a mobile social network, Instagram is made up of thousands of niche communities and feature accounts, which are galleries dedicated to highlighting a specific topic.
– Ad recall from Sponsored Ads on Instagram is 2.9 times higher than Nielsen's norms for online advertising.
– Instagram Sponsored Ads are native, which means they're incorporated into the content and user experience. Users are more likely to engage with the content since the Instagram post takes up the whole mobile screen.
Cons:
– Instagram Ads are currently managed through Facebook's Power Editor. This means that marketers have to either already be familiar with Facebook's paid platform or learn how to work an additional platform.
– Posting is still limited to the mobile app, so businesses are constrained to managing photos and videos from their phones.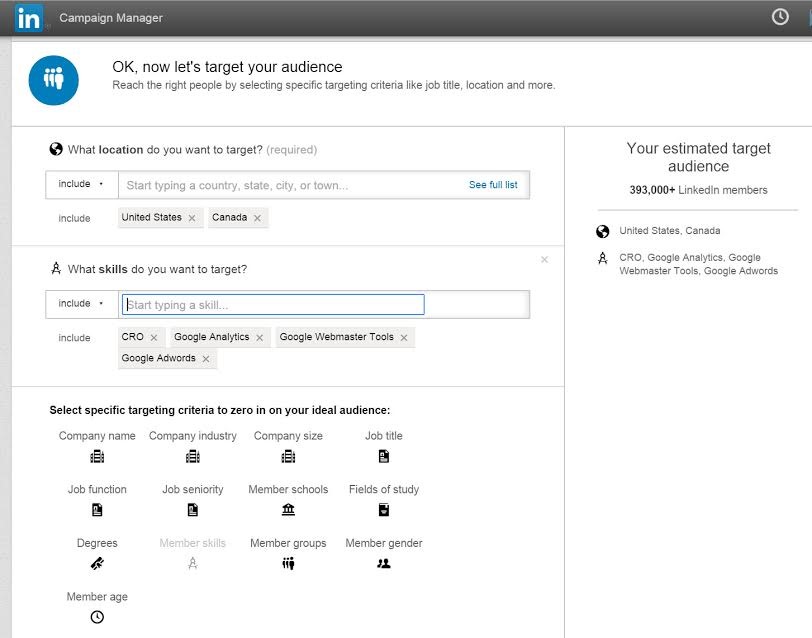 Demographics:  
There are 128 million active users on LinkedIn. The average LinkedIn user is between 30 – 49 years old and holds a college degree.
$44.24
Pros:
– LinkedIn is a goldmine for B2B marketing. At 225 million plus users, LinkedIn is the world's largest professional network. It's the channel where you're most likely going to be able to target heavily by professional demographics such as job title, function, industry, company size and seniority.
Cons:
– LinkedIn's Campaign Manager has a lot of minimum requirements and can be costly for smaller businesses to get started on. The minimum required audience size is 1,000, the minimum cost to advertise is $2 for both CPC and CPM and the minimum daily budget is $10.
– LinkedIn is also one of the last social media channels to hop on the remarketing bandwagon, with Linkedin Lead Accelerator. Since it's still fairly new, there may not be as many resources and use cases to reference.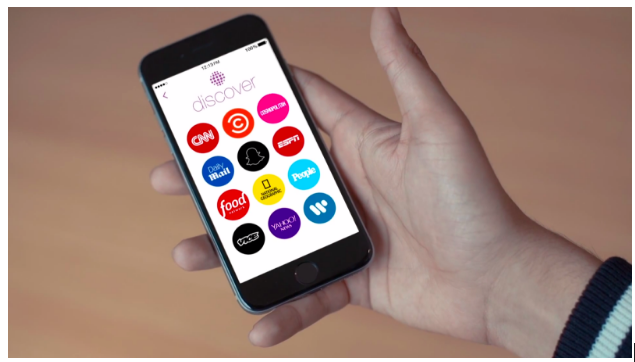 Demographics:
This disappearing message app has historically been known as a platform for teens, but in the past year it's been starting to age up. There are currently 100 million daily users on Snapchat and 65% of those users contribute content, meaning everyone on the platform is very engaged.  And there are 60 million visits to Discover, Snapchat's paid ad offering, each month.
Pros:
– Even as Snapchat is aging up, it's a great place to speak to millennials. The Snapchat audience is digitally savvy and hungry for content. Since it's still an emerging platform, it's a great place to experiment with new content or strategies.  "It's not as high profile as Facebook or Twitter where people scrutinize every word and you have to represent the brand," says David Berkowitz, CMO of MRY.
– Snapchat has doubled down on ad formats this year, rolling out a series of ads that include conversion driving CTAs. These formats include listicles, app-install ads, live stream and more.
Cons:
– The costs of advertising on Snapchat are still a bit of a mystery. Some say Snapchat asks brands for up to $750,000 a day.
– Many marketers still struggle with tracking and measuring ROI from Snapchat and building on engagement post-snap. We've seen brands use Bitly Campaigns to optimize their Snapchat strategy. KIND found a way to see if people click from Snapchat to a promotion just by using Bitly links. During a spring sale, the brand drove followers to purchase on their landing page by including a Bitly link and promo code code SPRING15. Using Bitly Campaigns, KIND was able to track Snapchat performance and see how it stacked up against other channels like Instagram, Facebook and email.
Pinterest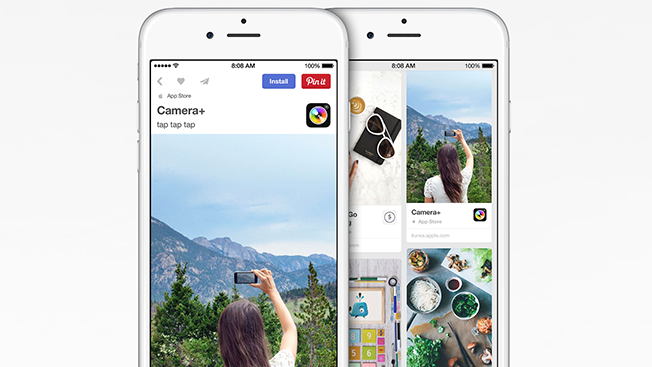 Demographics:
Pinterest's user base is primarily female. The number of female users is almost triple that of men. Pinterest users are also mostly under 50.
$133.86
Pros:
– Pinterest's platform is inherently built off showcasing things that people admire or want to buy. Research shows that 93% of Pinterest users use the platform to plan purchases.
– Pins have a greater reach and a longer lifespan than a lot of other content on other popular social channels. Pins are 100 times more spreadable than a tweet and the half-life of a pin is 1,6000x longer than a Facebook post.
Cons:
– The best performing frequency for Pinterest is 15-30 times a day. So if you want to support your paid content by building out your brand on the platform, it'll take a lot of visual curation.
– Pinterests' niche demographic can also be a challenge. The most popular Pinterest topics are fashion, home decor, cooking, and lifestyle. If your business falls outside of these categories, it can be hard to build engagement.
Listen To Your Numbers
There's no one size fits all solution when it comes to finding the right paid social channel. Every business is slightly different and the landscape is always changing. Even after evaluating these questions that we've put together, you'll want to test to further optimize your paid social strategy.
We've seen many companies use Bitly Campaigns to optimize their paid social content. Some A/B test images and copy in a series of ads, others track strategies that work in organic content and carry it over to their paid efforts.
The Social Quant, a tech company with a platform that helps clients build engaged Twitter audiences, uses Bitly links to A/B test their CTAs on social.
"Bitly allows you the opportunity to effectively test different copy to see what gets more clicks and what's a complete dud," says CEO Mike Kawula.
Kawula and his team regularly tests copy and visuals across different tweets to see which combination drives the most engagement around their blog posts.
"We'll send 3-4 tweets the day a post goes live to see what gets the most clicks," Kawula explains. "We review that data the next day and take the most clicked tweet and put it in a bucket of tweets that gets tweeted consistently."
By keeping the blog post constant but using different Bitly links, Social Quant is able to see which CTA resonated most with their audience. And A/B testing just on Twitter alone has paid off big.
"This data helps us maximize our Twitter marketing and has helped our startup get over 25,000 visitors a month just from Twitter," Kawula says.
As you test, don't get to caught up with optimizing to beat the algorithm or to stay within your budget. Like organic social, authenticity and quality is key when it comes to paid social. Your relationship with your customers will ultimately drive you towards the right channels.
---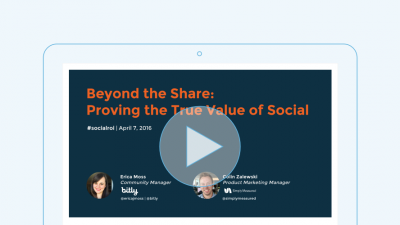 Webinar
Learn the right tools you need to track social media ROI across different channels and platforms.
Watch