The customer journey is a maze, not a funnel.
Customers discover products and research brands across multiple devices and channels. They ask friends about their opinions and trust reviews left by strangers. When they finally do get to a website, maybe they drop off immediately. And if they do, there's no telling where they go next.
Bitly OneView offers you a window into every customer touchpoint. Wherever there's a link, there's a way to measure that experience. Brands have used OneView for complex, multichannel marketing campaigns, regional targeting, and more.
Here are the five ways you can use Bitly OneView to own the customer experience:  
1. Multichannel Campaigns
Bitly OneView will streamline the metrics for all of your multichannel marketing campaigns. You can compare the results of a media placement against an Instagram Ad and an email campaign. Or you can see how a dozen different product lines are performing across Facebook Ads, all at once: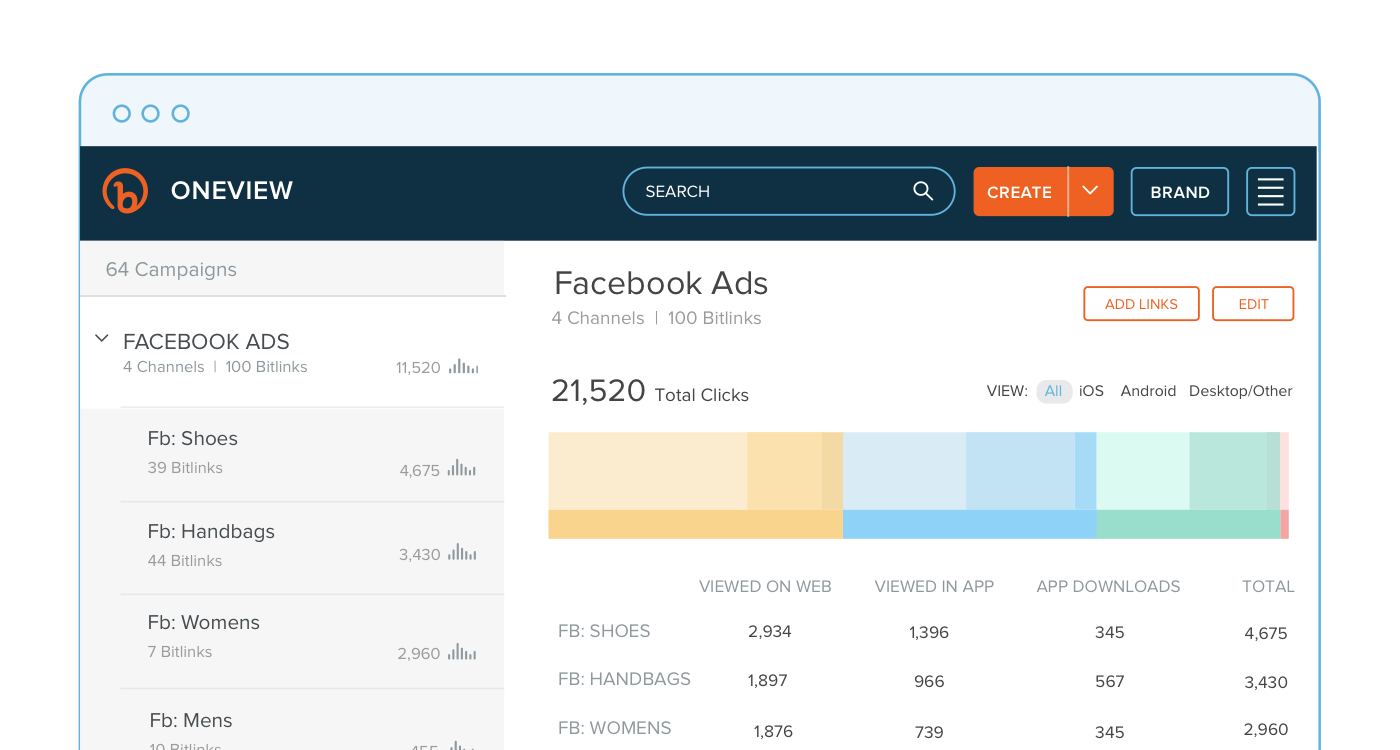 Vissla, an eCommerce company, uses Bitly OneView to easily see where content is resonating. By using Bitlinks in media placements, Instagram Ads, and email campaigns alike, it's easy to see exactly how and where the audience is engaging.
2. Geo-Targeting
If you create different channels based on different regions, you can build a dashboard that tracks geo-targeted marketing campaigns. All you have to do is create links for each region and distribute them accordingly.
One major streaming service uses OneView to easily see which regions engage with different artists. By creating regionally targeted Bitlinks for in-app buttons and affiliates, it's possible for the company to drill down into which artists are most popular per city, and whether fans are more likely to check out the album page or tickets for an upcoming concert.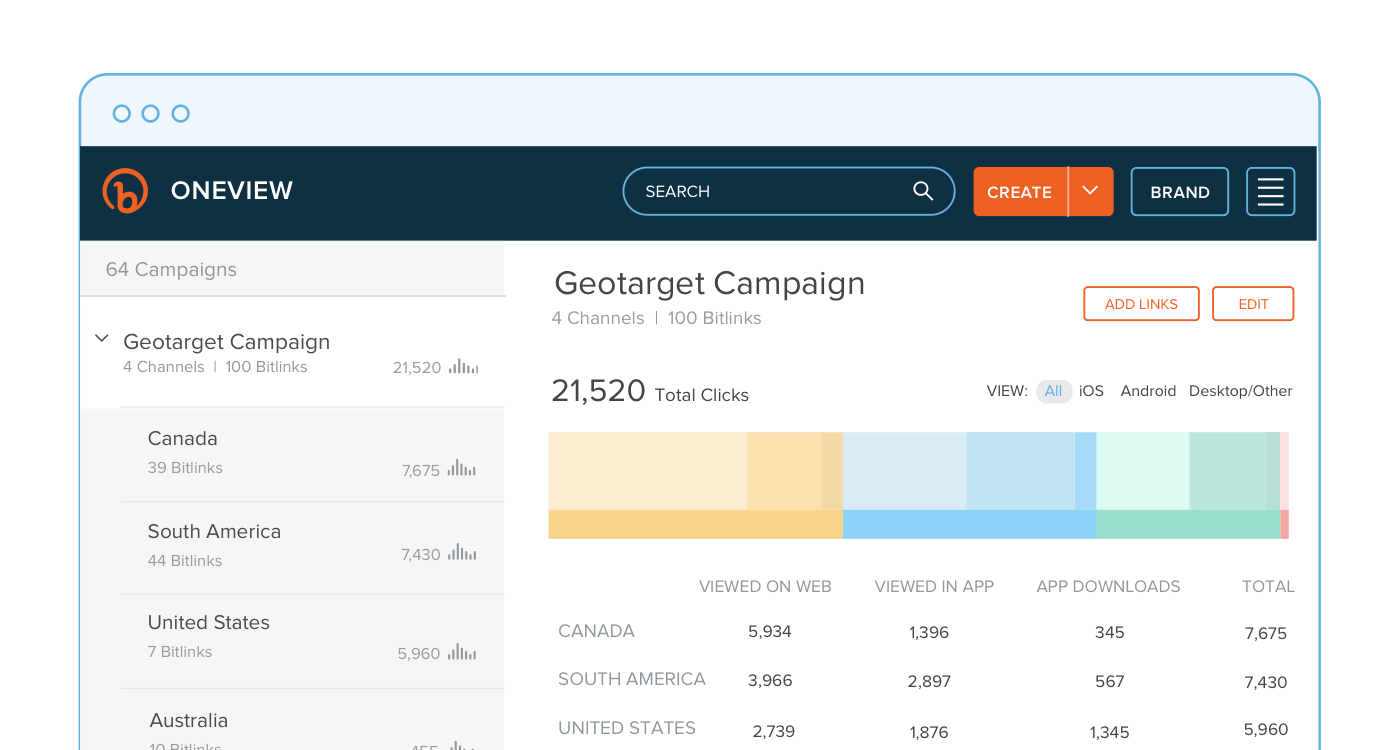 Geo-targeted campaigns in OneView start with giving exclusive Bitlinks to each region you're trying to measure. Once you've dedicated a Bitlink per region (or more, if you're also using multiple channels per region), you can start distributing, promoting, and measuring.
3. Internal
Internal OneView campaigns range from events and prospecting to team collaboration and data integration. With Brand Manager, you can create different user seats for each rep on a sales team and then have them create their own Bitlinks as they start prospecting. A Bitlink can tell you if a prospect clicked on a piece of collateral, the company website, or anything else you've linked in an email.
Bitly OneView offers complete transparency when it comes to event marketing, too. By putting Bitlinks on presentations, booth collateral, swag, and press materials, you can create a OneView campaign that shows the lifecycle of an event from start-to-finish.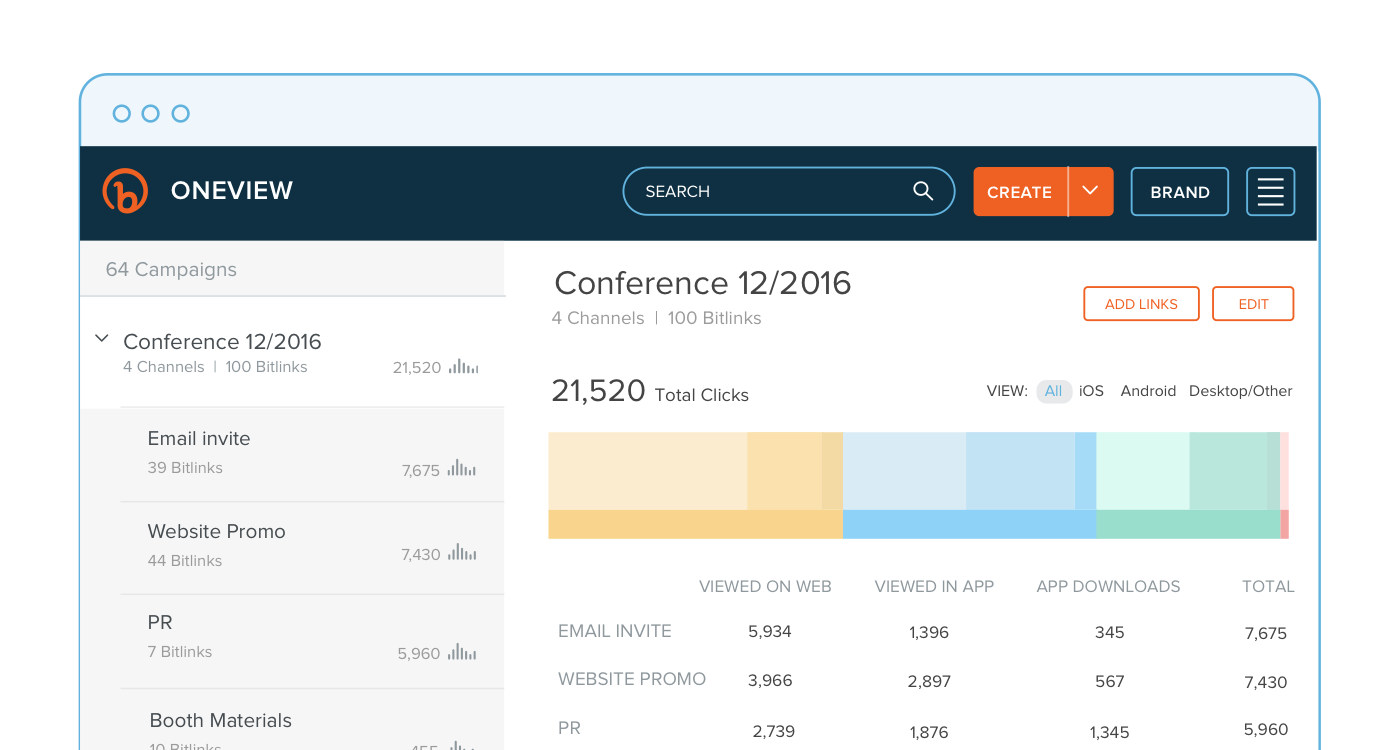 4. Influencers & Partners
Influencer marketing is notoriously difficult to measure. But, as social channels get more saturated, working with influencers, partners, and affiliates is more important than ever to break the noise.
If you don't have access to analytics, you can give these partners a Bitlink to start measuring. With OneView, you can create a campaign that tracks how much traffic influencers are driving and compare that to other channels. That can give you a valuable perspective on total spend and investment.
One Bitly customer ran a OneView campaign to see the impact of four different influencers when promoting a new app.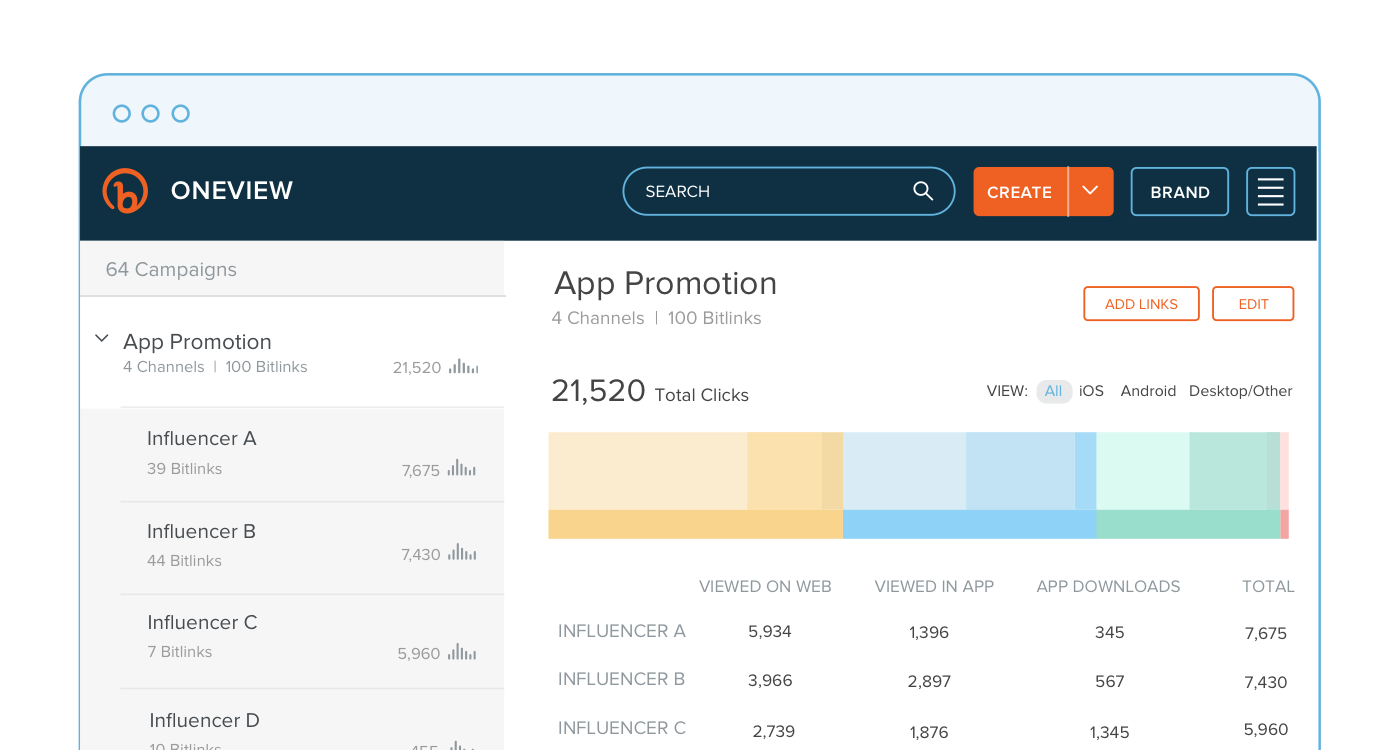 5. Demographics
Demographic targeting is the gold standard of personalization. While ad targeting platforms offer different versions of demographic data, the results are usually stuck inside that same platform. This can make it difficult to aggregate information from different channels and different user groups.
Bitly OneView enables teams to create one dashboard for all demographic-targeted campaigns. By using Bitlinks across each demographic campaign, you can aggregate the results for every user group in one intuitive dashboard.
A macro view of demographics can show you exactly how different groups interact with your content and which channels are most active for each one.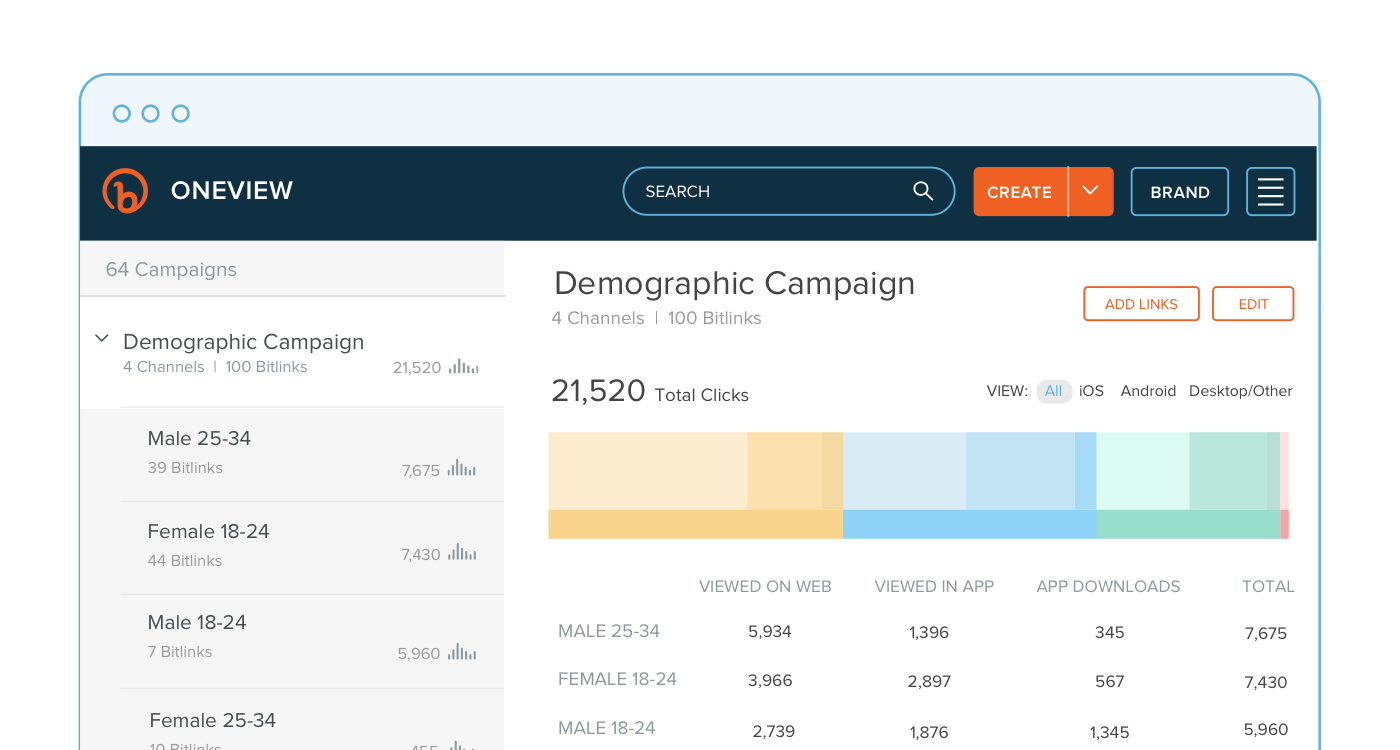 The Power of an Internet You Can See Across
The customer experience is nonlinear. It spans apps, devices, and channels. Bitly OneView enables you to build custom campaigns to measure that experience. If you want to compare the results of an email campaign against a SMS campaign or a territory in the Midwest to a territory on the East Coast, it's as simple as making a link.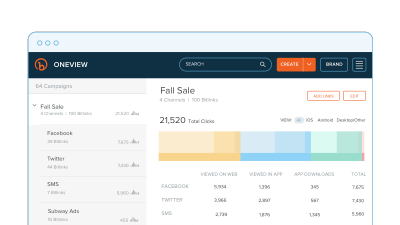 Learn More
See the full benefits of OneView in action!
Get in touch!