What do you think of when you hear the word "personalization"? Do you think of subject lines with your name in it? Or a Facebook ad that targets you based on items you've put in your cart but haven't purchased?


That's only a small glimpse of what personalization is. Personalization is both much simpler and much more complicated than that: it's using data to learn what your customer wants and needs. And a personalization is what drives a truly great experience for our customers.
But the biggest challenge for most marketers lies in collecting data. 40% of us struggle to gain insight quickly enough, and 39% of us struggle with not having enough data. How do you organize, analyze, and turn this data into actionable content? Read on to discover 8 ways to use data to create a personalized experience that keeps your customers coming back for more.
MOBILE
On the train, at the office, on the couch watching TV – consumers spend most of their waking hours on mobile. Tailoring and packaging your content to deliver the same compelling desktop experience on a smaller screen can be tricky.
There are two main levers you can pull when it comes to mobile:
SMS
SMS is inherently a personalized messaging channel. Consumers are more selective with giving away their phone numbers and receive far less promotional messaging on text than they do on email or social.
But while the average SMS open rate is 99%, lock-in a higher click-to-open rate by personalizing your content with location-targeted promotions, exclusive content, or even product recommendations.
FedEx uses real-time text messaging alerts to notify customers when an action needs to be taken. Since customers are more likely to check their phones (the average American checks their phone 46 times a day), they're able to respond quickly and prevent the delivery from being delayed.
One of our teammates had a package delivered to her recently that needed a signature before it could be received. She wasn't at home, but since FedEx sent me a text message, she was able to quickly ask someone else to help her sign off for the package.
Deep Links & Apps
Mobile apps can be a great way to build an accessible on-the-go experience for users who are accessing your content from a smaller screen. However, retention is tough. The average app loses 77% of its users in the first three days.
Bitly Deep Links boost retention by driving users from the mobile browser directly into a page in the app, or if they don't have the app, to the App Store to download.
For example, a media company can email a subscriber about the latest episode of their favorite TV show, and then use a deep link to drive them back into the app to watch right away.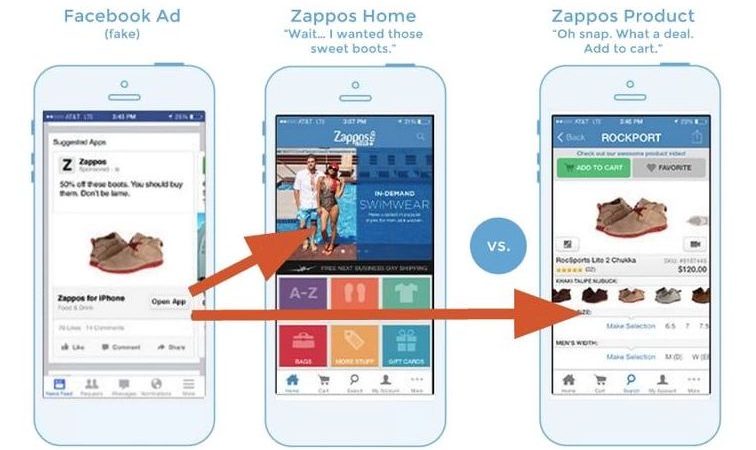 Source: Sarlitt
Or, in the image above, the deep link behind the Facebook Ad drives the user directly to the product page to buy, instead of to the Zappos homepage.
WEBSITE
More than half of all consumers start their purchase on mobile, and then continue their purchase on desktop.
Whether consumers are directly converting on your site or just moving further down the funnel, shorten the sales cycle by making your website just as personalized as the last touch point.
Persona Based CTAs
AdRoll, an ad retargeting platform, uses personalized CTAs on their homepage to streamline the experience for two very different audience groups: small business and enterprise businesses.
AdRoll uses an IP identification service and query parameters to identify and determine what kind of businesses visitors were coming from and which content they would see.

Small businesses see a "Try It Now" button, and enterprise businesses see a "Request a Demo" button where a representative will take them through more tailored, advanced features fit for larger teams.
Email Opt-In Pop-up
Women's apparel retailer LOFT triggers a pop-up box encouraging new shoppers to sign up for their emails in exchange for a $25 off discount.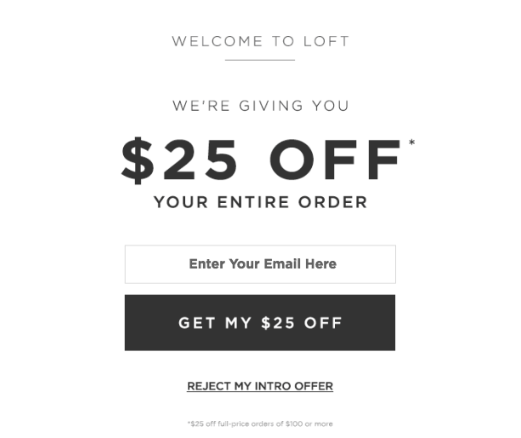 The brand sets up parameters around the opt-in form to avoid distracting customers. For example, you can have the opt-in form stop popping up once a user has signed up or stop appearing if a viewer hasn't signed up by the third visit.
Whether you're a B2C or a B2B business, setting up an email opt-in with a compelling offer can help grow your list and boost your reach.
SOCIAL
With the future of social becoming pay-to play, personalization is key when it comes to cutting through the noise and getting the most bang for your buck.
Channels like Facebook and Twitter offer advanced targeting capabilities for paid campaigns, and others, like Instagram are changing their algorithms to serve up tailored organic content they think you'll be most interested in.
Whether you're going the paid or organic route, social personalization can be a powerful tool. Here's how:
Retargeting
Many social media channels offer retargeting, where you use historical behavior data to serve up tailored content for your audience.
The Bitly marketing team uses Facebook Ads to retarget users who have previously engaged with our content.
Let's say we noticed you were reading about Facebook Ads. When it comes time to post, we would likely share an ad for a paid social webinar instead of a mobile webinar ad on your Facebook feed.
Custom & Segmented Audiences
Ecommerce company Everlane recently launched a private Instagram account to create bespoke content for a smaller subset of followers. The account, @EverlaneStudio, only accepts 100 followers a day.
@EverlaneStudio posts content about their shoe collection, which can be a great place for avid shoe shoppers to engage, since the main account, @Everlane has a mix of content about clothing, events, and more.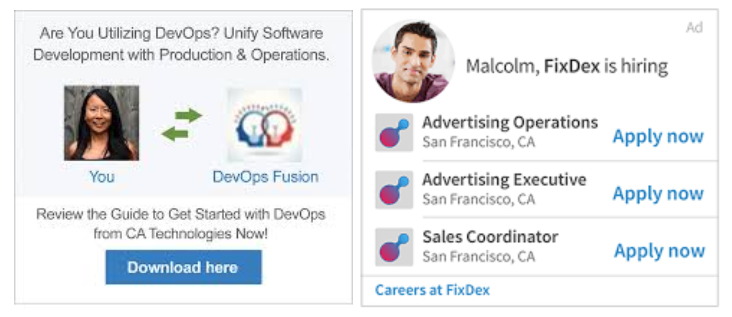 Photos from LinkedIn
EMAIL
You can definitely teach an old dog new tricks. Even though email is one of the oldest channels for personalization, there are countless new ways you can surprise and delight your subscribers. Testing and optimizing personalized content pays off – personalized emails drive 29% higher unique open rates and 41% higher unique click rates.
Email mostly falls in the middle of the funnel, so personalized tips and promotions can help build loyalty and retention.
VIP Appreciation
This Spotify email targets Charles Kelley's biggest fans on the channel and gives them early access to his solo tour tickets.
The email plays several cards really well. First, it comes directly from Charles Kelley. Second, it segments out top users, thanks them, and makes them feel special for being one of the top listeners. Lastly, it rewards them for being an active user and encourages them to continue listening.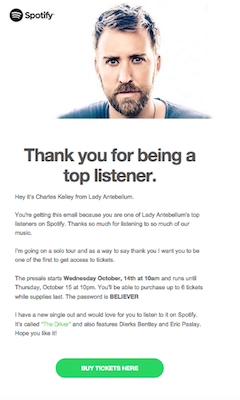 Performance Updates
Activity tracker, Human, regularly updates users with motivational emails. They regularly put a face against the weekly accomplishments makes it feel like a personal journal.
Updates remind users to come back to your site or app, even when they are on-the-go or distracted by today's noisy digital environment.
WRAPPING IT ALL UP
In an age where aggregators find and retrieve a thousand different options for customers to choose from, a real customer experience is not defined by products. It's defined by interactions between brand and customers.
It's up to companies to make those interactions unforgettable, wherever they happen during the customer journey.
It all starts by understanding what your customers care about, what they need, and building delightful, valuable experiences at scale.
Want to find out even more? Check out our ebook below, Everything You Need to Know To Build The Best Customer Experience.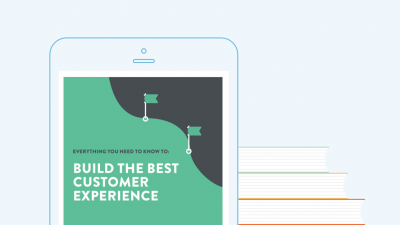 Ebook
Learn how to build a customer experience that continually delights, engages and drives customer loyalty.
Download