The customer journey is no longer a funnel. It's a maze.
Customers are switching devices and channels all day long. Marketers are given a dizzying array of platforms and tools to track that journey, but none of them adds up to one dashboard of customer experience across all channels. You have to sort through Facebook Insights and Google Adwords. You have to look through your email marketing and marketing automation software. Throw in third-party platforms and social media analytics tools. Multiply that by the number of teams creating all the campaigns and, suddenly, you have a very complicated picture.
Actually, scratch that. You have a very complicated spreadsheet. Or a stack of spreadsheets.
So how do you simplify something as complicated as omnichannel analytics?
It starts with the link. By using trackable Bitlinks at each touchpoint, you and your team can create a real-time, cross-channel view of the customer journey. By cutting across every channel and device, the link lets you see clear across the Internet.
Watch the video to learn how!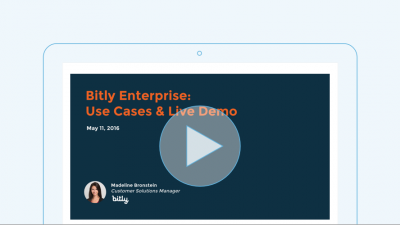 Demo
Get a comprehensive breakdown of Bitly Enterprise features, see live use cases, and learn how to use Bitly for your brand.
Watch