We live in an age where pretty much any customer can create content about your brand.
Whether it's a review, a tweet, or a video – user-generated content has a huge impact on how people perceive companies and products.
It really comes down to one thing: people trust other people more than they trust brands.
Research shows that 93% of consumers find user-generated content helpful and 85% trust content generated by others more than they trust the content produced by brands. So, if you harness the power of your community, you're likely to see some great results.
User-generated content (UGC) isn't just compelling for consumers, it helps brands create more interesting content and it can even lessen the lift on internal marketing teams. By including customers on social media initiatives, branding campaigns, video content, and more, you can create a rich customer experience that builds a passionate community around your business.
Want to learn more?
Join Bitly & Sprinklr for "How to Build an Effective User-Generated Content Strategy" on Thursday, June 23 @ 2pm EST, to learn:
– How brands are using UGC today
– How to track the results from your UGC campaigns
– Ways to utilize UGC that map to your business goals
– How to measure and improve your UGC tactics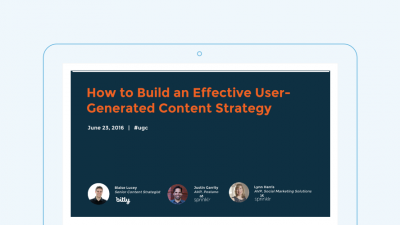 Webinar
Register for our webinar on 6/23 @ 2pm EST to learn how to build strategies for user-generated content!
Register