What does personalization mean to you?
If you're like most people, it probably means pretty much nothing. It's a fancy buzzword that can be checked off the list if you send an email with your customer's name in it.
And maybe that's why we as marketers are falling short with personalization – no one really knows what it means.
In a recent survey, 77% of marketers say that real-time personalization is really important, but 60% struggle with doing this. More than half (60%) of marketers rate their personalization efforts as "very good" or excellent. But in reality, 40% of consumers say that promotions don't deliver anything of interest.
The key to compelling personalization isn't revolutionary. It's knowing what your audience wants. To spark real engagement, we have to see across all channels to manage, know, build and personalize the customer experience.
But 40% of us struggle to gain insight quickly enough, and 39% of us struggle with not having enough data. How do you organize, analyze, and turn this data into actionable content?
Here are three quick and easy ways to do it:
1) Geotargeting: Get Mobile
If you look at Swarm and Pokemon Go, consumers are already in the habit of sharing their location data in exchange for special content.
The research backs this up. More than half (53%) of consumers are willing to share their current location to receive more relevant advertising.
At Bitly, we've seen brands use location data to both tailor real-time content and inform future marketing initiatives.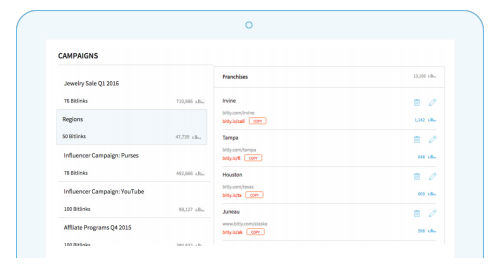 One media company uses Bitly Campaigns to organize and track engagement by city. They're able to see how each region responds to different artists by tracking the clicks to an album page, concert tickets, and VIP packages.
Many free users do this too. Country singer, Elizabeth Lyons, uses Bitly Campaigns to track which cities are most engaged with her content and schedules her tours around these top cities.
A major department store uses Bitly's API and an SMS service to bridge the in-store and online experience for their customers.
When a customer reaches a brick-and-mortar location, the app detects their location and sends a text message with a custom Bitly link driving back to a landing page with personalized content based on their purchase history, app search history, and saved items.
Getting Started: Bitly is free, so it's a great way to get started. Slice-and-dice location data in your dashboard and then match it up to local weather or events in the area. If their city is being hit by a heat wave, you bet they'll be spending a lot of time poolside, wearing bathing suits and quenching their thirst with iced drinks. Use that to your advantage. Suggest products or content that fits right into what's happening in their area at the moment so that it's irresistible for them to buy.
2) Behavorial Retargeting: The Follow Up
For most websites, only 2% of web traffic converts on the first visit.
Retargeting, serving up related content to people who have visited your site or previously engaged, is a great way to keep your brand top of mind.
Our marketing team at Bitly uses Facebook Ads to retarget users who have previously engaged with our product or read our content.
To optimize our call-to-actions and be budget-savvy, we include Bitly links in each ad to A/B test and tweak the content over the course of its run time. Bitly links add a layer of insights on top of those pulled from Facebook Insights, giving us visibility into the effectiveness of our paid efforts across all channels and devices.
If one ad is taking off on one platform more than another, we can quickly reallocate our resources and budget where our customers are most engaged.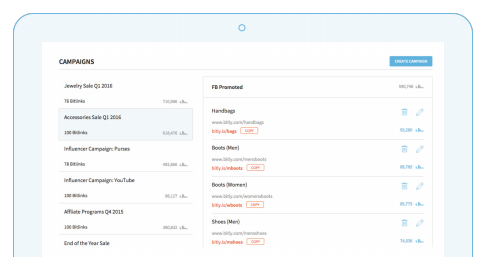 One luxury retailer uses Bitly Campaigns to track various products promoted through Facebook Ads.
Here, this retailer has broken it out by handbags, boots, and shoes, but these channels can be rearranged as you see fit. This retailer also goes one step further to track product by gender to see how each customer persona is engaging with specific products.
Each campaign has 100 links grouped across different channels, so you can really get an idea of how content is performing at both a micro and macro level.
Getting Started: You can also retarget by suggesting similar items based on purchase behavior or by sending tailored promotions to customers who haven't engaged in a while. Seamless suggests meals based on what you've recently ordered, making it quick and easy for the user to order on-the-go.
3) Social Proof: What is Your Audience Doing with Your Content?
The success of peer reviews and user-generated content (UGC) is rooted in science. Social proof is a psychological phenomenon where people conform to the actions or opinions of the majority under the assumption that it's the correct thing to do.
Many companies use the Organic Shares to gain deeper insights around content and products people are most interested in, and personalize campaigns accordingly.
More than 4 billion influencers and followers click, create, or share Bitly links to shorten and share links across all channels and devices, which gives brands insights into what their followers are sharing with their friends and friends of friends.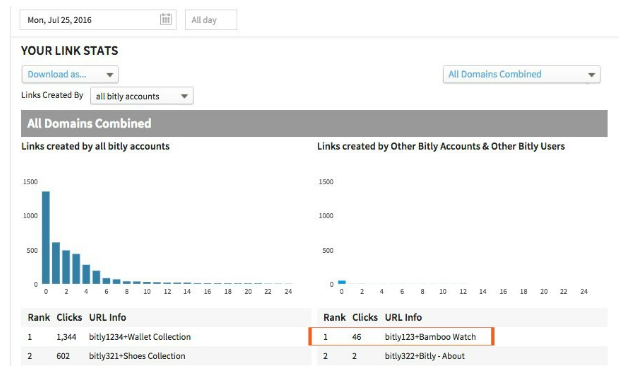 For example, an apparel company might be heavily promoting their wallet collection, as seen on the left-hand side of the link stats dashboard above. But looking at the Organic Shares data in right-hand side of the dashboard, they can see that users outside of their immediate follower base are sharing the "Bamboo Watches" product page the most. This means that they might want to create some targeted content around bamboo watches to drive additional sales.
Getting Started: Netflix does a great job of serving up recommended movies based on what viewers similar to you have been watching. Just by paying attention to what your audience and your extended network is engaging with, you can map your whole personalization strategy.
It's The Journey, Not The Destination
Realistically, customers' won't be won over by just a few personalization tricks. If one landing page remembers their preferences and another doesn't, it will only make for a confusing and frustrating experience.
People are engaging across mobile, desktop, Facebook, Instagram, email. Often, they're doing it all at once. Personalization is very simple: use data to figure out what your audience wants. When you know what your audience wants, you can create experiences that you know they'll love.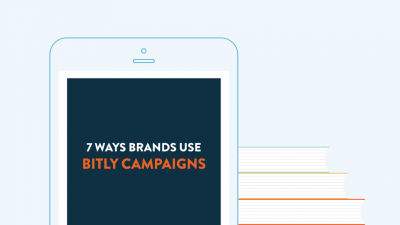 EBOOK
Learn 7 different ways brands are using Bitly Campaigns to manage complex, multi-channel marketing initiatives.
DOWNLOAD