In the "Creating Stunning Visuals For Social" series, we'll be talking about how to optimize your visual content to stand out in today's most popular platforms like Snapchat, Instagram, Pinterest and more.
According to Comscore, this past year in the U.S., Snapchat added 25-to-34-year-old users twice as fast as 18-to-24-year-old users. In late 2015, Snapchat also rolled out a billboard campaign across several major cities and analysts speculate that the app is looking to age up to compete with bigger social media players such as Facebook, Whatsapp and Instagram.
If you haven't gotten your brand on Snapchat yet, now may be the time to consider getting started on the social network. But the app is so different from traditional social channels – one of the key reasons being that your posts disappear – so what does it take to build a cohesive strategy?
We tapped some influencers who are leading creative, new ways of using Snapchat, to share some tips on how brands can do the same:
Push the boundaries when it comes to being creative with your content internally on the platform and externally off it.
Internally this includes providing a variety of different types of content in your snap stories, custom themed content for different days of the week, and utilizing internal features such as filters to make your snaps more visually enticing.
As for external content, be sure to leverage pre-existing followings on other social platforms for content distribution to build your following.
Cyrene Quiamco, Founder of the 11th Second | Snapchat: cyreneq
Don't be afraid that Snapchat content disappears. Remember that time before DVRs when you had to drop everything you were doing just to catch your favorite TV show? If you missed it, it was gone.

If done well, people will tune in, anticipate and consistently check up on your brand's Snapchat channel to watch your exclusive content because it's not something that they can set aside for later and forget. Snapchat is bringing back that scheduled anticipation and the viewers will stay up-to-date with your brand.
Also, Snapchat is not Youtube, Vine, Facebook or Instagram – don't use it like it is. Don't just post static pictures like Instagram, or boring, non-interactive videos that can also be posted on Youtube. If you plan on doing that, just use the other channels that those are intended to live on.
Snapchat has popularized authentic and personal stories. Stories are a behind-the-scenes look into the lives of friends and celebrities, and the candid nature of the medium is unfamiliar to brands who are used to producing content that is carefully planned, executed and edited.
If brands want to break into Snapchat, they need to bring a personal touch to the content they produce while still having it be specific or unique to the brand. A brand that does a good job with their Snapchat account is Everlane.
In their Snapchat Stories, Everlane lets fans know about new clothing lines, when their office will be open to the public, and they answer questions from fans. All of this is done through the storytelling of the two protagonists (and Everlane employees) Isadora and Red and that is the key: have real people behind the Stories and get them in front of the camera. You can't do personal without people.
1. Know your audience
While Snapchat doesn't give you detailed information about who's watching your snaps, you can quickly gauge what type of content to post by testing it out. Snaps that typically are consumed by Snapchatters fall into categories like humor, fun facts, tips and tricks, contests, games, stories, and skits.
2. Repurpose your content
One thing I learned while working at BuzzFeed Video was the power of repurposing your content. When you write a blog post, create a video around that post. From that video make a cut for Facebook, YouTube, Vine, Twitter, Instagram and Snapchat. Your one piece of content now feeds audiences on multiple channels.
Klassy Goldberg, Social Media Editor at 500px | Snapchat: the500px
Snapchat users like brands, but they love people — real people — more. Consider handing your account for a week to an influencer in your community or platform to take over. It gives your brand a first-person, authentic narrative.
Last February, we asked social media influencer and photographer Alen Palander to take over our Stories during his trip to Southeast Asia, and this doubled our number of views and screenshots!
I started using Snapchat a couple of years ago, drawing random monsters, and it became my signature. I've found that the stories my followers engage with most are the ones where I ask them to draw with me even if it's not something they typically do or specialize in!
It's actually pretty hard to draw on Snapchat, but it makes it even more rewarding for me because I'm able to create big stories with small tools. I think it's awesome that brands have started to tap into this – I've worked with several international brands on illustrating stories now. Social media users are always looking for something new, so illustrating stories on Snapchat can be a way to keep them engaged.
Impact That Lasts Beyond The Snap
The candid, ephemeral nature of Snapchat might be intimidating for brands who are used to planning and preparing content. But you should embrace the vanishing act! Disappearing messages can be used to drive a sense of urgency and exclusivity. It can be a unique opportunity to show the faces and personalities behind your brand or product. The key is to use each 10 seconds to build on one another, into one big conversation that tells the greater story of your brand.
Want to learn more about Snapchat marketing, including ways to grow a big following and other tips on composition and editing? Watch the recording of our webinar with Mashabe, "Beyond the Snap."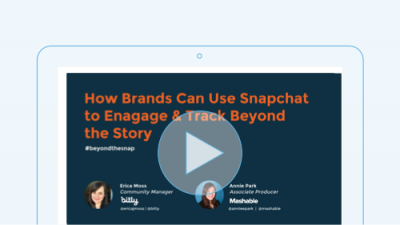 Webinar
Early Snapchat adopter, Mashable, shares how they've built a highly engaged community that keeps on coming back.
Watch