Tracking the return on investment (ROI) from social media is a big problem for brands.
A 2014 study found that only 17% of digital marketers know how to measure social ROI. Yet 90% of marketers also feel that social media is important to their business.
There's a disconnect here.
But here's the thing – it doesn't have to be difficult. You simply have to know the right metrics to monitor, and have good tools in place.
Let's take a look at why – and how – you should go about this, to make smarter business decisions.
Why you should measure social media ROI
It's not a trick question. For your business to succeed, you need to use tactics that you know work.
The fact is, many brands use social media simply because everyone else is. They invest time and energy to post content that just sits there. Or maybe those posts drive serious traffic and lead to sales – but they either don't know or can't prove it.
Tracking social ROI will help you decide whether to:
– Step up your investment and dedicate more resources
– Scale back your social effort
– Diversify your approach to find new channels that might work
– Continue exactly as you are
The point is, you shouldn't use social media marketing "just because." If you're going to put money into this strategy, you have to know if it's worth it.
For example, GetMaineLobster improved their marketing strategy once they started tracking social ROI. It turned out that social media simply wasn't generating sales, and they ended up letting six staff members go.
The result for you doesn't need to be quite so dramatic. But until you monitor your social performance properly, you're really just guessing that it works.
Begin with clear goals
What do you actually hope to achieve with social media? There are so many marketing opportunities on these platforms that it's tempting to try everything.
But to begin, you're best to clearly define your most important objectives. What are you going to judge your performance (and your team's) on?
Your goals might be to:

– Increase brand exposure
– Send traffic to your website
– Generate marketing leads
– Sell your product
Now try to make these more specific. How much site traffic would you like to gain? And by when? Give yourself a target and a timeframe, then commit to assessing your performance when the time comes.
Of course to do this, you need to start collecting evidence.
Track the right metrics
In order to really measure ROI, we need data. It's not enough to simply say that social media "seems to be helping." We want proof.
Jay Baer says the best way to approach this is not to think of social media ROI as some catch-all. Instead, "define and measure specific customer behaviors" that have value to your brand.
For example, offer discount codes and special offers through social media. When customers redeem these, you have direct evidence that they came to you from social media. You can even use different codes for different platforms to figure out which is best for your brand.
This is great for small, one-off campaigns. If you want long-term metrics, here are a few good examples:
Clicks to your website (by source)
If you want to drive traffic with social media, you need to know whether or not you're succeeding. Track all clicks to your website to see what portion of them comes from each social media platform.
Make sure you monitor first click attribution for all web traffic, so you can see what drove them to your site.
Email opt-ins (by source)
If you're generating leads, you're generally asking people for an email address (at least). This could mean they downloaded an ebook, signed up for a webinar, or joined your weekly newsletter.
Prove that these users come from social media, then compare the number generated with your other channels. This will help to prove (or disprove) the value of social marketing overall.
Of course, if you can prove that these conversions turn into sales, you've done one better.
Total sales (by source)
Social content that leads directly to sales is obviously wonderful. To track this, you need good tools that will tell you the first interaction each buyer has with your brand.
For this, there are two key metrics:
– First click attribution: Track the user from the sale right back to that first click.
– Most recent conversion: It's possible that the user visited your site, left, and then was compelled to buy thanks to social content.
Tracking sales by source lets you work backwards to determine your social media ROI. If you did $10,000 in sales thanks to social, you can compare this against what you spent.
This is about the clearest calculation of return on investment you can get: revenue versus spend.
Share of voice
If you're in a competitive market, this is a great way to visualize your digital market share. In other words, which brands are talked about most.
You want to know whether people talk about you as much as your competitors. This shows you how strong your brand is compared with the rest of the market, and whether you're moving in the right direction.
Good social listening tools make this easy. They'll show you share of voice on each social network, as well as the rest of the web. If you're running a new Facebook campaign, and this leads to an increase in share of voice overall, you'll know that Facebook is a valuable channel. If you push hard on social media for a month and you see no change, maybe social just isn't returning value.
Use the right tools
There are a wide range of tools designed to help you measure marketing ROI. Many of these cover social media, so it's worth checking to see whether your current tools do the job.
If not, here are a few suggestions to get you started.
Google Analytics is the industry standard for tracking website traffic. Virtually every company uses it in some capacity.
If you've set clear goals (as discussed earlier), GA becomes very useful. It lets you create specific conversion points on your site (i.e. a user signed up for your newsletter, requested a demo, or made a purchase), then track those by source. So you'll know whether more conversions come from social media, search engines, or other sources.
If your goal is to increase newsletter subscribers through social media, you've now got a clear way to monitor this. And since you'll use GA to monitor your web traffic anyway, it just makes sense to include social metrics where possible.
Perhaps the only downside is that it can be a little complicated to work with. But there are endless walk-throughs to assist you. If you need help with Google Analytics, just Google it! You can also save time by using Google Analytics with Bitly.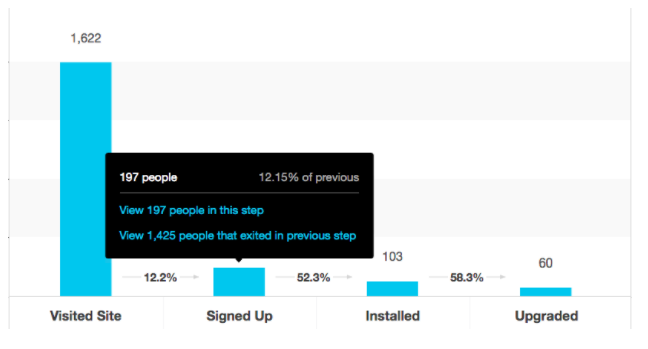 This is a fantastic tool to track many of the key metrics we talked about above. It shows you the journey your website visitors take, including their source.
You'll see which social media platform they came from, what steps they took on your website, and whether they converted or left without doing so. That makes it easy to put a dollar figure on your social performance.
Even better, Kissmetrics tracks people that return to your site several times. You can do this with GA too, but it's what Kissmetrics was built for. If a user discovers you first on Twitter, visits your website, then returns three days later to make a purchase, you'll know that they first came from social media.
Because the buyer's journey is different from person to person, it's essential to have this information. In our example above, social media marketing deserves at least some credit for this sale. With Kissmetrics, you can give social its due.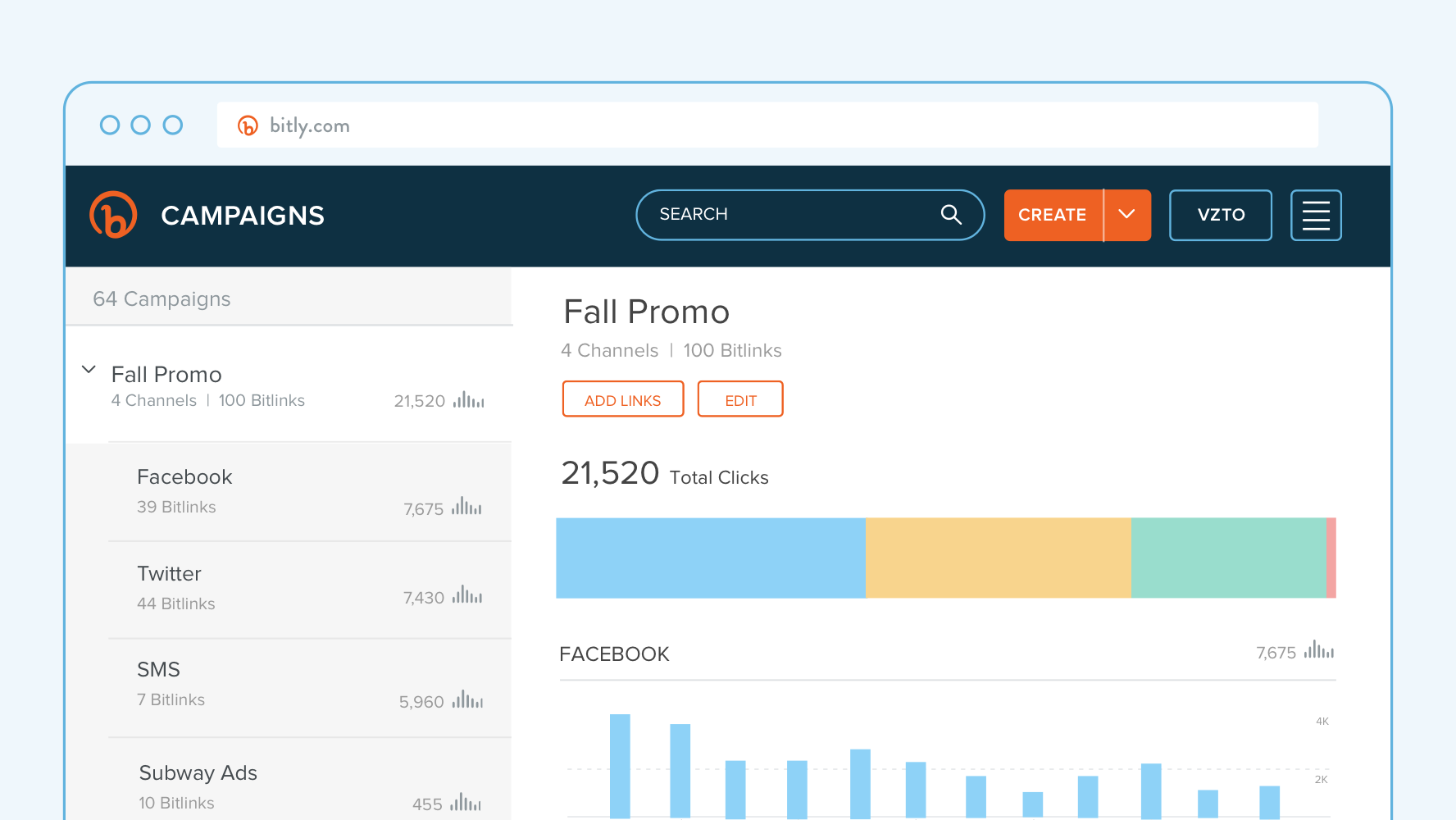 One simple way to measure social media ROI is to zero in on individual campaigns. Rather than trying to monitor its day-to-day value, see how social media helps you boost your latest product or promotion.
If you can show that social media brought in 30% of the signups for your latest giveaway, you'll have a clear understanding of its value. Bitly can help you do just this.
Bitly Campaigns, a feature of Bitly Enterprise, gives you a holistic view of how your content is performing across how each channel, platform, or device. Just use a Bitly link in each of your social posts and you'll be able to track incoming traffic in real-time back in your Bitly dashboard. You can even compare organic content to paid efforts to see how social is affecting your bottom line.
The incredibly simple dashboards (see image above) make this idiot-proof.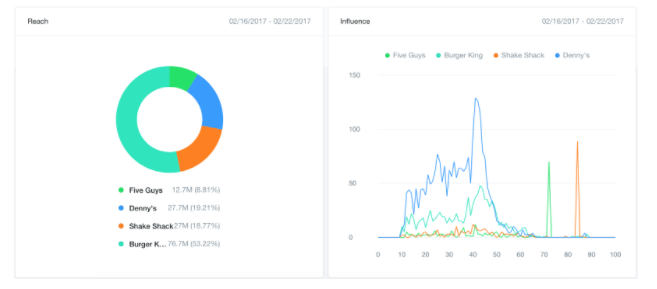 What if your goals aren't limited to website traffic and sales? Perhaps you have a new PR campaign to build brand awareness online. Or you've released a new product and want to know if people are talking about it.
Mention lets you track important metrics like reach and sentiment across all of social media, or broken down by platform. If your goal is to boost engagement and generate conversations, you'll be able to monitor your progress.
But how can you see your return on investment using this? Simple. Just compare the amount you'd pay a PR firm for one campaign against the amount you pay your social media marketers for the same.
Mention also tracks web news, forums, and blogs, so you can assess reach or total mentions on each, to see which sources perform best for you.
Learn how to monitor your brand with Mention.
Cut out the guesswork
If you don't know your social media ROI, you're not alone. But it's time to turn over a new leaf and start making smarter business decisions.
You have three simple steps:
Set clear social media goals
Choose the right metrics to track
Assess your performance monthly, and be honest. If something isn't working, it either needs to change, or it needs to go.
No more "blind" social media marketing.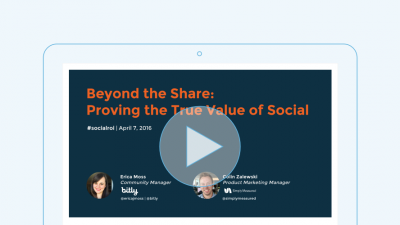 WEBINAR
Social ROI. For a lot of companies, it can be kind of a unicorn. Learn how to track it down and prove that it's real once and for all.
WATCH