This article was published on June 28, 2016 and updated on January 4, 2019.
Many advertisers are now shifting their budgets toward Instagram ads.
With 500 million daily active users, brands are eager for a slice of the social commerce pie. The secret is, Instagram is easy. You don't need professional equipment or an enormous budget to get started with Instagram Sponsored Ads. "Your audience doesn't want perfection, they just want to know that they're understood," says Samantha Jayne, Instagram influencer and author of "Quarter Life Poetry."
We've rounded up the five steps to take to get the most hearts for your dollar on your next Instagram ad:
1. The Anatomy of Instagram Ads
With the advent of Instagram Stories ads, marketers now have the option for advertising on native posts in the regular feed as well as on Stories. Currently, there are 5 ways to advertise on the platform:
Photo Ads
Video Ads
Carousel Ads
Stories Ads
Slideshow Ads
Plus, the platform offers a range of call-to-action buttons for their paid posts. That includes "Learn more," "Download," "Install Now," "Shop Now," "Sign Up," "Buy" and more. Since organic posts don't allow clickable links, these CTAs can be extremely valuable in helping to maximize conversions.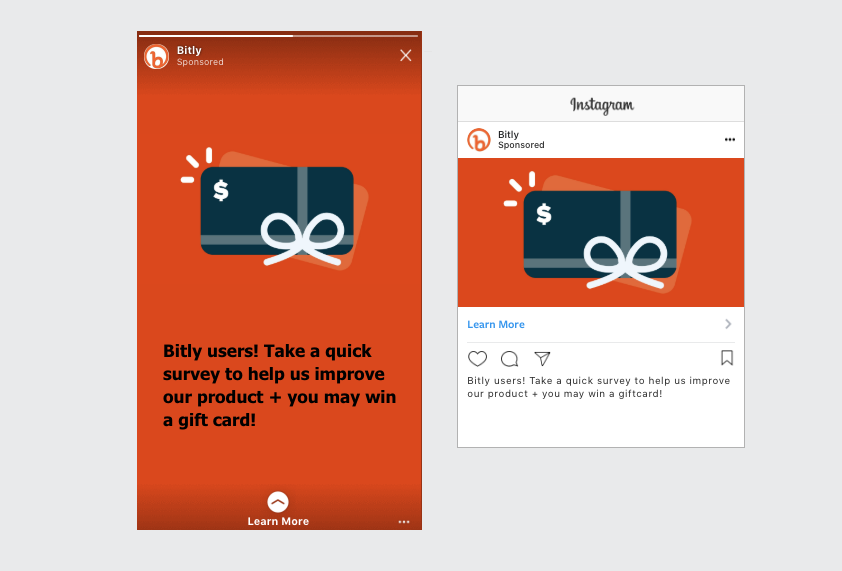 2. Powered By Facebook
Now that Facebook owns Instagram, you can set up your Instagram ads through the Facebook Ads Manager, Power Editor, or the Facebook Ads API. This gives marketers access to the full suite of targeting features. You can filter by audience demographics such as age, gender, and interests.
A 2017 AdSpresso study showed that the average cost-per-click on Instagram ads was about $.80, but this figure changes depending on a number of factors, including target demographics.
3. Business Tools
Not ready to invest in sponsored ads just yet? Instagram's "business tools" can be a good introduction to the paid offering. How? It gives marketers the ability to add contact information, view insights on their posts and followers, and promote their posts. 
Business tools are Instagram's solution to making advertising more accessible for SMBs. It's simple, mobile-first interface can also be great for bigger businesses looking to run quick campaigns on the go. Business Insights breaks down into three main offerings:

Business Profiles – This is a free feature, but brands must have a business account on Instagram and a Facebook Page. With Business Profiles, brands can give followers four options to get in contact with them: call, text, email or directions to the nearest location. 
Insights – Insights gives marketers a quick and easy view of who's engaging the most, when they're engaging, and which content is resonating the most. It also digs deeper into follower demographics such as gender, age, and location.
Promote – Now you can turn a trending organic post into an ad right within the Instagram app. Simply pick a post that's been generating a lot of engagement and add a CTA button and target audience, or allow Instagram to suggest an audience.

4. Pass The Mic
Find your niche and partner with influencers to create more awesome content for like-minded users. Instagram is made up of thousands of niche communities, which are galleries dedicated to highlighting a specific topic—travel, animals, food… you name it! Brands can consider partnering with influencers who are plugged into these communities to further amplify their reach. User Generated Content (UGC) is proven to build trust and drive more engagement. In fact, 59% of millennials reporting that they use UGC to inform their purchases.
Here are some examples of brands that are crushing it with UGC: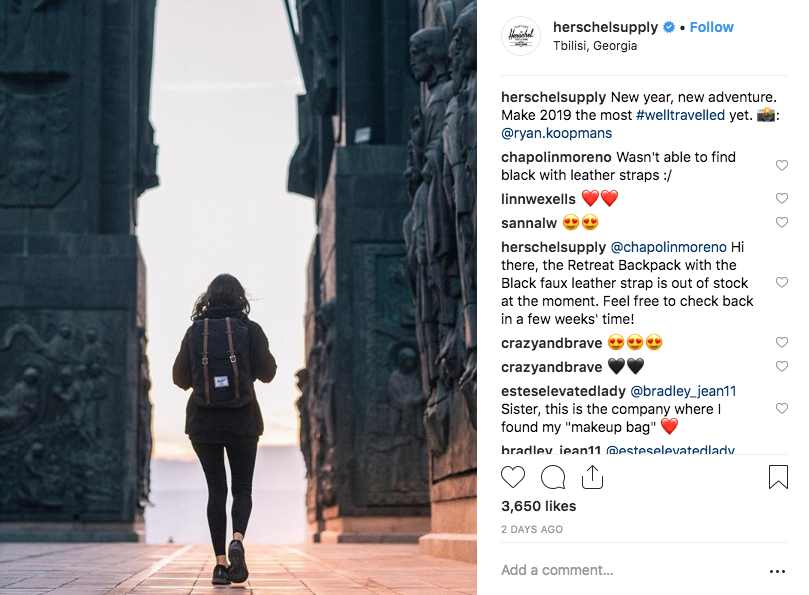 Herschel encourages followers to use their hashtags #WellTravelled and #HerschelSupply to share photos of Herschel products out in the wild. If you're lucky, your photo might just be shared with the other 1M followers on the @herschelsupply Instagram account. Sometimes, Herschel even hosts giveaways and your tagged photo can win you a backpack or other accessories.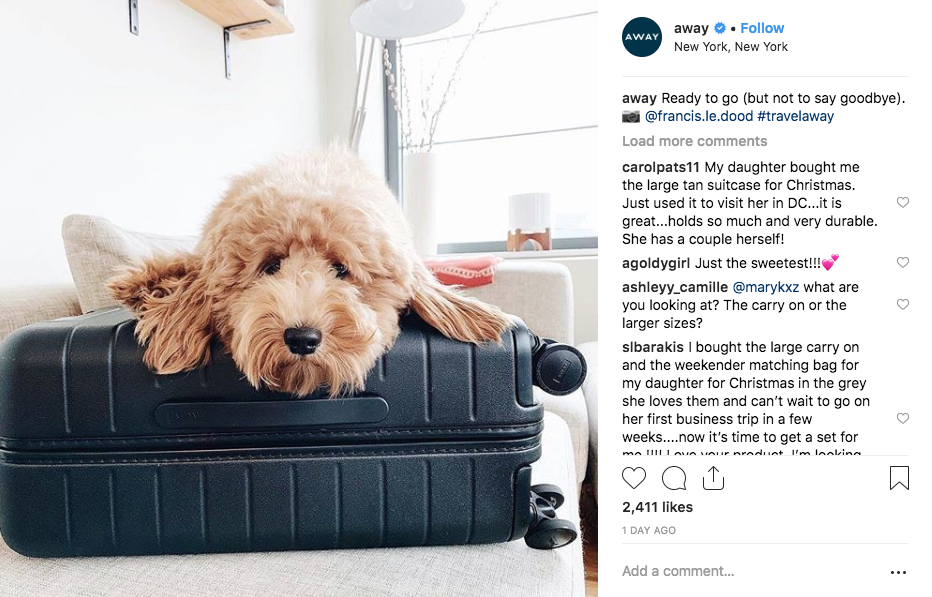 A large portion of Away's content is UGC. They often repost photos tagged on Instagram with #travelaway. By offering their customers fun perks like hand-painted monograms and showcasing their products in exotic, very Instagram-worthy locations, they've created a cult following that naturally lends well to plenty of great UGC.
5. The One Constant On A Constantly Evolving Platform
Instagram continues to release updates to their ad offerings and expanding on their media formats. Yes, there's a large the number of updates that leave many marketers' heads spinning. Still, the key to standing out in the feed remains constant: quality content. 
So get 'gramming! Find your audience, create your aesthetic, build out your community and continue to test until you find a strategy that works best for you.
---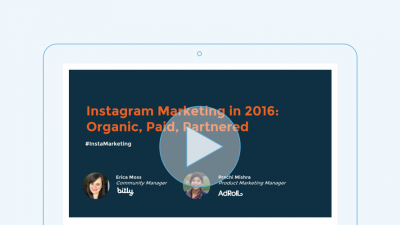 WEBINAR
Learn Instagram marketing for paid, organic, and partner channels!
WATCH