This article was published on April 30, 2018 and updated on January 10, 2019.
If you're currently using goo.gl and searching for Google URL alternatives, you've come to the right place.
For those who haven't heard, Google is shutting down its URL shortener goo.gl. Starting April 13, 2019, the company will cease service for any new or anonymous users. If you're an existing user you can continue to use the goo.gl console through March 2019. However, you can get ahead of the game by beginning your migration from goo.gl to Bitly today!
Brand and Customize your Short Links
You've probably been shortening links to make them easier to remember, fit into a certain word count, or simply to make long, bulky URLs look nice and sleek. In fact, if you've ever used Google's Campaign URL Builder, chances are you've already used Bitly! That's because Google built Bitly into its campaign builder to shorten links.
As a Bitly customer, you can empower your links to do even more by branding and customizing them.
Branding
Using Bitly, you can set up your own custom domain to replace the generic "bit.ly" with something that more closely reflects your brand.
Custom Bitly links not only add a level of professionalism to your online presence but can also increase your clicks and engagement over standard short URLs. In fact, in one study we conducted with Beats by Dre showed branded links receive a 34% higher click-through rate!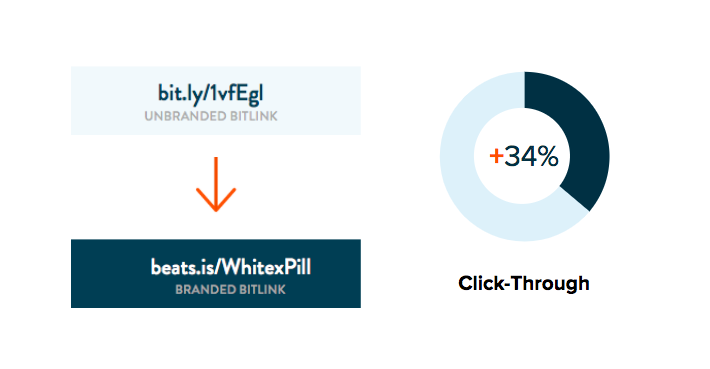 Here are some other examples we love:
– Red Bull & Nike made domains out of their slogans, win.gs and swoo.sh, respectively
– TD Bank pushes the website subdomain, go.td.com
– Cleveland Clinic breaks out the city, the brand, and its purpose all in one link: cle.clinic
– Bitly uses bitly.is, so we can create links like bitly.is/everywhere
Customizing
When you shorten a URL through Bitly, you can switch out the randomly generated letters in the back-half of the link and customize the text. You can customize any Bitly link by clicking the "edit" button next to the link.
Customizing a link tells your audience what they're getting and makes it much easier to remember and type. Nonprofits can experiment with /donate or /volunteers, a finance company could try /invest or /banking, or healthcare could use /HeartHealth101 or /insurancepolicyFAQ.
The Upshot: When you turn links into brand assets, you create consistent experiences across channels, build trust with your audience, and provide context for every piece of content shared.
Track Each Link and *All* Links
A click means someone has engaged with your product or content. Which social channel is driving the most traffic? What about email, mobile, print, and display ads? Bitly offers a clean, intuitive way to see how your links are performing at both an individual link level and as a whole.
Here's a peek at the data you have access to in your Bitly account:
Individual Link Data
If you're coming from goo.gl, this is similar to the info you're used to: All-time clicks for each link you've created, a timeline, and specific referrer channel and location details. What's great about Bitly is that all this data populates in real time, and you can see how much traffic your short link generated vs. organic traffic to the same destination URL from other users.
Overall Link Performance
When you want to understand your results and engagement trends at a higher-level, Bitly allows you to do so with three key elements:
– Summary Graph: An interactive chart displaying the links you've created and their overall performance for the past 30 days. Filter by date range, tags, custom, or hidden links.
– Top Referrers: The top referring digital channels – from social media channels and "dark" traffic to YouTube and partners.
– Top Locations: The top locations from which your audience is clicking, broken down and measured by country.
The Upshot: When you understand you links at a micro and macro level, you're bound to understand how to share the right content at the right time in all the right places.
Integrate Bitly into Your Workflow
Like most tools, a Link Management Platform is only as useful as you make it. If you're shortening links sporadically and keeping Bitly data in a silo, you may be missing the bigger picture. That doesn't mean you have to spend extra time on the platform to maximize your results. Integrating Bitly into your current workflow and tech stack is as easy as it gets.
Bitly Extension & App
Bitly's nifty extension is available to all users on Chrome, Firefox and Safari browsers. Once installed, just click on the icon and automatically shorten, brand and share whatever web page you're on directly to your social channels. Similarly, our iOS and Android apps allow you to create and share links, plus view your analytics on the go. You can download the Bitly extension and app.
Bitly Integrations & API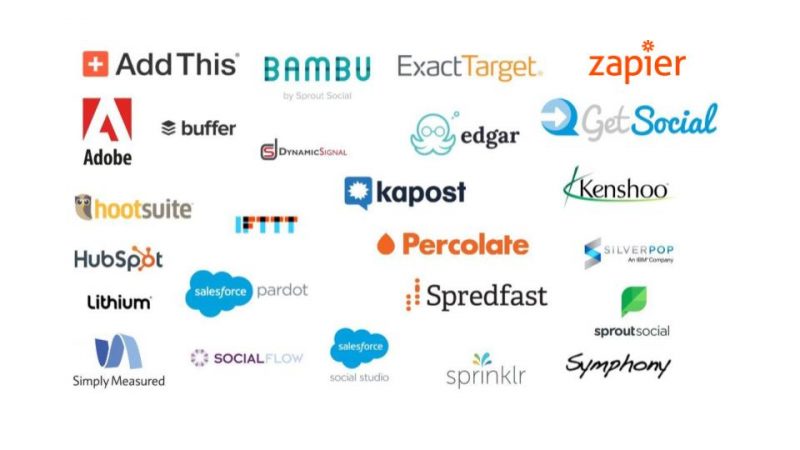 It's awesome you can share your short links to Twitter and Facebook directly from the Bitly platform, but some teams leverage other tools specifically for social media, content, or ad publishing. And for marketing automation. And for analytics. Bitly's got your back!
We integrate with thousands of software platforms, from Adobe to Zapier, so you can shorten links and track clicks no matter your interface of choice. Don't see what you need? You can build a custom integration with our open and flexible API.
The Upshot: Bitly is at its most powerful when you leverage it consistently and map your links' impact back to the rest of your tech stack.
Leverage Links Strategically to Drive Results
When the power of the link starts to click (sorry), our users come up with the most ingenious and meaningful ways to leverage Bitly to drive tangible results. Here are just a few of our favorites:
A/B Testing
By using different Bitly links to A/B test each CTA's shares and clicks, the team at Social Quant determines the best channels, times to post, and types of content for its customers. "This data helps us maximize our Twitter marketing and has helped our startup get over 25,000 visitors a month just from Twitter," said Social Quant CEO Mike Kawula.
Influencer Marketing ROI
It's notoriously hard to measure return from Influencer Marketing programs, but giving an individual link to each influencer is a great way to do it. During HP's #AwakenYourForce sweepstakes, which Instagram influencers promoted, one partner's creative take on the challenge drove thousands of clicks, making him a go-to choice for future promotions.
Operational Messaging & SMS
One popular fast food chain received 20-40,000 email requests for help with passwords each day. They built an SMS password reset program using branded short links through the Bitly API, and have since reduced email support volume by 66%, putting less strain on internal resources and more self-service options for their customers.
The Upshot: Don't just shorten – Put strategy behind links. Whether your goal is to boost engagement, drive sales, or streamline processes, Bitly links help you get there.
This article was published on April 30, 2018 and updated on November 30, 2018.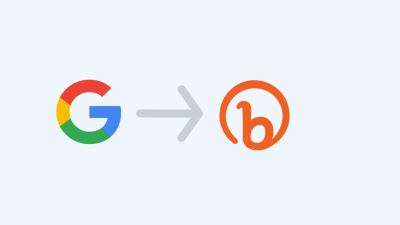 GET STARTED WITH BITLY
Ready to make the move from goo.gl to Bitly? Get started now.
SIGN UP