Instagram may be the "king of engagement" for marketers, but the platform also poses one big challenge: it doesn't allow you to add clickable links in photo captions.
In fact, the only place you're able to share a link is in your bio, which makes driving traffic from Instagram a major challenge. But you can actually use this to your advantage and  turn followers into customers. We've rounded up five tips we use at Later, an Instagram scheduling tool, to drive and track your traffic from Instagram:
Create a Killer Instagram Bio
Your Instagram bio is prime real estate to promote your brand, and it's the only place your community can click through to learn more, shop, or read a blog post. Crafting a good Instagram bio that is relevant, engaging, and specific to your brand is key to capturing your audience and getting your community to engage with your website and business.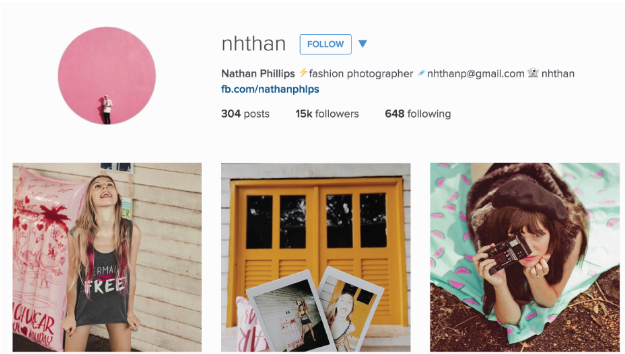 When writing your bio, make sure you include your full name or company name and your contact info, whether that's an email, address, or phone number.  You can also add your handles for other social profiles, which is a great way to get your Instagram community to connect with you on other platforms. If your brand has its own hashtag, be sure to add it in the bio so your community knows how to tag their photos!
But most importantly, you'll want to add a link to to your website, blog, or a specific post or product you are trying to promote. The link in your bio is prime Instagram real estate, and it's the most important factor when you're trying to drive traffic from Instagram.
Track Your Links
In order to be successful at driving traffic from Instagram, you'll want to know what's working and what's not! When someone clicks on your Instagram bio link, the traffic source will just show up as "direct" in Google Analytics instead of "Instagram." Because of this, adding a trackable link is very important if you want to be able to track not only your traffic, but also the success of your marketing efforts.
The best way to track your traffic from Instagram is to use a Bitly link in your bio, which will help you track both your clicks and get more detailed information about where your traffic is coming from and what times of day are most popular.
Before we started using Bitly links, at Later, we just had "blog.later.com" in our bio. Because we wanted to start tracking our social traffic more with Google Analytics, we created a URL with custom URL parameters and then shortened it with Bitly. We used Google URL Builder to insert our source, medium, and campaign, copied the long URL, and then pasted it into Bitly! Now, when we look at Google Analytics, we're able to see the breakdown of all social traffic plus a more granular view of just our traffic from Instagram. You can learn more about building your own long URL here.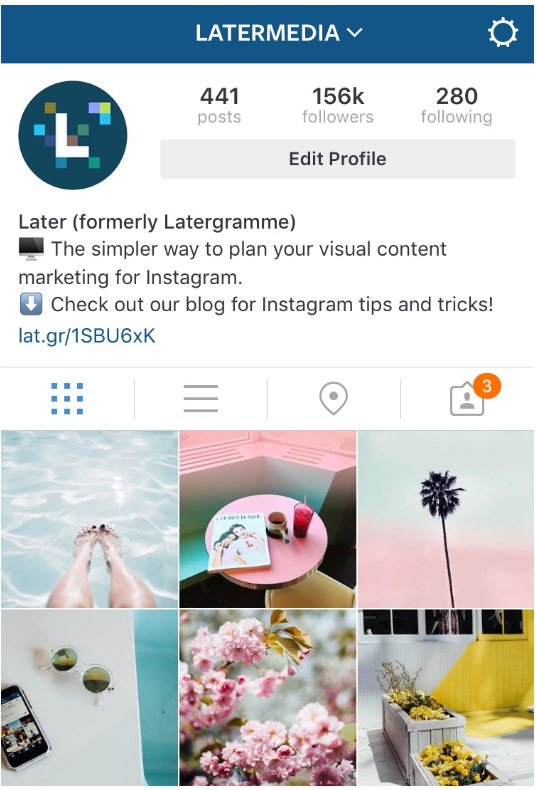 Once you've put your Bitly link in your Instagram bio, it's a good idea to include  a call-to-action in your individual posts. Before, when we had "blog.later.com," it was obvious to our users that they would be visiting our blog. To help us drive traffic and inform our followers about what the content of the link was, we inserted a call-to-action in our bio that entices visitors to our Instagram profile to check out our blog for Instagram tips and tricks. For example, if you're a retail store and want to link people to your products, you can say "Shop our feed below!"
Tell Your Followers!
Once you've set up your bio and you've started to track your traffic from Instagram, it's time to promote it! Post an engaging photo, and use your captions to drive your followers to visit your site by clicking the link in your bio. Remember: Instagram truncates your captions, so put the call-to-action, or something like "new blog post" near the beginning of your caption so it doesn't get cut off in the feed.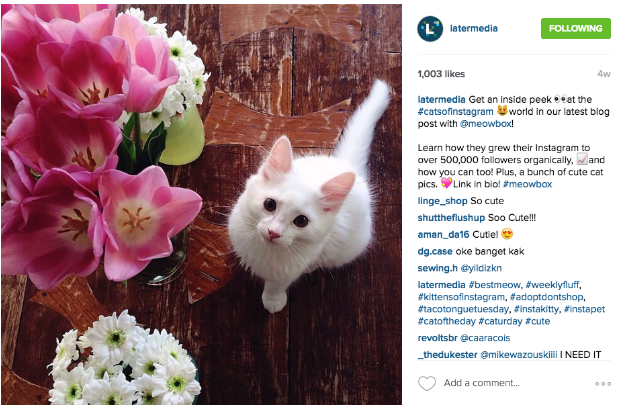 Another way to grab your followers attention is to experiment with text overlays on your photos. These photos may get less engagement than your normal Instagram photos, but they may be more effective for driving more clicks and traffic. Track those links, get creative, and find out what works best for your audience.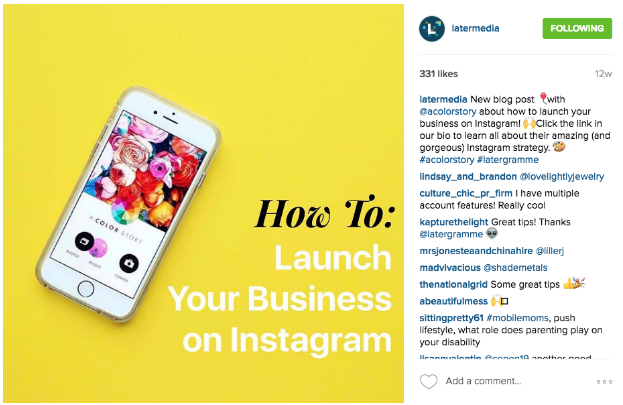 Schedule Instagram Posts
Scheduling your posts makes managing your Instagram throughout the week a breeze. By taking the time to curate content and plan out your Instagram feed, you can post more consistently and schedule your Instagram posts for optimal times, which will increase your exposure, increase your traffic, and help grow your followers. With Later's new media library, you can bulk upload all your photos at once and then easily schedule Instagram posts for the rest of the week. If you want to drive traffic from Instagram, post about your site or blog multiple times throughout the week – not just once!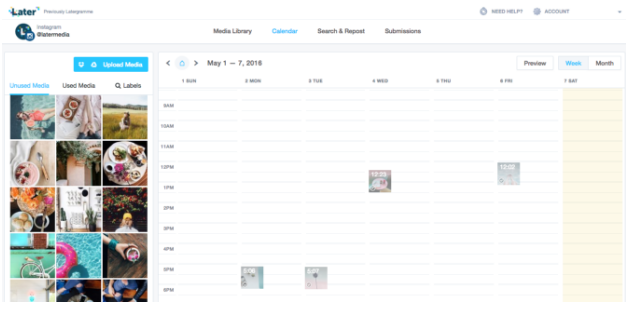 Don't be Afraid to Change up your URL
Once you've started following the steps above, don't stop there! Don't be afraid to change up the Bitly link in your Instagram URL, depending on what you're wanting to promote. Instead of linking to your blog, you could link to the specific blog post that you will be posting on Instagram about that week. Or, if you want to turn your Instagram followers into Snapchat friends, you can even link your Snapchat "add" URL to your Instagram bio.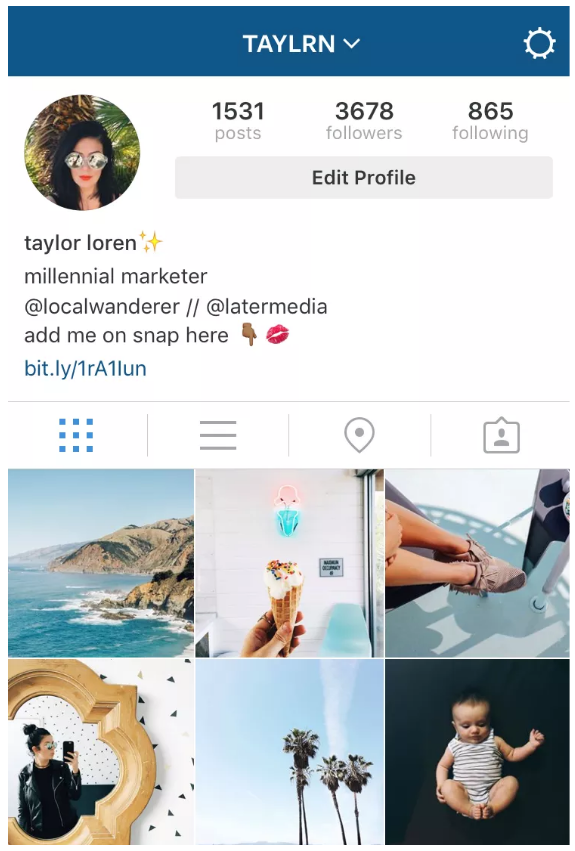 Unfortunately, Instagram has blocked 'add me' deeplinking, so if you try to add your Snapchat "add me" URL directly to your Instagram bio, it won't work. But, we've discovered a way around it. If you shorten your Snapchat URL using a link shortener like Bitly first, and then paste your Bitly link into your Instagram bio, your followers will be able to click the link which will open up your Snapchat "ghost" right in the Snapchat app.
Using these five tips, you'll be able to set yourself up for success and start driving traffic from your Instagram posts. Don't be afraid to experiment and try new things in order to find out what works best for your audience. After creating an awesome bio, be sure to track your links, promote the link in your bio, schedule your posts, and get creative!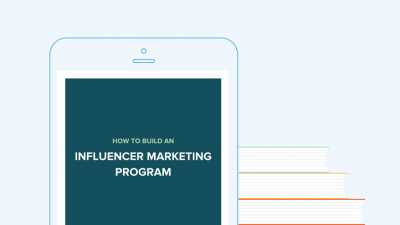 EBOOK
From outreach, to campaign strategy and tracking ROI, we've packed everything about building an influencer marketing program into this guide.
DOWNLOAD NOW