A vanity URL is used to help people easily remember a specific web address. These URLs often redirect to another longer URL that contains tracking information.
For instance, at Bitly we often promote our Enterprise product. But the URLs can become quite long once we add tracking information, so we created a vanity URL that can help users easily remember (and type) the URL.
Here is an example of a vanity URL that we use to promote Bitly Enterprise: bitly.com/enterprise
This vanity URL can be used on marketing materials both offline and online and users can easily remember the URL.
Vanity URL Examples
A vanity URL, which we like to call a "branded link" at Bitly, is a chance to get creative with your brand. Think about it: we share links in nearly every customer communication, whether it's via email, on social media, on our website or elsewhere.
So, every time you share a link there's an opportunity to place your brand front and center in your digital communications. Here are a few examples of brands that use vanity URLs. (These also happen to be powered by Bitly.)
Nike

Nike uses swoo.sh links.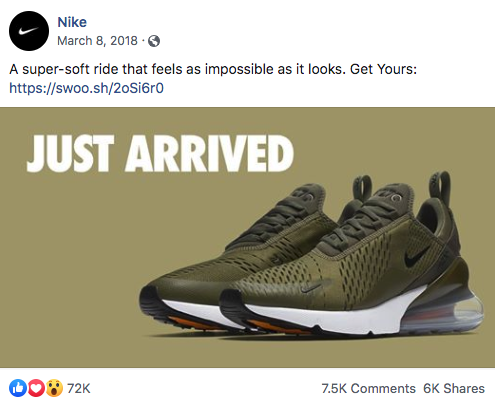 BuzzFeed

BuzzFeed uses bzfd.it links.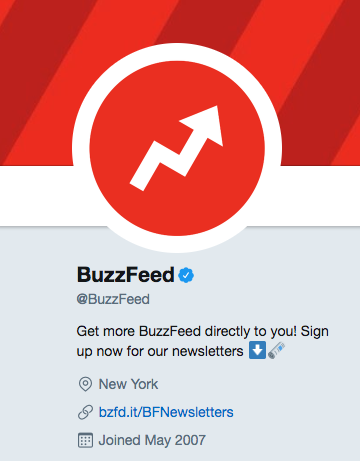 ESPN

ESPN uses es.pn links.
What is a Vanity Domain Name?
To start sharing vanity URLs, you need a vanity domain. A vanity domain name is a similar concept as a vanity URL except its focus is on the front part of the URL. The domain name is the bitly.com part of this URL: https://bitly.com/.

You can use a vanity domain name as an alternative to your default domain to help promote your brand via social media, mobile devices and offline materials.
At Bitly, we call these domains "custom domains."
When you are considering creating a vanity domain name or custom branded domain, you'll want to ask:
– How does the domain name look aesthetically? Is it concise enough while still easy to read?
– Does the domain name communicate the value prop of our brand?
– Will people be able to associate our domain name with our brand?
– Is it catchy and easy to remember?
How do You Make Your Own Vanity URL Using Bitly?
Set up Your Custom Domain
The first thing you'll want to do is decide what custom domain you want to use, if you don't already have one. There are many different domain endings to consider, such as:
– .link
– .xyz
– .audio
– .gift
– .tv
For example, our Marketing team at Bitly uses "bitly.is" as our custom domain. Depending on what your business is all about, you might choose a custom domain name like sliceo.pizza, sneakr.life or delivr.today.
To set up your custom domain in Bitly, log into your account. If you're not an Account Admin, ask an Account Admin to log into Bitly and head over to Brand Manager to link up your custom branded domain.
Now click on the light blue box at the top right-hand corner. It will have your team's name in it.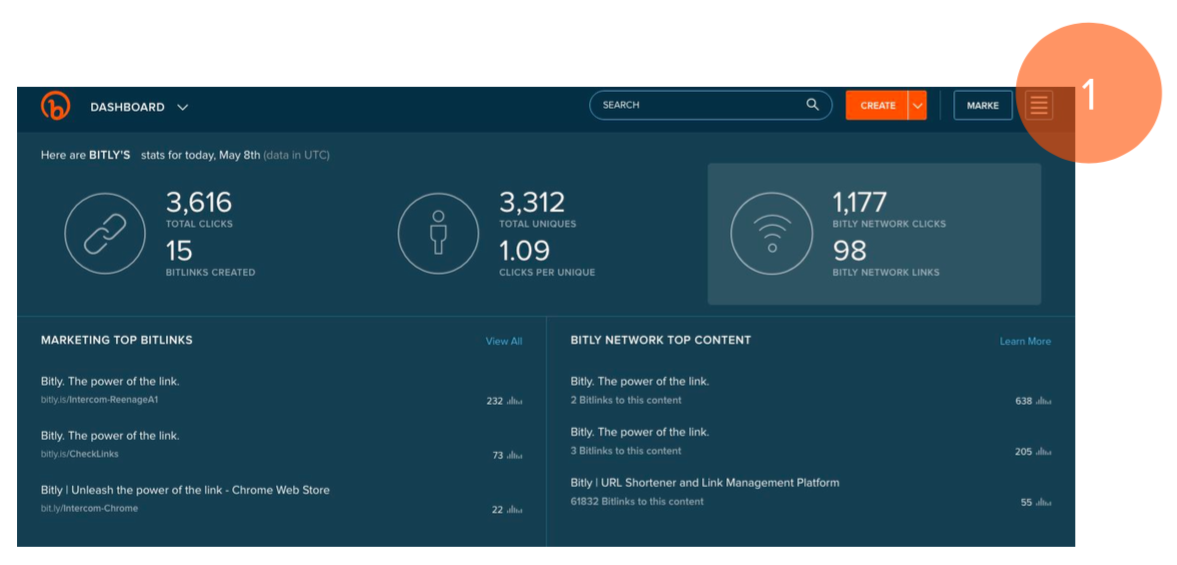 1 – Click the Group selector at the top right of the page.

2 – Click Manage next to the account you'd like to add a domain to.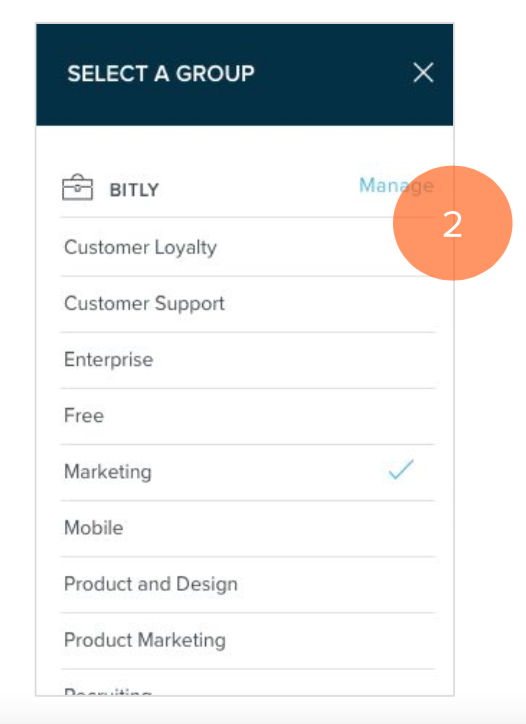 3 – Click Custom Domains then click Add custom Domain.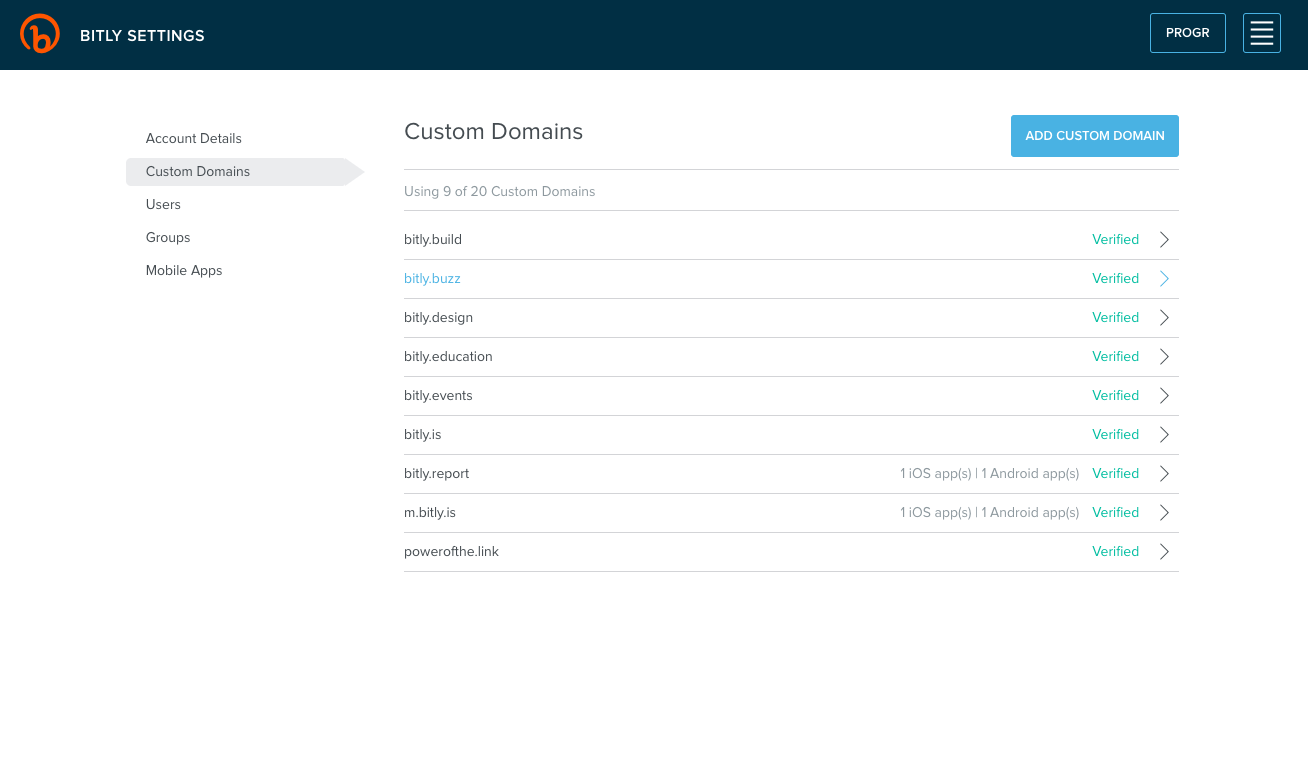 4 – You should see a pop-up appear with the option to "Add Domain" or "Purchase Domain." Click on Purchase Domain.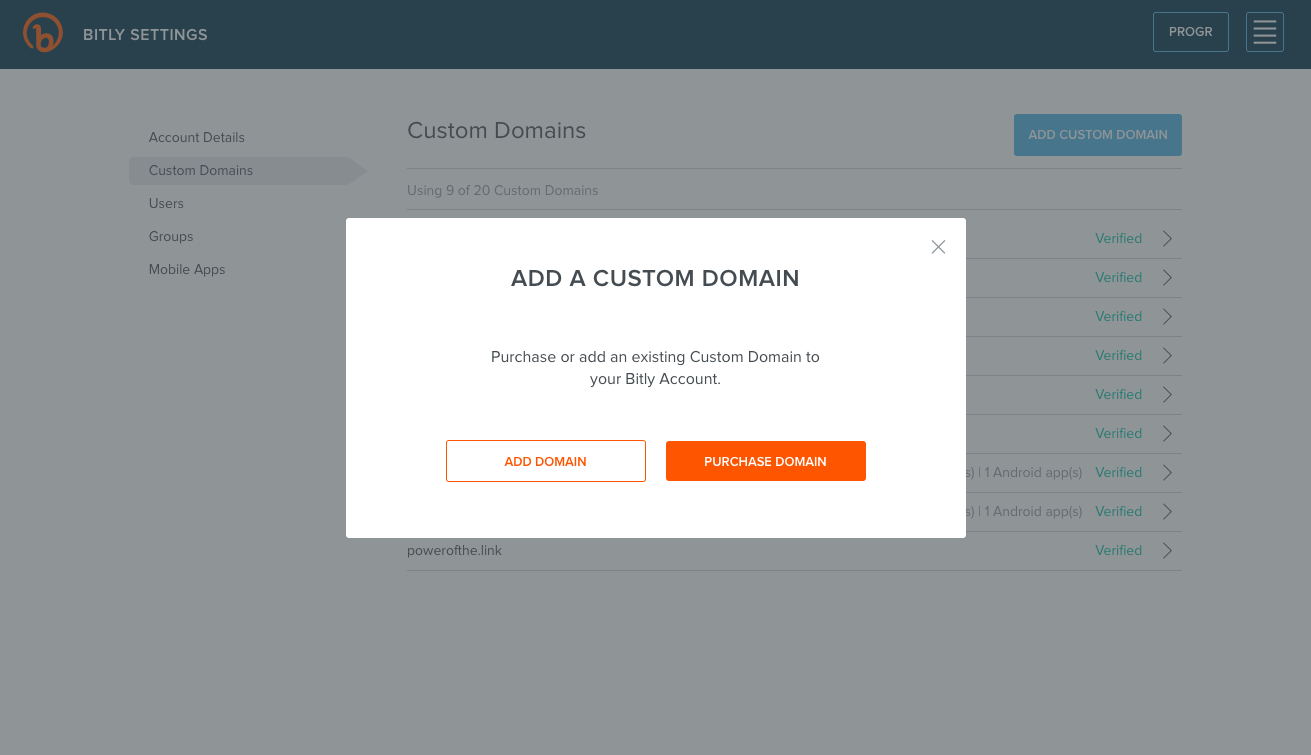 Now that you've purchased your domain, setup is nearly complete. The last step you need to take is to follow the directions to configure your DNS for your Bitly account. You can easily do this by following the instructions on our support site.
Once you've done this, when you go to shorten a new link, you'll be able to see your custom domain in the dropdown menu above your link. Here's what the dropdown in our team's account looks like: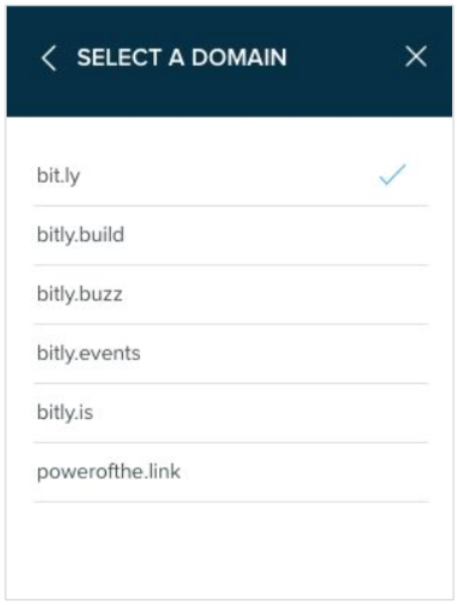 You're all set! When you shorten a new link, you should be able to see your custom branded domain in the dropdown above your link. Above, you can see what our team's dropdown looks like.
How to Create a Vanity URL
With Bitly making your own vanity URL is very simple:
1 – Create a Bitly link (or find an already-created link)

2 – Click "Edit"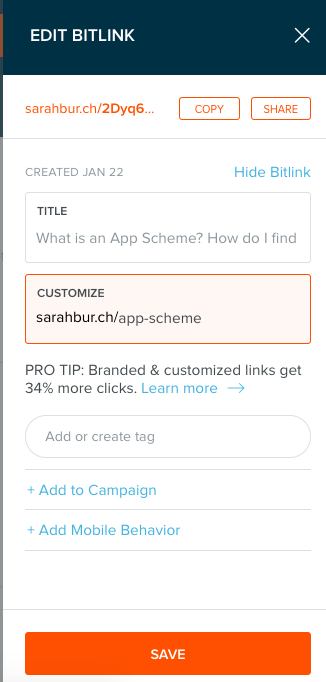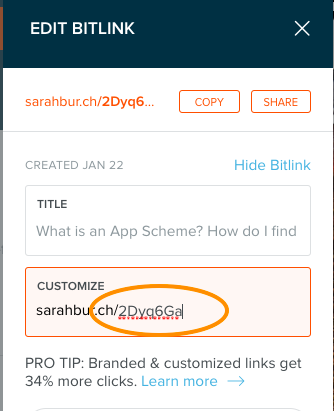 Now you have your own vanity URL to use in your marketing materials.
It's that simple!
Is There a Connection Between Vanity URL and SEO?
The short answer is yes.
Much like any other element tied to SEO, the extent to which a vanity URL can impact SEO is debated and subject to change.
In their 2019 SEO best practices guide, Moz states that there are 3 main benefits of URLs.
1 – Improved user experience – URLs can help humans as well as robots (the search engines) understand what a page will be about before they click on it.

2 – Rankings – Search engines take keyword use within a URL into consideration when determining a page's relevance to a user's search query.

3 – Links – They show people where you're sending them.
Further, Andy Johns, Ex-Growth at Facebook, Twitter and Quora, made several points on Quora in response to a question on whether or not vanity URLs and SEO are interconnected.
First, he states that you want a URL shortener that uses 301 redirects—a technique for making a webpage available under many URLs. According to Johns, "Some shorteners make the mistake of using 302 redirects (which don't flow PageRank)."
A 301 redirect is the most efficient and search engine-friendly method for webpage redirection. Because Bitly doesn't re-use or modify links, we consider our redirects to be permanent.
Another point he makes is that some URL shorteners can render your referral traffic unclear. To that, he says "Look around for services that track shortened URLS if you'll be using [links] heavily so that you have usage statistics on them."
Bitly links track data on every click, tap and swipe, such as total clicks and information on referral traffic and location.
The Power of the Vanity URL
At Bitly, we call a vanity URL a branded link, and we believe that they are powerful marketing assets. There are several reasons why, which we dive into in a blog post all about how to leverage branded links.
– People trust them
– They get more clicks
– They show your audience where you're sending them
– They Increase awareness of your brand
Want tips on how you can use branded links to get more click-throughs? Read this post, where we walk you through 5 ways to boost CTRs.