I've been spending a lot of time on Facebook lately.
I haven't posted anything in two weeks, but instead, I've been watching people trying to walk their cats with leashes, learning how to make ice cream churro bowls and watching snowboarders get chased by bears. It's never been easier to never stop watching videos on Facebook.
And (thankfully) I'm not alone – over 500 million people watch Facebook videos every day. In 2015, users around the world posted 75% more videos than the year before.
This add to this, there have been a whirlwind of Facebook Live updates coming out of the annual F8 developer conference this week. Facebook Live, widely released to all verified pages back in December, is a live streaming video service similar to Periscope and Snapchat. Let's recap what we've learned so far.
We've heard that developers can now stream to Facebook Live from any device, even drones. We've also read that Facebook plans on building out a Live tab, much like Snapchat's Discover. They've also recently added video filters so that Live video shares the same set of "reactions" as the News Feed – love, haha, wow, sad and angry – but with an animated twist.
Facebook is undoubtedly now a video-centric channel, live or recorded. Here are four things brands need to keep in mind in order to elevate their video marketing on the platform:
1) Upload Videos Natively
Native videos, videos that are directly uploaded to Facebook, have a greater reach than any other type of post on Facebook. This means that beyond sharing neat video content from other brands, you have to post original video content.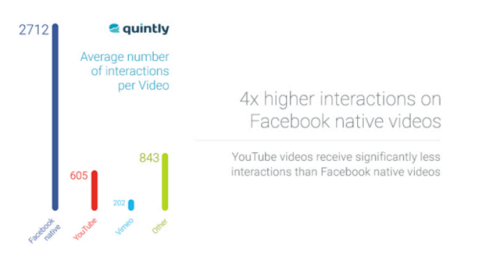 A recent study also found that Facebook native videos
perform better
than videos across any other platform. In fact, Facebook videos have higher engagement than videos on Youtube, Vimeo and Vevo.
What does engagement mean? We don't know technically… but Facebook has said that they count a view as a view after the first three seconds, whether or not the user has turned on audio. Facebook advertisers though, have an extended length of 10 seconds before they are charged for the view. Youtube has also vaguely shared that views are counted after "about 30 seconds."
Engagement is a hard metric to nail down, especially when native videos on Facebook auto-play when a user scrolls through his or her newsfeed. The auto-play feature means that beyond your headline and thumbnail image, you have the first few seconds to capture the viewer's attention.
"I honestly would've said a year ago autoplay video is the enemy that plagues premium video advertisers," says Jenny Schauer, associate media director at digital marketing agency Digitas."Today, however, I think there's a different story, and Facebook is largely at the root of it. While autoplay in general is still not the most premium or impactful video ad format, if done well it can amplify a video campaign at a scale that user-initiated video could never compete with."
Hook your audience in by playing around with elements such as music and personalization or by setting up the story so they know exactly what to expect if they keep watching.
2) Build On Exclusivity And Urgency
Stats show that users actually watch live broadcasts 3x longer.
Live streaming is appealing to viewers because it's authentic, unpredictable and builds on the urgency of "watch it now, or the content will be gone forever."
Buzzfeed recently posted a 45-minute video of two employees attempting to make a watermelon explode using just rubber bands. At 690 rubber bands, the watermelon exploded and the Internet went crazy. The video accumulated over five million total views.
This video was so engaging, because it not only hooked people in, it kept them there for 45 minutes – the anxiety building with each additional rubberband added. It also got the community talking.
One person tweeted, "Help why am I in a bar watching buzzfeed trying to explode a watermelon." Another person said that they couldn't peel their eyes off the screen, "Testing my anxiety threshold watching @BuzzFeed try and pop a watermelon with hundreds of rubber bands via live video.#IMNOTOKAY"
3) Foster Community
Facebook recently posted a few tips for those just starting out with Facebook Live – we've highlighted a few of our favorites below. It was extremely helpful to get a walk through of how the feature works from the moment you hit record to the closing line. We found that the product works very much similar to other live streaming platforms you might be familiar with, like Periscope.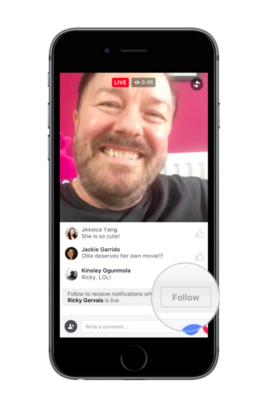 What's neat to note, though, is that you can invite viewers to subscribe to notifications. So the next time you broadcast, subscribers will be notified to tune in.
You can also easily view comments and either reply to them in the text box or respond to them in your stream. It can be fun to keep viewers engaged by saying hi when they join the room or answering their questions by calling their name.

Looking for some more inspiration? Check out https://www.facebook.com/livemap all of the live streams that are happening right now, at this very moment.
Video Is King
There may be a lot of changes to keep up with, but the bigger picture is that video is here to stay. Need proof? Photos now drive the lowest organic reach on Facebook.
Facebook is doubling down on video by even paying video content creators – including big media companies. Buzzfeed and Vox Media have confirmed a partnership with Facebook. Tastemade also recently announced that it will soon broadcast 100, live exclusive videos each month on Facebook.
"We're entering this new golden age of video," CEO Mark Zuckerberg told BuzzFeed. "I wouldn't be surprised if you fast-forward five years and most of the content that people see on Facebook and are sharing on a day-to-day basis is video."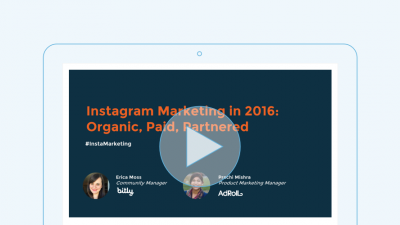 Webinar
Strategies, examples and tips on how to elevate your Instagram marketing content.
Watch