As the summer slowly winds to an end, retailers everywhere start to think about what's next.
And the answer is the same for every business of every size: the holidays.
When it comes to holiday marketing strategies, marketers need to be ready to launch before Halloween. From then on, there's constant pressure to convert as much as possible as fast as possible right through the New Year.
Well, don't sweat it. We teamed up with our friends at AdRoll to build the most comprehensive holiday marketing eBook around. This guide is packed with best practices, tips, and tricks – we combed through hundreds of best practices and dug into the behavior of 1.2 billion digital profiles to hone in on the best of the best.  
In "Retail's Ultimate Guide to Holiday Planning", you'll be taken through six core holiday marketing strategies:
1. Ecommerce & Holiday Marketing Trends
Did you know 25% of shoppers say they started shopping before Halloween? Or that more than half of your shoppers are probably going to be mobile?
This chapter breaks down exactly what retailers and eCommerce businesses should think about as they start to plan for their target markets. In the full eBook, we also discuss how prices for digital ads grow in the final months of the year and how to create and place digital ads that get you the highest possible ROI. 
2. Holiday Planning
To start planning your holiday marketing strategies, you'll need an idea of what you want to measure throughout the season. Here are seven metrics that can help: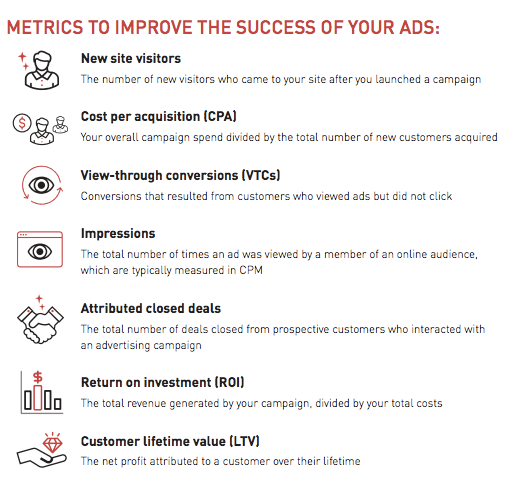 In this chapter, you'll also read about how you can segment things like product pages, shopping cart stats, loyalty, and more to get a granular view of what's working and what's not. When you want to backtrack and show your boss what your holiday marketing strategies drove, you'll want to have all these metrics handy.
3. User Experience Optimization
Did you know user reviews can increase conversion on your product pages by up to 161%?
It's true. By offering social proof to shoppers, you almost guarantee higher sales.
But social proof isn't enough. You also need to provide the best possible user experience as people browse your site or your store. In this chapter, we talk about best practices that can help make your site sticky, breaking down how to make the best possible buy buttons, product pages, and, ultimately, how to reduce cart abandonment.  
4. Growing Your Customer Base
The holidays aren't just a great time to experiment with loyalty programs. This is the perfect season to get new customers and keep them. Teams use about 70% of their budget to acquire new customers, which clearly means it's important.
But how can you stand out in the noise of the holiday season? AdRoll took a look at the typical CPM cost from July through November in 2016. Here's what the team found: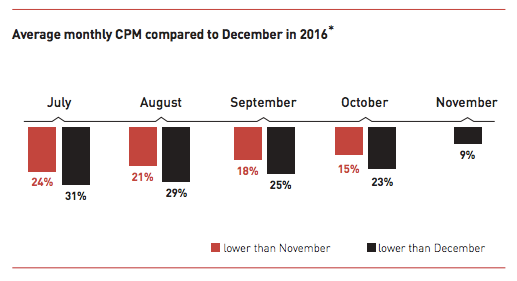 Download the guide to read about how you can spend wisely and still acquire a new customer base!
5. Influencer Marketing
Another way to break the noise – and probably save some money – is to work with influencers instead of spending the whole budget on ads.
By building relationships with people who have large social followings, you can work on co-promotions that tap into a whole new audience.
In this chapter, you'll learn how Hallmark worked with micro-influencers, how an independent watch company promoted products with photographers, and much more.
6. User-Generated Content
Since social proof is so important for conversion, the best thing that brands can do is tap customers directly. Involve them in a social media campaign. Crowd-source designs, ideas, or even products.
This chapter dives into examples of successful user-generated content and how brands worked with their user base to source them.
The Timeless Tale of Retail
Let's face it – the holiday season is the only season for many retailers. Especially if you're a smaller business, this is the chance to break out and get in front of new audiences. With so many people defaulting to online shopping at this point, your holiday marketing strategies can open up a lot of exciting new opportunities.
We hope this guide helps you tweak, optimize, and absolutely win in the upcoming months. Download it today and get started!