Customer loyalty isn't dead, it's just that social media can be a tough environment.
You dropped your prices? Amazon serves up an ad with a price match. Need a ride now? Don't wait for a cab — just use Uber. There's always another solution that's ready to serve at a lower rate or in less time. There's an infinite variety of shiny objects on social media and customer loyalty is constantly wavering.  
One scathing review can eclipse a handful of glowing reviews – it takes 12 positive customer experiences to make up for one negative experience. On top of it being hard to retain customers, it's also costly to lose one. The White House Office of Consumer Affairs says that it's six to seven times more costly to attract a new customer than it is to retain an existing customer.
So it makes sense that customer loyalty is so hard to build, especially on social media. With 30% of US consumers changing brands just for the sake of novelty and variety, how's a business to build lasting relationships?
We turned to the experts to learn more about how they use social to build customer loyalty:
1.  

Cubby Graham, Social Media Strategist, charity: water
We believe that transparency and trust play the biggest role in building a strong brand. Especially for nonprofits. From the beginning, charity: water promised that 100% of public donations would go to water and that we'd prove every water project with photos and GPS coordinates on Google Maps.
We work to connect supporters with their impact around the world — using social media and email and video. We tell stories to make the work that's happening on the other side of the planet feel a little closer.
We've unpacked what it looks like to deliver clean water in an 8-part video series from Ethiopia. We've used virtual reality to transport our community into the life of a 12-year-old girl. We've brought people behind the scenes on Snapchat. We've even shared the moments when things went wrong.
At the core of our brand, we're storytellers who exist to simply help people, help people. We want to easy and memorable and special. We want to make you feel part of the mission. Because you are. There's no us without you.
2.  
Erica Moss, Trello
When it comes to building loyalty on social media, there is no one-size-fits-all approach — what works for one group may not work for another. There are, however, a few tactics I've seen work well across industries.
Slack: Buffer and CMX are two examples of organizations with thriving, impactful communities here. Why are they successful?
1) Helpful moderators who can help direct the conversation (and then get out of the way) & also offer resources.
2) Super specific channels that folks can join based on their needs and wants. The more an individual can tailor his/her experience, the more likely they are to return.
Twitter: This channel is a great touchpoint between people and organizations because it's open, it's brief, and it's immediate. I highly recommend taking the Warby Parker approach, which is to say that you should aim to respond to everyone who engages with you (And, no, that's not easy.) If you don't have a tool to help you keep track of the ambassadors that surface, simply keep a running list in a Google Sheet for quick reference.
To further activate people here, brands like Warby have used short videos to provide personalized responses versus run-of-the-mill tweets. Sprout Social consistently hosts Twitter chats that achieve two goals: 1) establish thought leadership; and 2) allow people to share best practices & add value for each other (the true mark of a healthy community).
In-person events: Translating online relationships into real life is a no-brainer. Often you'll find that, not only are people excited to meet fellow members who share similar interests, but also *you* and your team, as stewards of that organization. And don't waste the opportunity — the impact of in-person events often manifests in the follow-up. Make sure you have a way to stay in touch with attendees, so you can continue the conversation & create meaningful connections between them.
3. 


Andy Newman and Vanessa Wardy, Community at Big Cartel
We're an art company that happens to make software, so the work we create and share is what we find useful and interesting ourselves.
We work across teams as much as possible to create and curate content for our blog and social media, making sure we have input from both our team and customers. Being a distributed company, we have team members from Seattle to New Orleans, Los Angeles to our headquarters in Salt Lake City. So it's important we represent that wide set of perspectives with everything we do.
Loyalty to us is much more than signups or likes – it's people trusting us and returning regularly because they know we'll share things they care about. To create that bond, it's important to be consistent and stay active where our artists are. We're just now beginning to wrangle some data. We focus most of our energy on creating and supporting great tools for artists, using data to ensure we're meeting those goals. We stay on top of things with a regular meeting to make sure we're always learning, and to talk through applying those lessons to our future work.
4. 
Sarah Nagel, Community Outreach Manager, Sprout Social
As the community manager at Sprout Social, I've found hosting an ongoing Twitter chat and building a customer advocacy program to be two of the most effective customer engagement and retention strategies. Hosting and moderating #SproutChat, a weekly discussion focused on challenges social media and community managers face, helps grow our brand's community and reputation while building relationships with customers and non-customers alike.
This year, we launched a customer advocacy program called Sprout Social All Stars. These loyal customers help us reach a wider audience, educate others about the platform and advocate for us in speaking gigs, classrooms, and of course on social.
We run a Slack community for All Stars to meet, collaborate and learn from each other, which is incredibly valuable for them in their professional development and advancement. Over just the past five months of All Stars, we've noticed a 7% increase in monthly spend. Not only are we retaining customers, but they're upgrading their subscription with us.
5. 
Jonathan Harrop Marketing Manager, AdColony
Building customer loyalty with social is one of those things that seems easy to start with, but requires a lot of work. Simply having a social presence implies to your customers that you are available at any time to answer their questions and concerns, sometimes in entirely different languages! Customers can and do leave if they think they're being ignored on social.
A great current example of social media customer interaction is T-Mobile, who sometimes actively deals with support issues via Twitter and Facebook. Their social media isn't just for brand advertising, but an active channel for customer interaction.
Of course, T-Mobile has A LOT of employees handling social. But even if your team has a limited bandwidth, you can leverage social tools to better communicate with and understand your customers.
Don't be afraid to pass people onto the right team. Remove the number of steps it takes for someone to buy your product. If someone contacts you via Facebook asking to talk to a sales person, either get their information and let sales reach out, or give them the contact info for sales and let sales know to expect an lead and to reply. Slack channels are GREAT for keeping track of these sorts of things, and communicating within and between teams.
Keep an eye on your response rate, using Facebook's built-in tools, or a social media management tool like Sprout Social or Hootsuite. The higher those numbers, the better your customers will [generally] feel you're treating them as a brand.
At AdColony, we also do events and swag. Not being a direct-to-consumer company, we see large bumps in our social engagement during events, just because people have us top of mind from our excellent swag.
Slow But Steady Wins The Race
There's no silver bullet when it comes to building strong customer relationships. Nurturing a long-term relationship takes a long-term approach.
Here are the key takeaways we've learned from chatting with our friends in the community space:
– Loyalty is more important than signups or likes
– Personalized experiences make users more likely to return
– Talk to your customers more than talking about your brand
– Internal communication & data sharing is key
– Social isn't just building relationships online, it's offline too
It all starts from opening a channel of communication, listening to your customers on a daily basis, and personalizing the customer experience. Keep your customers coming back time over time by making them a part of the brand, taking their feedback to heart and adding value accordingly. Because as Cubby Graham said, there's no you without them.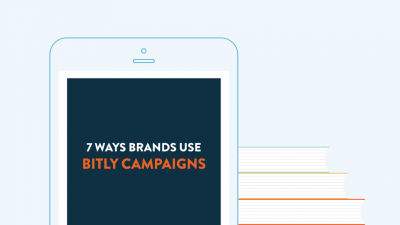 WEBINAR
Learn 7 different ways brands are using Bitly Campaigns to manage complex, multi-channel marketing initiatives.
DOWNLOAD