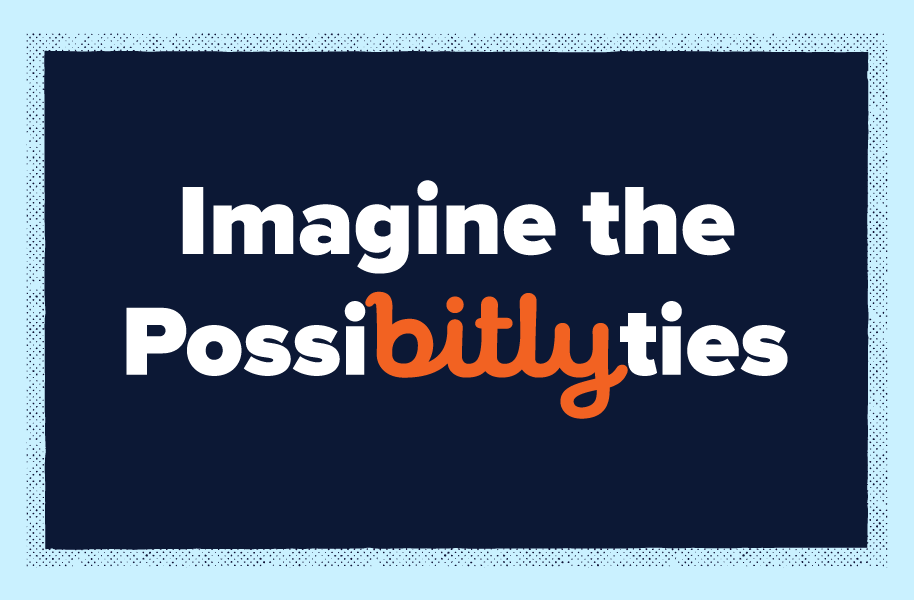 Campaign Highlights The Limitless Ways Businesses Engage With Their Audiences Through Bitly's Unified Link Management, QR Codes And Link-In-Bio Offering
NEW YORK – April 20, 2023 – Bitly Inc., the world's leading connections platform, announced the launch of "Imagine the PossiBITLYties," its new advertising campaign designed to showcase the limitless ways customers are using its Connections Platform to build meaningful and powerful engagement with their audiences every day. The campaign will feature a wide variety of Connections Platform users, from small businesses to enterprise companies, starting with Modus Brewing, Record Store Day, and Koozie Group today, followed by additional customer spotlights in the weeks ahead.
"With tens of thousands of orders being placed each month with Koozie Group, it's important to us that we create the best possible experience for our customers when they receive a communication from us," said Phil Gergen, SVP of Technology at Koozie Group. "With the Bitly Connections Platform, we are able to generate hundreds of thousands of trackable links for email and SMS messaging that are always stable, reliable, and customizable. And because all of Koozie Group's shortened links are powered all in one place by Bitly, we can also continuously improve their performance and the overall customer experience."
"If you aren't finding ways to consistently get people into your store and onto your website to buy things from you, you're only doing one part of the job," says Carrie Colliton, Co-founder of Record Store Day, "Being able to create and share customized Short Links, Link-in-bio and QR Codes all on the Bitly Connections Platform has helped me create more meaningful connections with my audiences and build a community of stores, customers, labels, and musicians that we engage with and support every day of the year."
Bitly is the industry's only Connections Platform, an all-in-one global SaaS solution that unifies Link Management, QR Codes and Link-in-bio products. By integrating these together, Bitly has created a new opportunity for brands and businesses of every size and vertical to build deeper audience relationships through a holistic platform. A few of the unique ways businesses are creatively connecting and engaging with their audiences will be highlighted in the new campaign, including impact statistics and use cases uncovered over the last six months across a variety of industries:
Education: Schools and universities generate 720,326 daily connections (clicks and scans) by using Bitly to provide students with quick and easy access to course materials, gather feedback and promote important events.
Healthcare: Healthcare providers and services generate 306,205 daily connections (links and scans) by using Bitly to provide patients with appointment reminders and check-ins, procedure information, and easy health tracking.
Retail: Retail users generate 598,160 daily connections (clicks and scans) by using Bitly to promote sales, reward loyal customers, and grow followers on social media.
Airlines: Airline users generate 33,000 daily connections (clicks and scans) by using Bitly to reward frequent flyers, promote travel deals, and provide an easy check-in experience.
Air freight & shipping: Logistics and shipping users generate 20,676 daily connections (clicks and scans) by using Bitly to provide customers with tracking updates, delivery confirmations and real time mobile communications.
These are daily averages based on Bitly clicks and scans data from the last six months.
"We are extremely excited to introduce "Imagine the PossiBITLYties" across a variety of regions, industries and mediums," said Tara Robertson, Chief Marketing Officer at Bitly. "Whether you're a small business or a Fortune 500 company, creating personalized experiences for your audiences and customers, both online and offline, is vital to your success. As the only Connections Platform on the market, our goal is to showcase the new and powerful ways our products are being used, and to provide inspiration to businesses looking for new ways to connect with their own customers. With Bitly, the possibilities are limitless."
The "Imagine the PossiBITLYties" campaign will run from April 20 through June 30 across multiple markets and mediums including Out-Of-Home, digital, video and audio. MediaSmith is the ad buying agency on record, with creative assets being designed in-house.
To learn more about how the Bitly Connections Platform could enhance your business' engagement with your target customers, visit https://bitly.is/ImaginePoss-PR.
About Bitly
Bitly is the world's leading connections platform, providing a way for brands and businesses to build more meaningful connections with their audiences both online and offline. As a leading global SaaS company, Bitly empowers millions of monthly active users and hundreds of thousands of customers globally to use branded links, custom QR Codes, and link-in-bio solutions as a trusted way for engaging their audience and delivering critical notifications, information, and experiences. Bitly is proud to be Certified™ by Great Place to Work®, the global authority on workplace culture and employee experience proven to deliver market-leading revenue, employee retention and increased innovation. For more on Bitly, visit https://bitly.com/.
###
Contact
Kat Eller Murray
ROAM Communications for Bitly
415.684.8528
kat@roamcomms.com